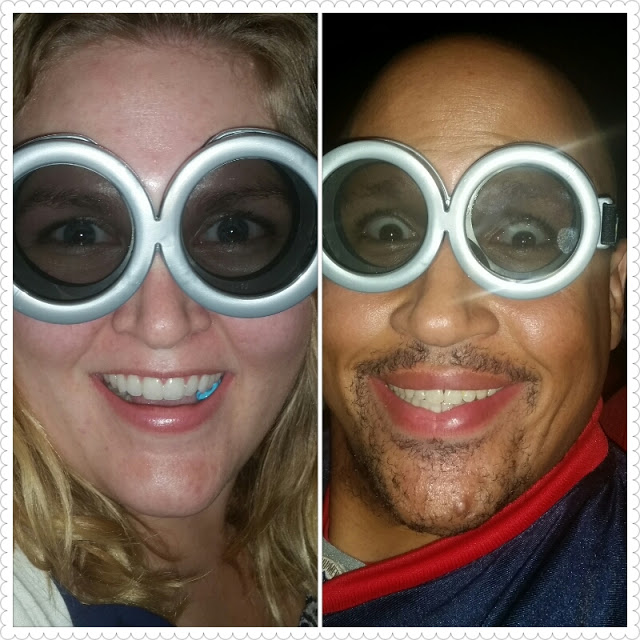 Minions!!!
Monday (July 10) – WOOHOO!! Now I missed a workout day on
Friday (and a #CanuckLite as I will now be calling CrossFit Lite) due to truly terrible
time management. On a happy note, this terrible scheduling error fell exactly
on the opening night of the MINION MOVIE!!! You can keep all your geek,
nerdlet, big kid comments to yourself. I enjoy the little yellow blobs of
gibberish and emotion. Now things to take away from this. I will only be going
to VIP form now on. Opening night of a children's movie has magnified how much I
dislike stupid people. Showing up at a general admission movie, 5 minutes
before it starts with 3 kids and getting pissy there are not 4 seats together.
Seriously. Not Cool. You my friend are an a$$hat and need to work on not
thinking you are the be all and end all and that Cineplex will be holding seats
for you. Sorry, I digress.
Warm-up
Partners, 4 Rounds
10 Calorie Row
Wheelbarrow
10 Squats
Redline. Very, very close to the redline after Joel and
Coach Z (@zlreyes) through down the challenge. Ok, Mr. Rower, you have to beat
100 calories after 5, 1 minute rounds. That is a tall order any day of the
week, especially coming off a weekend of BBQ and not doing anything else but
recovering. Oh and did I mention that it's Leg Day…
10 minute EMOM (Alternating)
a) 2x Wall Walks and ME Plank
b) ME Calorie Row
WOD (20 minute CAP)
400m Run
45 Back Squats (@115lbs)
400m Run
30 Front Squats (@115lbs)
400m Run
15 OHS (@95lbs)
What did we do?? Why are you mad at us Tav?? Runs and
Squats?? I jest, but not really. Let's do this in order, challenge accepted and
completed. 111 calories on the Row and maybe just a little bit of vomit in the
back of the throat. I was going really hard to get those 111 and then to get
the Wall Walks. Honestly, every time I do the Wall Walks, I feel like I get a
little bit closer to being completely vertical. Now if I could only figure out
how to do a handstand. Because I went so
hard out of the gate, I struggled with breath control on the WOD. Still I went
all out and broke up the Back Squats 30-15. I was trying to chase down
@keilshammer (who finally remembered where @CrossFitCanuck was), but just
couldn't manage it. My finish, 18m30s.
Warm-up
Run
High Knees
Heel Kick
Lunge/Stretch
Kettlebell Swings
Goblet Squats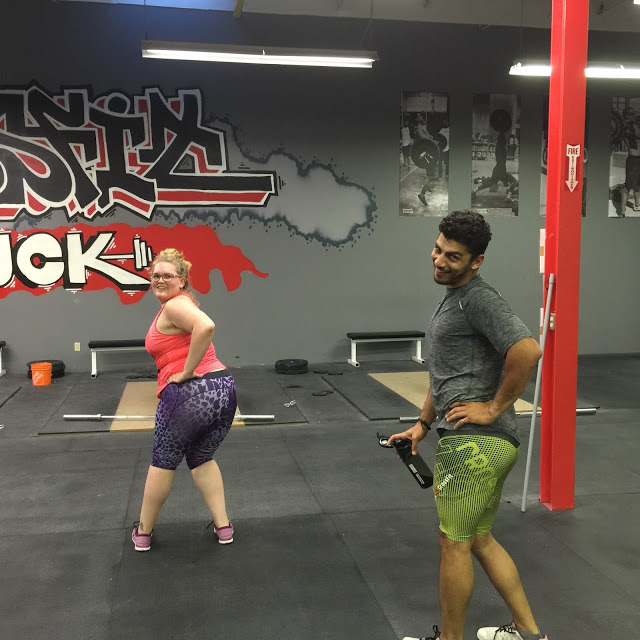 Posedown post Canuck Lite (Sav and Serge)
After a quick bite to eat, it was time to get loose and
ready for Canuck Lite. I'm really surprised that my body has responded as well
as it has through the first week. I'm still really excited about how it's going
and I've already started to see results (which is really motivating in itself).
Hard work pays off…
AMRAP 12
200m Run
20 Ring Rows
20 Sit-ups
1 – 2 – 3 – 4 – 5 – 6 – 7 – 8 – 9 – 10
Kettelbell Swings (@50lbs)
Box Jumps (24")
When JoJo found me at the end of this WOD, I was in the
fetal position on the turf, hiding behind one of the competition boxes. At
least I think I was. I may have been on a beach in Hawaii or by the pool at the
Mirage in Vegas, it's all a bit fuzzy. I do know for sure that there wasn't
anything else left in the tank (as witnessed by the photo).
BWOD
Hip Stretches
Back Stretch
Lat Stretch (Band)
Shoulder Mobility
Back Rollout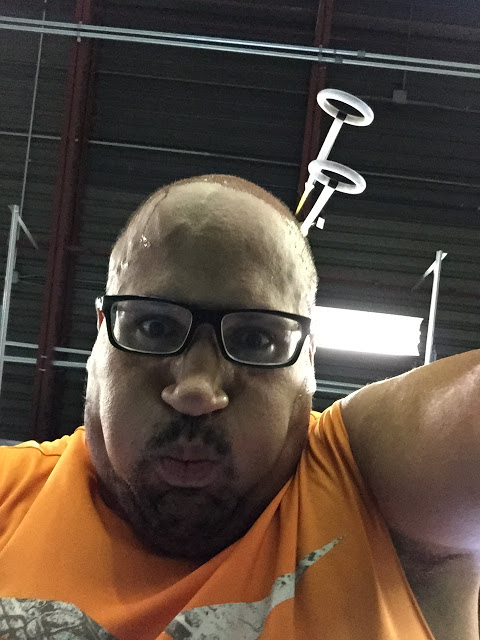 Done…
I will tell you something, I love the work, especially on a
day like today. Go as hard as you can until all that's left is the rep. Just
you and that rep. I tell you, that's
where happy is…
Beez