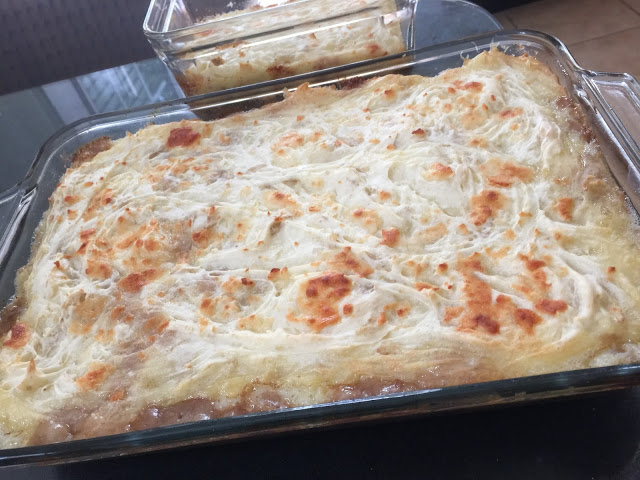 Fresh out of the oven…
So let me tell you a story. It starts with
Chef Gordon Ramsay. While I was living in the @keilshammer basement, I was
first introduced to the Chef on TV. Straight up I thought he was a pompous
a$$hole. Don't look shocked, you probably thought the same thing. He was always
yelling and belittling people and generally just seemed to be a giant D-bag. Then
I started to listen to what he was saying and I slowly started to realize that
Gordon Ramsay knows exactly what he's talking about. He knows food. He knows
how a kitchen should work. He is harsh because he needs to be. I started to watch
his TV shows and stumbled across the F-Word which is focused on cooking by
everyday people and I started taking notes.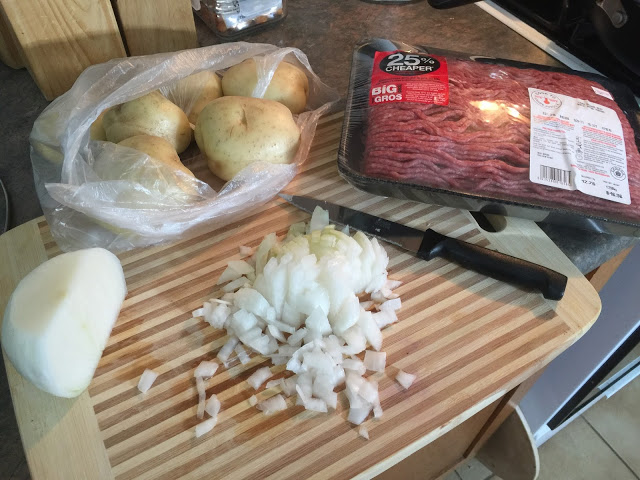 The opening steps… Chop-Chop!
This lead to my Sheppard's Pie (yes, I know
it isn't a true Sheppard's Pie and more of a Cottage Pie, but my blog, my
rules). Chef started cooking and I started paying attention. That's a good
idea, this isn't. Why would you use that? I can substitute this item and maybe
do this a little better. OK, let's give this a go. I got in the kitchen on a
Monday night for the weekly boys football gathering with @keilshammer and
@Nipshank_FF (with a guest appearance by @Wardy_). I made enough for 8 people
with enough left over for a lunch or two. @Nipshank_FF didn't make it and the 3
of us ate most of the meal (finding enough for lunch was tough).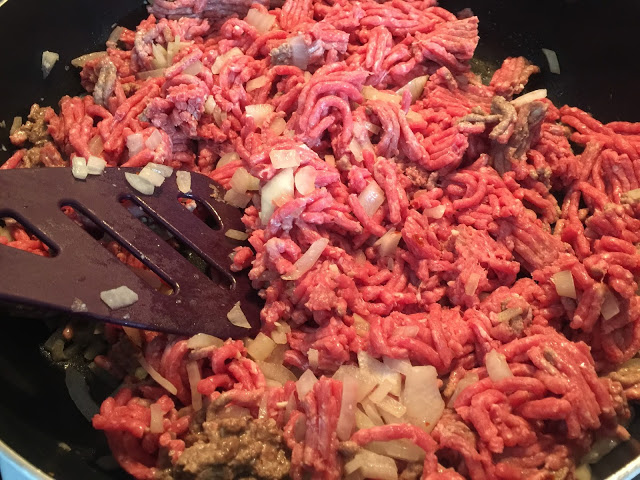 Browning… Gently browning…
It became the stuff of legends (in our
minds at least) and I haven't made it since… Until today.
Ingredients
1 White Onion
2lbs Lean Ground Beef
1 Tsp. Minced Garlic
1-2 Tbsp. Red Pepper Flakes
1 Tsp. Cayenne Pepper
6 Medium White Potatoes
2 Packages Brown Gravy Mix
1 Can Peas and Carrots
2/3 Cup Shredded Cheese (I used Marble, but
you can use any)
1/2 Cup Parmesan
3 Small pats of Salted Butter
1 Tsp. Salt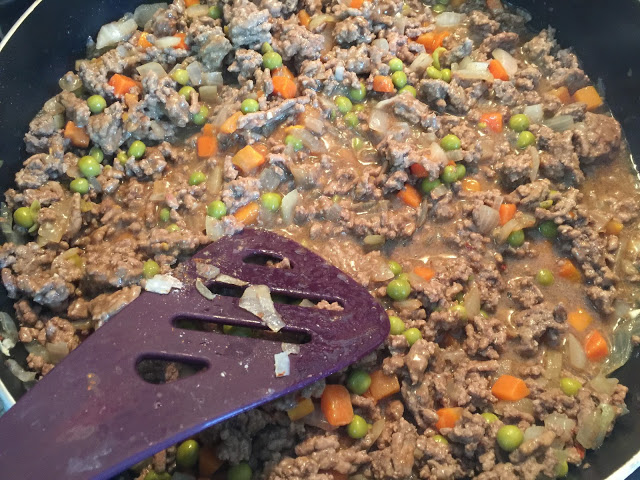 Peas and Carrots in the Gravy and Beef bath!
OK, here we go.
1. Wash and cube
your Potatoes and drop them into a pot of boiling water. Boil until the Potatoes
are soft and a fork easily can be poked into it (about 30 mins).
2.Chop the Onion.
3. In a large frying
pan add the garlic, 1 Tbsp. of Red Pepper Flakes and 1/2 the onion. Sauté over
medium heat until the Onions start to become translucent.
4. Break apart the
Ground Beef and add to the frying pan.5. Add the
remainder of the Onion, Red Pepper Flakes and the Cayenne Pepper.
6. Cook until the Beef
is done all the way through, breaking apart large chunks as you go.
7. Drain the fat
and return to heat.
8. Add 1 package of
the Gravy mix powder and 1 cup of water.
9. Reduce heat to
medium-low.
10. Add the can of
Peas and Carrots.
11. Add remaining Gravy
mix powder and 1 cup of water.
12. Keep on low heat
as sauce thickens.
13. Drain Potatoes
(when done) add Butter and mash using a hand mixer.
14. Add Shredded
Cheese and stir into mashed Potatoes until melted.
15. Transfer Beef
mixture to a deep glass casserole dish and spread evenly.
16. Gently cover
Beef with an even layer of mashed Potatoes.
17. Cover the
Potatoes with a light layer of Parmesan Cheese and gently press into the
Potatoes adding ridges with a fork.
18. Bake at 400
degrees uncovered for 25-30 minutes or until the Potatoes begin to turn brown.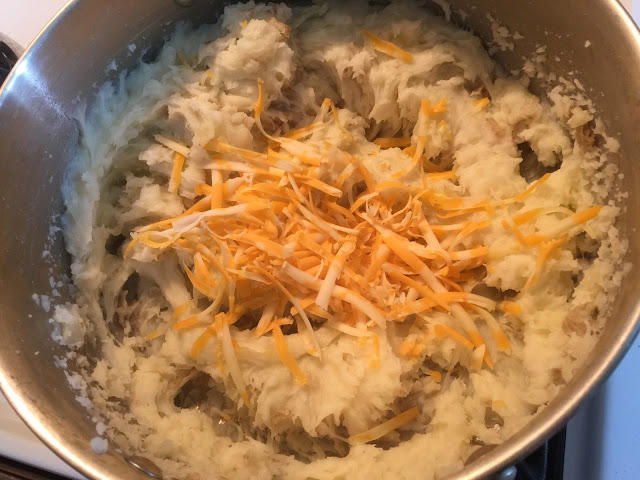 Freshly Mashed with a little cheeeeesssseeee….
Now there are ways to make this a little
bit 'healthier', but I have chosen to ignore them for the sake of taste.
Moderation in the consumption will mitigate the few extra calories from the
cheese and the powdered mix. You can of course make a gravy from scratch if you
wish. Make sure you allow the Sheppard's
Pie to cool a little bit before attacking it with too much gusto. Feel free to add any ingredients that you
wish to spice this up.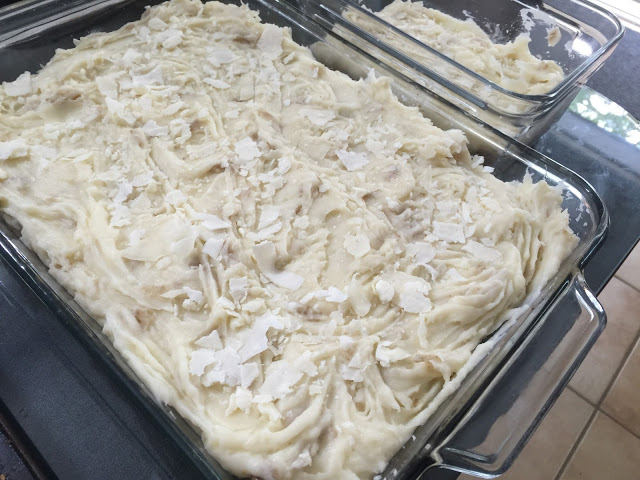 Ready for the oven.
I hope you enjoy this and feel free to
share it.
Beez