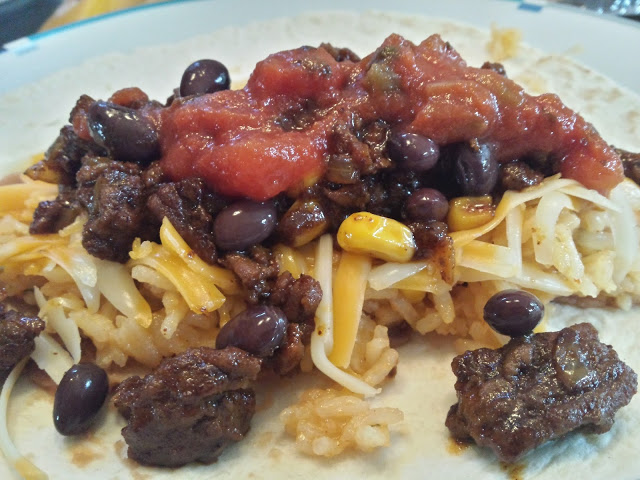 Let's talk food.
Let's talk food that you can batch prepare and freeze.
Let's talk food that you can batch prepare, freeze and then
use to eat real, homemade and healthy.
Let's talk BURRITOS!
Sure these delights aren't paleo, but if prepared in a
careful way and not eaten by the dozen, these can be a quick stop gap when
there isn't anything ready and you are ravenous. For me, it's usually those
moments when I fail at eating. Somebody call for delivery. QUICK. Now the setup
for this took about hour, but before you freak out and reach for the phone,
that includes all the prep and makes a batch of 20.
Ingredient Pile
Ingredients
2lbs Lean Ground Beef
1 Can Black Beans
2 Cans Refried Beans
1 Jar Salsa
1 Large Sweet Onion
1 Large Bell Pepper
2 Packages Taco Seasoning (The photo shows a chili, but I had a spare Taco in
the cupboard)
2 Cups of Basmati Rice
2 Packages of Chicken Stock
20 Tortillas
½ Brick Cheese (Shredded)
1 Can Corn
Cayenne Pepper
Red Pepper Flakes
Wax Paper
Tinfoil
A Sharpie
1. Chop your veggies.
2. Prepare the Rice as stated on the package, but
instead of water you are going to use chicken stock. Also add half the corn,
4-5 tablespoons of salsa and some cayenne/red pepper flakes (use your judgement).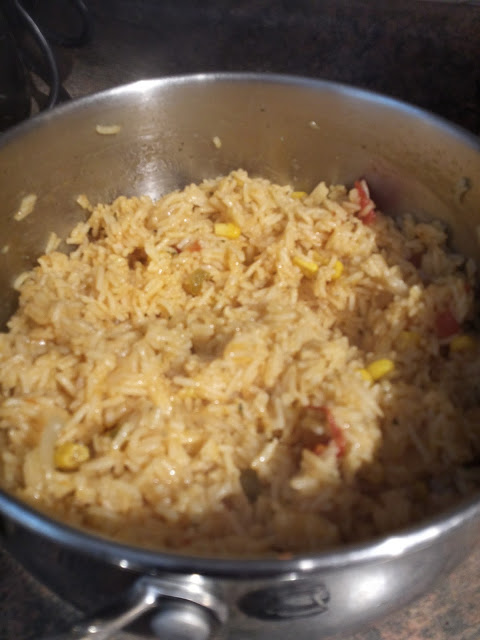 3. Brown the ground beef and add ½ the onion and
the remainder of the corn when you add the taco seasoning.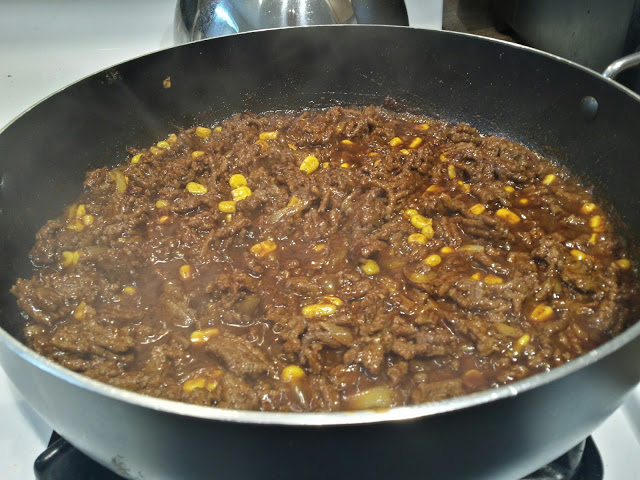 4. Heat the refried beans.
5. Allow the rice, beans and beef to cool (this
makes for less sogginess).
6. Lay a tortilla on a piece of wax paper and then
start building your burrito starting with the refried beans and rice. Add cheese,
black beans, beef (optional for bean burritos) and a small amount of salsa (Try
to avoid using a runny salsa).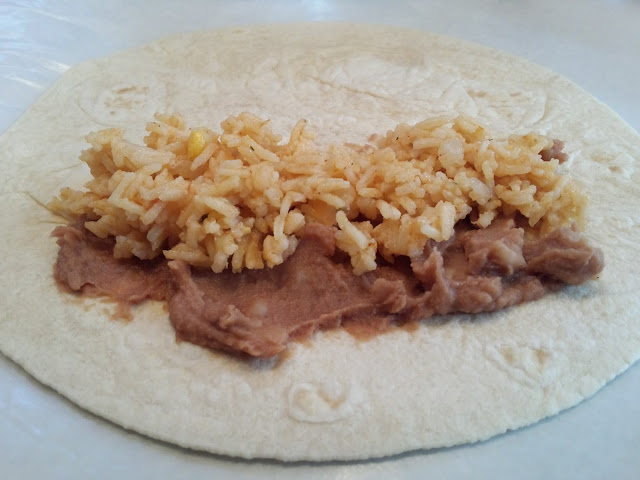 7. Roll and seal the burrito.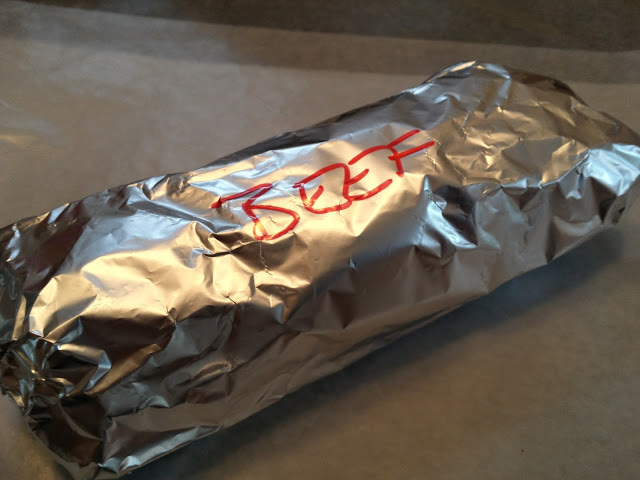 9. Label!
10. Refrigerate (or freeze).
The sky is the limit with these burritos and you can add any
toppings that you enjoy (but I will caution to stay away from item like tomatoes
which can lead to soggy shells on the reheat). The prep work isn't too crazy
and having everything ready certainly speeds things up. The burritos can be frozen and put in the
microwave (minus the tinfoil and wax paper), wrapped in a paper towel for about
8 minutes* (3 minutes defrost, 5 minutes full power).
These are great if you haven't had time to do your regular meal
prep and need something quick for lunch or dinner. Calorie wise, without
measuring they are probably in the low to mid 400's each which is about right
for a meal, but you might be able to reduce that depending on the tortillas that
you get.
Remember, preparation is the key!
Enjoy,
Beez
*Every microwave is different; you will need to experiment
for best results.