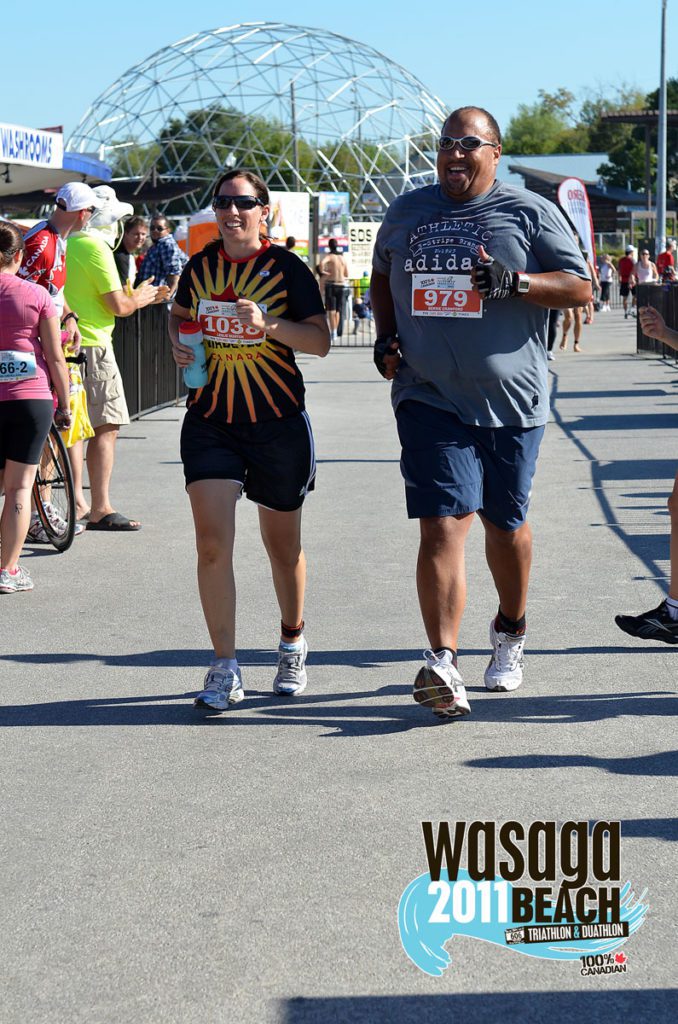 Well Ladies and Gents, September the 10th has come and gone and I am still alive to blog about post Wasaga MultiSport Canada Duathlon. That's right, even with all the injury issues I've had over the last couple of weeks (quad, ankle and foot in case you weren't paying attention) and the lack of running training I came, I saw and I raced.
First off, big thanks to the Morton's for hosting the night before the race and the festivities after. Steve and I headed to Wasaga Beach after work and it was an eventful ride as Hammer took me through back roads in the wilderness. I wasn't sure we were going to make it in time for race time. Eventually we made it, met up with the other racers in our group (Hoodie and Medwards), had a beer and turned in.
Woke up early, got some English muffins with peanut butter into me and rolled out to register for the races. Multisport Canada run a seriously well-organized event, rack your bike, register, get your timing chip and go get setup. We got our final directions regarding race etiquette and rules and made our way to the chute to await the official start.
STEP 1 – 5Km run. The race starts and the fast folks get going. Leslie (who is AWESOME for racing with me all day) and I start out and I set the pace. Nothing crazy as a) I'm not a runner and b) I haven't run farther than 500 meters in more than 15 years. We ran solid for the first kilometer and a bit and then we started alternating between running for a period and walking for a bit. There were stations along the way and I made sure that I was well hydrated and that more importantly that I didn't kill myself. We ran the 5Km in 41 minutes and 40 seconds which breaks down to a pace of 8 minutes 20 seconds per kilometer.
Hit the transition, shoes off, bike shoes on, gloves, helmet… Get going…
STEP 2 – 20Km ride – Wait, wait, wait… That's the first part; you have to wait until you get to the mount/dismount line. On the bike with legs that feel a bit squishy and onto the course we go. Right out of the gate I was fighting the bike. I couldn't understand why, but it was a struggle. On the road we were passing some folks and cruising right along until at the 6Km mark we hit a monster hill. Fight through it and finally onto the turnaround (which was really tight) and back the other way. We flew on the way back and hit speeds in excess of 53Km/h and carried a high average speed for most of the ride back. I finished the ride in 48 minutes 42 seconds (which is slower than I usually ride) with an average speed of 24.6Km/h. Dismount and back into transition.
Rack the bike, shoes off, GEL, shoes on…
STEP 3 – 2.75Km run – Collecting myself and walking out of transition when one of the staff starts cheering saying 'C'mon big man… that's right 979, you can do it. Get running… I wanna be just like you'. Really, you just guilted me into running before I wanted to. Fine. Leslie and I start off again, but the pace is noticeably slower. Run for a hundred steps, walk for 20 seconds. Repeat. Keep putting one foot in front of the other. We came to the top of the last rise and I told Leslie that we had to finish strong. Pick up the pace, hurry. Steve and Christian met us and ran with us, but it was all about finishing. We crossed the line after completing the last 2.75Km in 23 minutes and 35 seconds with an average of 8 minutes 35 seconds per kilometer.
For a while there, it looked like I had run a 1 hour 55 minute race, but the problem was that they didn't start the clock for 5 minutes after we started. So when all the crying was over, it was 2 hours on the nose (well 2 hours, 0 minutes and 8 seconds) and I was very, very happy. The surprising issue occurred when we got to the cottage and I unloaded my bike. Leslie had said that she could hear my bike while she was behind me and I felt that I was struggling for the whole ride. Pulled the bike down and spun the rear wheel and HOLY S#IT the rim is bent. Every time the wheel rotated it was rubbing the breaks. Well that explains the trouble I was having…
Beez – Duathlete