Well the big day has come and gone and before I let you know
the results I just wanted to recap. Last year I signed up and participated in
my first Duathlon in Wasaga Beach as a part of the MultiSport Canada Triathlon
Series. I did not train enough for this event, but I had some amazing support
from my friend @Leslie_Morton who paced with me for the whole race and helped
me get across the finish line. It was
hard, but I completed it and ran the first 5KM and the first 2.75KM runs in my
life.
This year I signed up for the Duathlon again with the goal
of beating my time by FIFTEEN minutes. Any way you slice it, that is a lot a
time. As a result I didn't play softball
and concentrated on being healthy and training for the run and the bike (more
the bike than the run). The Wednesday before the race we were looking at ideal
conditions, light winds, twenty degrees and partially cloudy. By race day it was sixteen degrees with high
winds and torrential downpours. It was so bad that they actually cancelled all
swims (converting all triathlons to duathlons) and prohibited anyone with full
disc wheels from even participating in the bike portion.
To be honest the conditions were so bad and there were
reports of standing water on the bike course that I considered not even racing.
@Ed_Markwards was key here and provided a gentle push for @hoodieruns and I to
suck it up and race.
Just as I set out, there seemed to be a window in the
weather and while it was still wet, the rain let up. Off I went for the run with the only goal
(besides beating the time by fifteen minutes) was to race as hard as I could. When I crossed the line on the last run, I wanted
to have nothing left in the gas tank. I few big puddles and I did walk a couple
of times, but I was moving at a good pace.
I ended up finishing the run in 36m43s (7m21s / KM pace) which was
almost five minutes faster than last year. I shaved one minute off my
transition time (thanks @Wardy_) and headed out on the wet roads for the bike. I
felt really good on the ride, but not as fast as I thought on the way out
(uphill to the turnaround). On the way
back @hoodieruns caught up with me and we had a nice little race headed back
(although I did pass her right before the no passing zone, winner @bigbrnz).
Another minute shaved of T2 and back out for the last run (and not wanting to
be yelled at for dogging by @Wardy_, I hustled). One ass slap later (thanks
@hoodieruns). It was hard, but I didn't
stop and I kept chugging away. I got A
LOT of moral support from @Wardy_, @hoodieruns (who ran the last 250m with me
urging me to dig a little deeper), @Ed_Markwards and @Keilshammer.
Official Time 1h42m55s
That's right, 17m13s faster than last year!!! I was tired
and wet and I had absolutely nothing left in the tank. Mission Accomplished. Thank you for all your support with comments
and just reading this blog. I'm taking a
couple days off to recover then I'm focusing on diet and keeping my activity
level up with the spinner and a couple of commutes (maybe).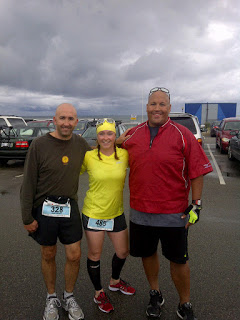 Beez