Stress, Anxiety, Energy, Fertility, Digestion…Who would have thought some little needles could address all of these things? Acupuncture has been slowly helping me deal with a variety of conditions. Over the last few years I have slowly opened up to alternative medicines, because age, weight and clumsiness have left me in various states of disrepair. Now some people look sideways at Acupuncture (seeing at as some kid of mumbo jumbo) and I was one of them until I tried it. Seems like the old adage "Don't Knock It Until You Try It" actually has some weight.



What is it?
Acupuncture is a key component of Traditional Chinese Medicine and is generally believed to have started around 100BC.  It is usually used in conjunction with some other type of treatment. There are various techniques and needle types used today by Practioners all over the world. The most common Acupuncture uses a single-use needle inserted into various points that correspond to organs and bodily systems. Once inserted it is tapped or flicked to achieve the proper position and then it does it's work.



What Do I Need It For?
Well I have been using Acupuncture on and off for a while.  I was originally using it for pain management thanks to @functionalanatomy. Dr. Wong and I used the needles to try and reduce the pain and inflammation in my knees post surgery. More recently though I have been working with @energytreeanne (and @savannahjessie) to use Acupuncture for fertility treatments. As we saw more and more of Anne, she started helping me deal with Stress, Low Energy, Digestion and Anxiety. The more we've worked together the more I've come to appreciate how versatile the treatments can be.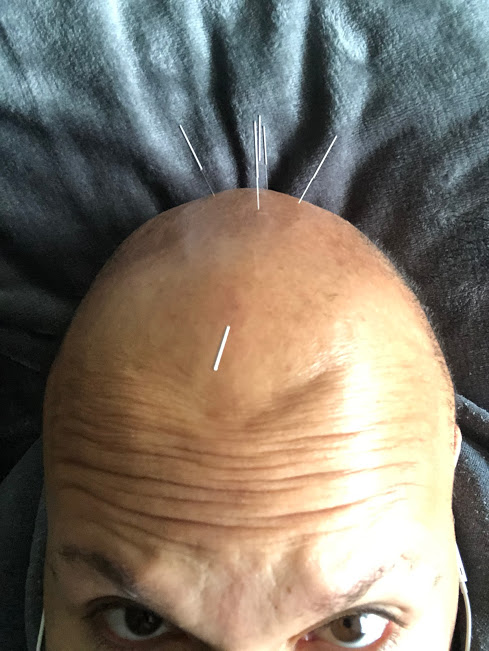 The Triangle
On my most recent visit, Anne hit the jackpot. She applied Buddha's Triangle to my wrist and OH BABY! Three points on each wrist that work together to calm anxiety, calm stress, make breathing easier and deal with repressive emotions. You can read what it does (Buddha's Triangle), but until you experience it… I felt absolutely amazing. The only way to describe it was to say that everything was a calm pond. There were no waves or ripples, just this feeling of incredible calm and peace. @energytreeanne if you could get that feeling to last indefinitely, you could make a ga-zillion dollars.


I had never really looked at Acupuncture as more then just a method to deal with physical pain (and trauma). There is so much more it has to offer and the feeling I got from the Triangle was something I want to have every day.  This treatment is one of those that can address not only physical pain, but also things that are not visible on the surface.



Beez