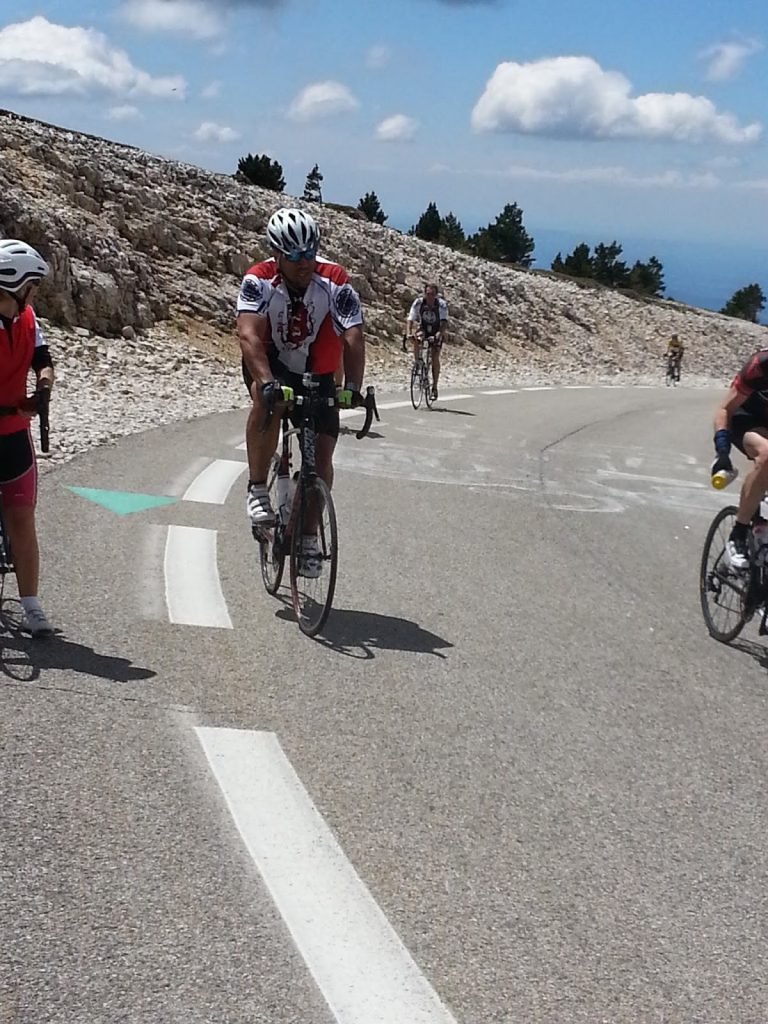 Photo by Dr. Spin
This post is 3 days late, but in my defense a lot has
happened. I've returned home to Canada and I've had to think about how I want
to approach telling you about Ventoux. Since I've started @CrossFitCanuck I
have done some hard things. Murph, 14.5, the Open all come to mind. Outside of
Murph though, most WODs take 60 minutes or less. It's not often that you begin
doing he 'hard' work 2 hours into a workout. Mount Ventoux. It sits 6,275ft
high and the approach climb is 26KMs long. This happens after an hour and a
half car ride, a 20KM 'warm-up' ride and a week of riding (180KM+). Even the
rest day involved a hike over a big hill (and in the end wasn't a good idea,
but more on that later). I am certain of two things though, 1 without CrossFit
there is no way I even attempt this and 2, I will not quit.

I did not feel confident waking up early on Friday. I had
never cycled this far in a week ever and the terrain we had already hit was
pretty steep. Ventoux would be a whole other ballgame. We were out the door early
and Dr. Spin had already decided that we would be attempting the Sault approach
(which is the easiest of the 3). They all lead to Chalet Renard (a place for
water, souvenirs and food).  The climb is
26KM and takes you to an elevation of 1,911m. We got out and unpacked the bikes
about 15KM from Sault in the hopes that the ride would warm our legs up. To be
honest, when we started, I did not think I would even be able to attempt the
climb. My legs were dead.

There were some big hills on the approach and as we went
along I started to feel better.  There
were some easy climbs (thank goodness for the 3 rings on the front) and some
quick descents (over 65KM/h). We even had a cool moment as we came down the
road, we were at the same height as a hawk riding the wind. Unfortunately the
road led to below Sault and we had to climb up into the city before getting on
the actual way to Ventoux.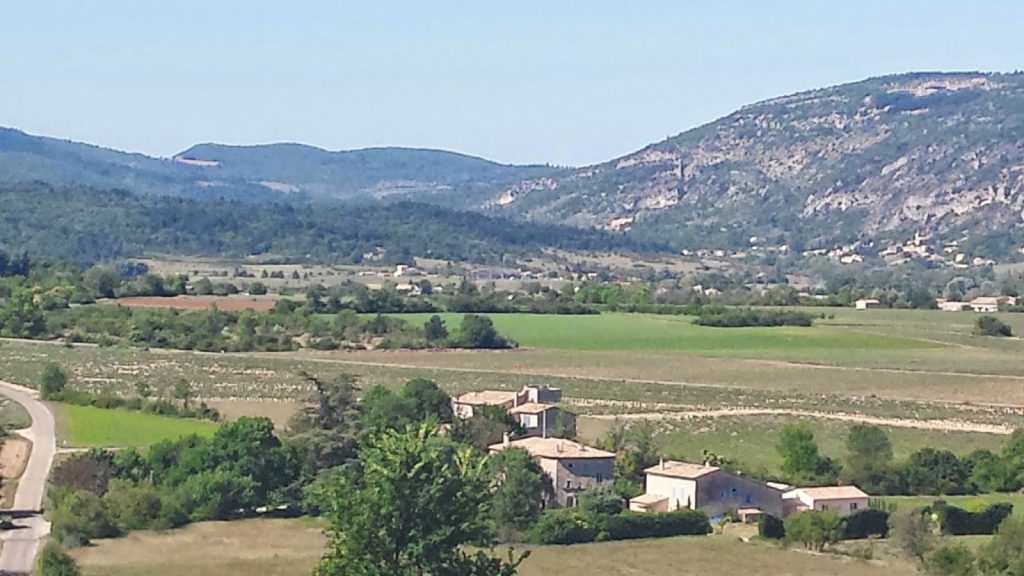 Still in the lowlands…
The road started off fairly easily, but it was busy.  There were a ton of cyclists and some type of
car rally. Everyone was really conscious of us riders and the riders were very
friendly.  The scenery was stunning too
and I found out that lavender only grows above 1000ft of elevation. Even with a
good breakfast and gels (and chews and a bar) I was struggling with my legs
though. I felt like I had no power (pushing or pulling) and we weren't even on
the tough parts yet.  On the approach to
Chalet Renard I actually stopped three times just to try and get some life back
in my legs.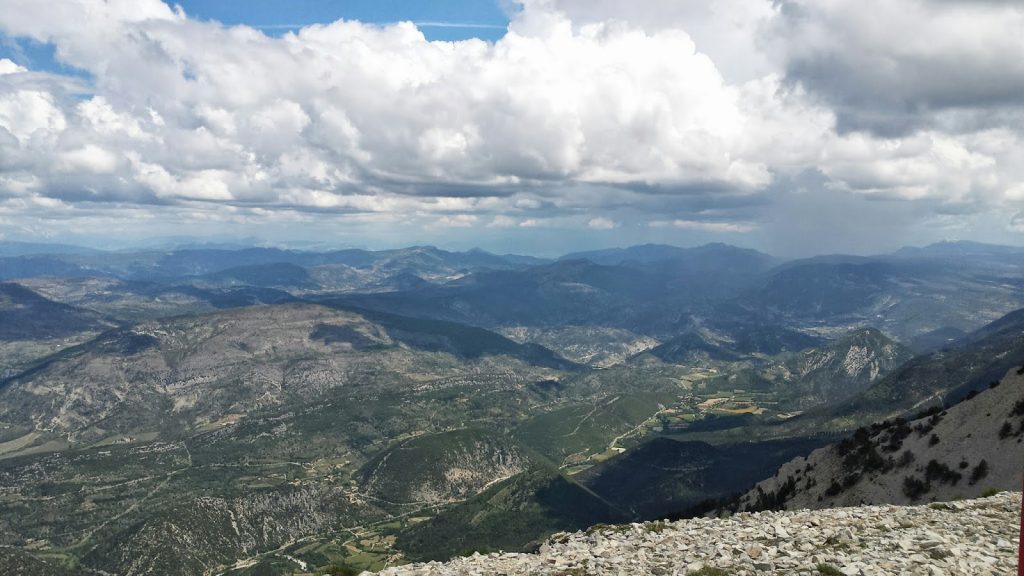 Views…
Once we got to the Chalet (it was a rocking place), we
started the final climb. This is where you find out how bad you want to get
there.  The grade is about 11% which
meant nothing before I started riding it. Steep is the only way to describe it.  I really started to struggle. There was an
interesting mix making the climb (including about 1,000 folks from the
Netherlands) walking and riding. I stopped a few times just to try and find a
way to keep going and there were so many people offering encouragement it was
really heart warming.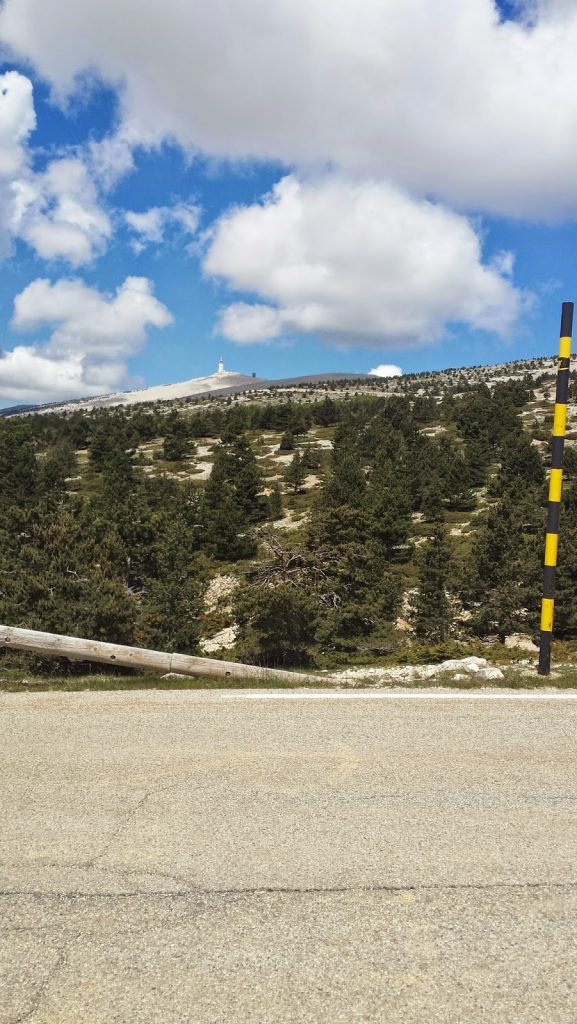 The Top in the distance…
Inside 2KM from the summit, I realized that the odds of
cycling to the top were diminishing quickly. We were already 2h45m into this
ride and I tried to find that dark place that lets you just keep going. I would
recharge for 250m and then stop to gather. Finally it came to walking. 2 trips
of about 100m to keep moving. Dr. Spin offered to help pull me, but I knew that
this fight was between me and this mountain. It was going to hurt me, but it
wasn't going to beat me.

Landscape at the Top…
3h12m, Dr. Spin and I remounted and made the last kick to
get to the top. It took me 2 attempts because my legs were so dead I couldn't
clip in, but we got there. The view was spectacular, but I was hurting.  We took some pictures prior to some weather
moving in and with the wet roads and treacherous descent I opted to take the
car down to Bedouin. 40.86KM completed with an elevation gain of 1,730m.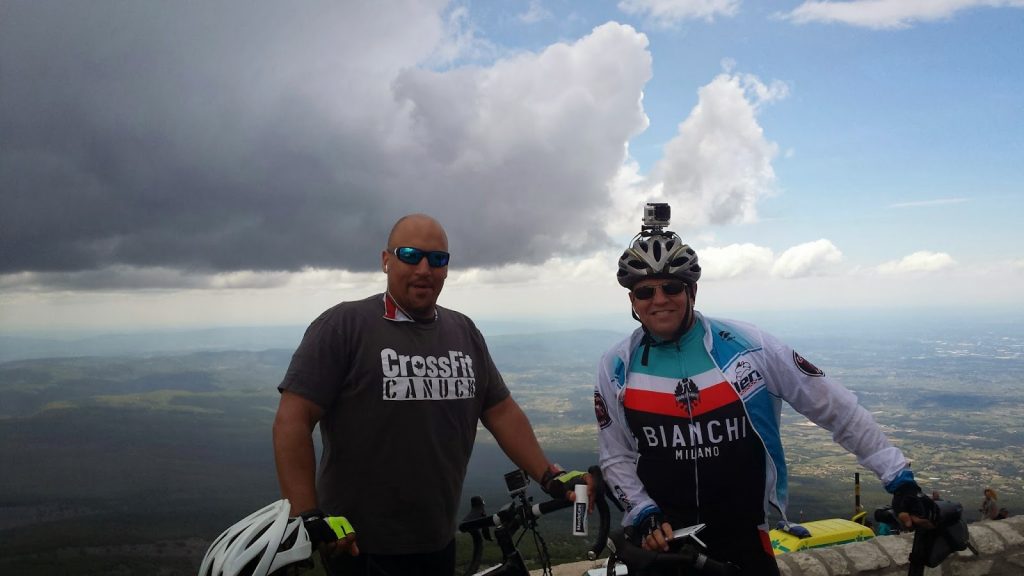 With Dr. Spin looking out on France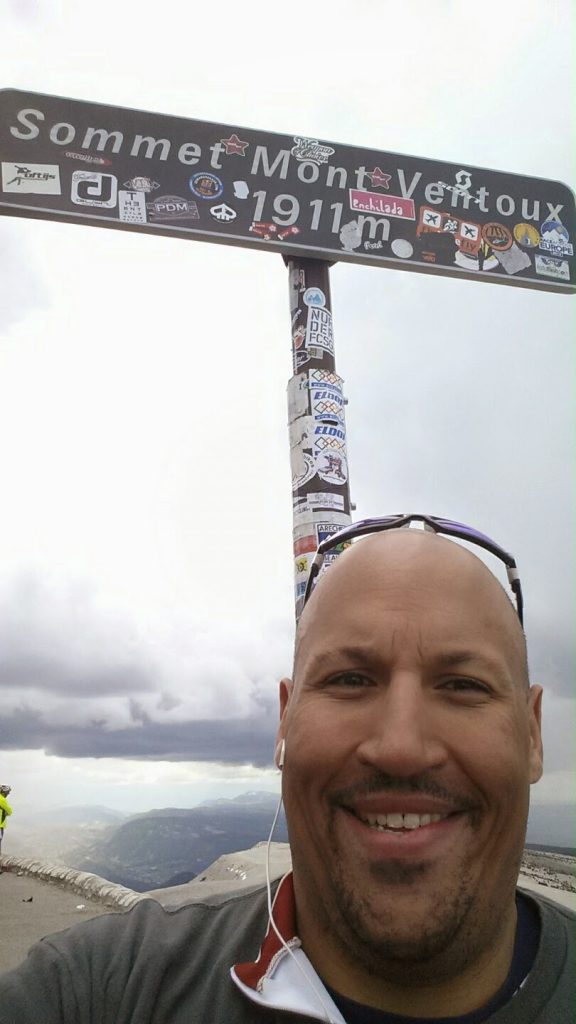 At the Top. Finally
I went to France. I cycled 225KM in 5 days. I climbed Mount
Ventoux. It's been a busy week.
Beez