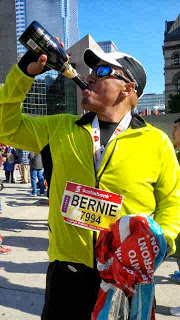 Well it's been 24 hours since I completed one of the most
difficult things I've ever done. It has provided me with some perspective on
the events and it's been a doozy. Brace yourself, this will be a long one.
First I want to say, there are people that come into your
life for various reasons. Sometimes they
just stay briefly and like a dream they are gone and other times they impact
you so profoundly that they can change the person you are for the better. Sometimes
they are family members, sometimes distant relations who encourage you as you
make difficult changes to improve your life. Willing to run beside you during
the hardest part of the run or come to cheer along the route. Sometimes it's a
group of people that you meet through a chance series of events. As I turned
onto Bathurst I ran into a giant group of my @CrossFitCanuck Family who had
made the trek downtown on a chilly morning to cheer me on. They have no idea
how much seeing them boosted my spirits for a long run.
On to the run…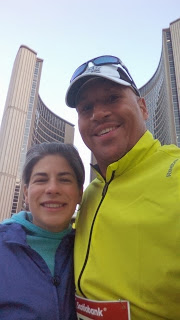 Originally I had planned to couch crash at @c_snapper's
(thanks for the offer), but as race day approach I realized that logistically
it would be easier if I just slept in my own bed and took a cab down in the
morning. I woke up early (way before the alarm) and was ready to get out the
door on time to meet Jess. We met up on a very, very cold morning and headed
over to Nathan Phillips Square to get into the right place. There were runners
everywhere. The Scotiabank Toronto Waterfront Marathon is a seriously well run
event. Great instructions, directions and corrals. We met up with @anrankin and
Jeff prior to the race and Jess and I got ready for the run.
Nerves? Check. Freezing my behind off? Check. People
watching some terrible running outfits around me? Check, Check. People, it's
friggin cold out here, wearing a singlet is just plain silly, but I digress. As
the Purple Corral moved towards the starting line, we knew there was no turning
back. OK, here we go. Find a steady pace. Warm up slowly. Don't go too strong
out of the gate and burn out. Dodge the walkers (or people who stop in the
middle of the road without signaling). We settled into a pace just under 12
minutes for the first mile and we made the turn onto Bloor into the glorious
sunshine. It was a very nice easy run so far, nothing like the hills of
Kitchener. Just before we made the turn onto Bathurst we ran into Rick who
provided a friendly face in a very friendly crowd.
Jess was just commenting that everyone in the crowd seemed
to know me (or at least have good enough eyesight to read my racing bib) when
we approached another big group of people screaming and cheering. Yup they can
read the bib… Nope, I actually know these people. The @CrossFitCanuck family
standing along the race route holding up signs and cheering me on. No way! You
guys are amazing! The splits for the next 7 miles were 11m21s, 11m10s, 11m07s,
11m09s, 11m17s, 10m46s, and 11m06s. The energy from the crowd (plus the slight
downward course) was making for some pretty even times. I crossed the 10KM mark
in 1h11m04s. As we made the turn at 13KM I started to struggle. I even ran into
@kkeilhauer along the way.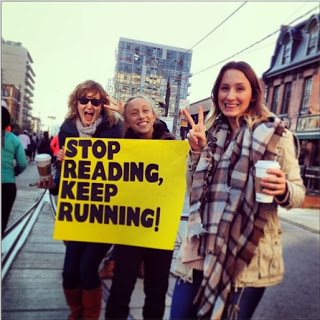 I told Jess to go on, at this point I would only slow her
down. We would meet up at the finish…
Who on Earth knew that the Lakeshore went on F-O-R-E-V-E-R.
It wasn't like I was having trouble getting breath or anything, but my gait was
off and my hips were really sore. I did manage to run more than 13KM without
stopping (big cheer), but just before 14 I had to walk. DON'T STOP! As I slowed
down my legs started to seize up. If I stopped I would never get to the end. As
I watched the 2h30m pace bunny disappear up ahead (we had been leading them for
the whole run to this point), I knew a sub 2h30m was gone. I will finish this
in the 2h30's.
I managed to find a lady in a yellow jacket who seemed to
have a pace that I could maintain and started following her. Finishing this
would be a force of will. All I had to do was find a pace, it didn't have to be
fast, it just had to be a pace. Pretty sure I've said that a whole bunch to
people running around the box. About 17KM I started having chest pains. Am I
having a heart attack? C'mon, Seriously? Wait, let's evaluate. It's not going
down my arm it's just in my chest. It looks like my body has finally figured
out we are doing something tough. Suck it up, we are finishing this. Ran into
Rick again and he graciously ran with me for a bit. This got my pace back up
and allowed me to get my head screwed back on right. I also realized that with
4KM to go it was only 10 laps around @CrossFitCanuck. Break it down into simple
terms and go do it.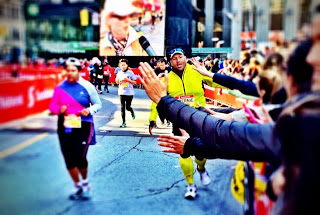 Now my biggest concern is to make the left turn. Bay St. Got
it. I had to walk just before the 20KM mark to make sure I could finish the
last gasp when another runner passed me. "I've followed you the whole way, don't
quit now". That little pep talk got me moving again and I was able to return
the favor 500m farther down the road when she slowed down. I came into the home
stretch, 400m left. There was a walker in costume in front of me (she was
moving), I'm going to be faster than a walker. With a cheering section along
the finish route it was time to get moving. It wasn't my fastest sprint, but I kicked
it into high(er) gear and got across the line. My splits were 12m24s, 12m48s, 13m12s, 12m56, 12m10s and a partial of 4m44s (for 0.53 miles).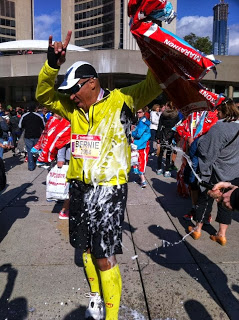 After a champagne shower in the middle of Nathan Phillips I finally
got to take it in. Jess, Rick, Kat, Michelle, @Wardy_, @keilshammer, @sarahbassels,
@girmantitov, @crossfitcanuck (Tav and Jordan), Meg, Silky, @zlreyes, @missade3,
@matt_5577, @akaribatman and @jeffortizz. We headed for Victory Nachos and
Beers! Somehow I think I was talked into a 10KM in the spring (way to take
advantage of me while I was runners high) and even though I just finished,
there may be another half in my future.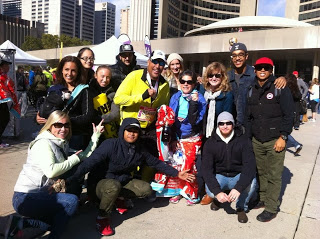 Beez