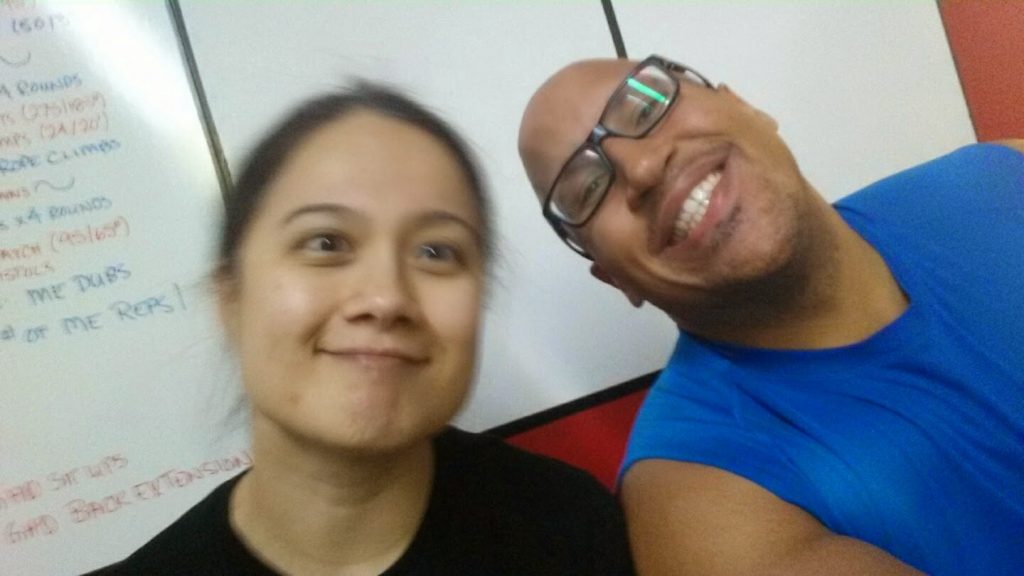 Found Coach Baz!
Tuesday (Dec 30) – Ah Tuesday, rest day for
most of the year but the middle of the road in this last 3 days of 2014.
Tomorrow I will give you a new feature, the Year in Review Edition, but today
it's time for the annual classic No Resolutions Here Edition. Most people make
New Year's Resolutions, things that they want to change, but why wait? If there
is something in your life that you want to change, get to steppin and change
it. I've made it through this year and I've seen my abilities, performance,
health and happiness increase by leaps and bounds, so the question what are the
goals for next year.
What to do, what to do. This year my goals
for the 'Goal Board' are big ones. I want to become a @CrossFitCanuk Coach. I
want to get to a weight of 250lbs. I want to hit proper Kipping Pull-ups and
finally I want to get a Handstand Push-up. Those are some big goals right
there. Am I nervous? Absolutely, but that's the beauty of the 'Goal Board', it
helps push you to do things you normally wouldn't think possible. There are a
couple of items that have been taken off the board this year though. I took the
2h25m Half off the board (for now) because I'm not sure if the toll of training
will be too much this year. Don't worry @JessyR1978 we still might be doing
this.
This morning we hit the #6amClass and got a
very nice surprise with Coach Baz (@SarahBassels), coaching for the first time
in forever.
Warm-up
3 Rounds
5 Lunges
10 Kettlebell Swings (@35lbs)
15 Squats
20 DUs
Now I haven't hit the #6amClass to WOD
since last New Year's Eve and it lead up to 36 hours straight of being awake
and 2 WODs. There will be no repeat of that this year. We did have a whole
bunch of Back Squats to do this morning though. 10 Reps every 3 minutes for 6
minutes. I was really leery of doing any deep Squats with the sore knee, but
@SarahBassels had me only working to a depth that was pain free which allowed
me to get work done.
WOD
2 minutes x 4 Rounds
10 Calorie Row
8 OHS (@75lbs)
Remaining Time ME Kettlebell Swings
(@50lbs)
3 minutes Rest
2 minutes x 4 Rounds
10 Deadlifts (@185lbs)
12 Box Jumps (24")
3 minutes Rest
2 minutes x 4 Rounds
10 Snatch (@95lbs)
10 Pistols (20" Box)
I am not in game shape right now. This one
was a struggle, well the first section wasn't (I LOVE THE ROW), but the
Deadlifts were not good. RX was 275lbs
and I worked at that weight for the first 2 rounds, but my form was slipping so
I went down in weight. I managed to get 68 Kettlebell Swings, 1 Rope Climb and 20 DUs for a grand total of 89. Not bad, but always room for improvement We are getting serious, the Open is coming. I like the
challenge that Tavia has programmed for us and it will be a good way to step
back into training.
Beez