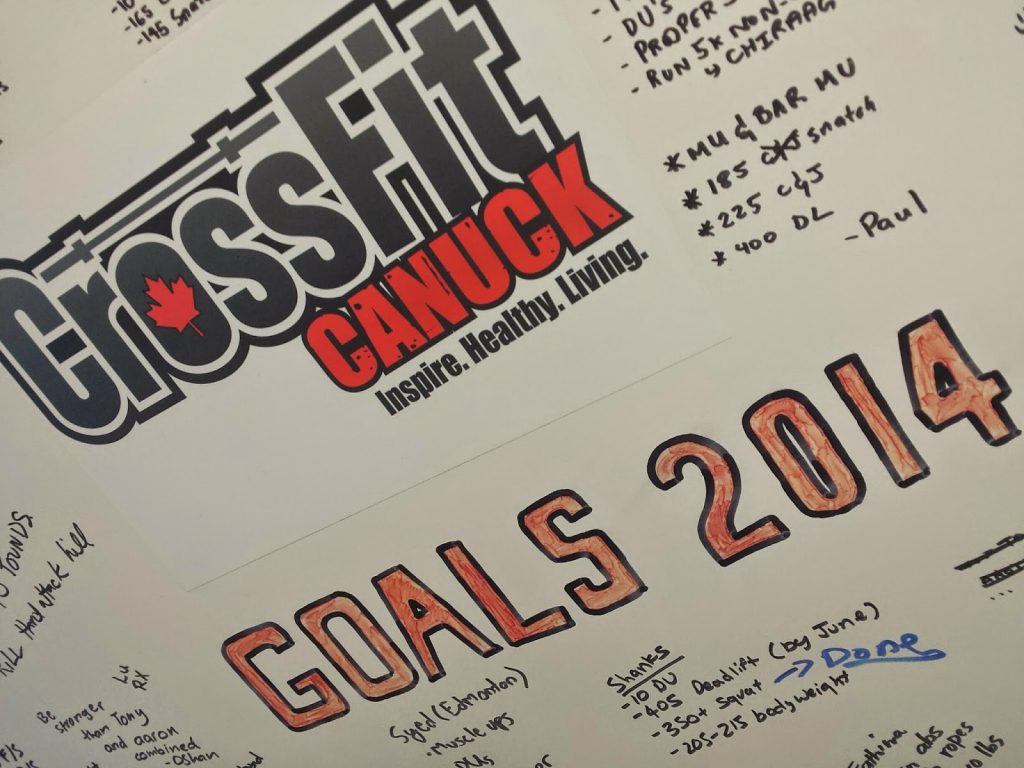 The Goal Board
Wednesday (Dec 31) – The last day of 2014.
When the alarm went off for day 3 in a row, I almost broke one of my most
sacred rules, 'Don't Cherry-pick The WOD'. It's early and I'm tired, but not
going to @CrossFitCanuck would be a poor way to wrap up a really fantastic
year. Fine. I'm up. You have to do the work if you want to reap the benefits
and to be honest, once you get moving it's not so hard to get out the door. The
year in review will be at the end of today's post.
Warm-up
3 Rounds
250m Row
Inchworm Walk
Reverse Crab Walk
15 Squats
Tavia has programmed a beauty to kiss 2014
off, no set skill portion, but I long heavy WOD. Now this is set to be the
first 3 straight days I've done in a very long time and my body is sore. Squats
are still off the table right now and my body is protesting (like usual) about
getting back into the swing of things. I will say though, that I received some
very encouraging words over the last few days (Thank You) and they do make it a
little bit easier to embrace the suck. I am looking forward to a day off
tomorrow to recover and recharge though.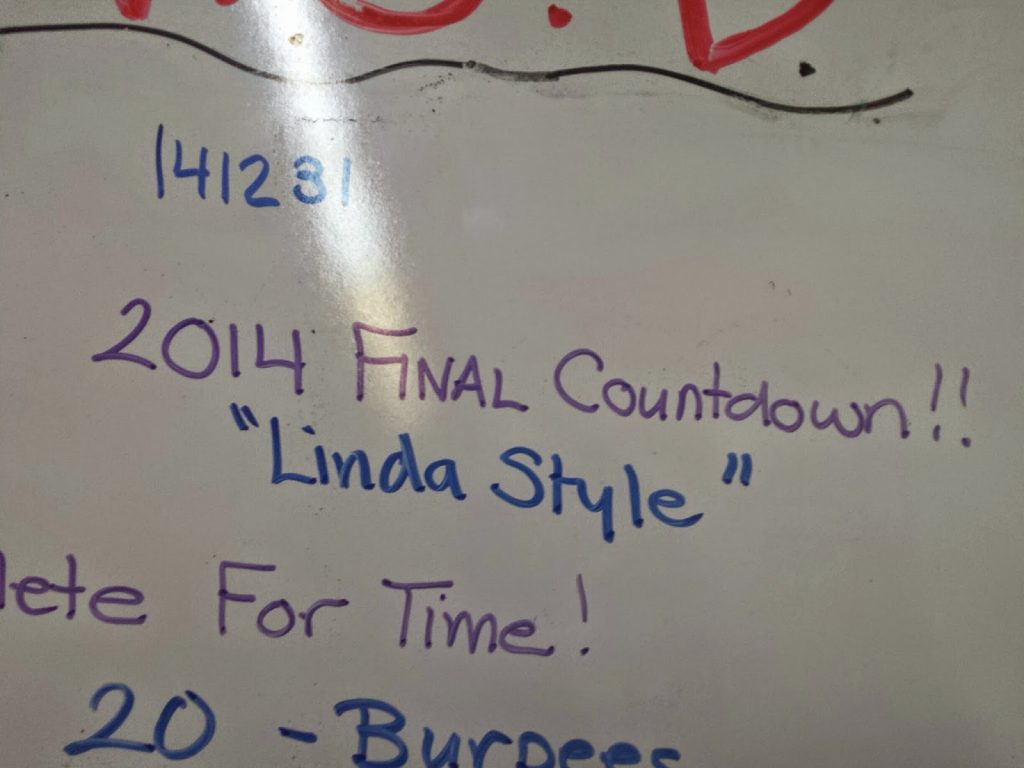 2014 Final Countdown… Linda Style (30
minute CAP)
20 Burpees
4 Wall Walks (programmed as 14)
Then…
10 – 9 – 8 – 7 – 6 – 5 – 4 – 3 – 2 – 1
Lunges (@75lbs)
Power Cleans (@145lbs)
Split Jerks (@145lbs)
Then…
20 Calorie Row
15 Muscle-up Progressions
What a WOD, what a year. I managed to get 1 of 6 Jerks done, but there
wasn't a whole lot in the gas tank during this one. Everything felt heavy and I
just managed to keep going mostly out of pride. I didn't want to go down
swinging in the last WOD of the year so I chipped away as best as I could.
2014, was probably the busiest and fullest
year I have ever had. There were ups and downs in every aspect of life, but the
ups were significant. I competed in my
first CrossFit Open and took 9 minutes off my time to complete the Toronto
Waterfront Half Marathon. I studied for and obtained my CrossFit Level 1
Certification and began the @CrossFitCanuck Coaching Program. There was even my FIRST CrossFit Competition with @matt_5577 and @weliftathletics. I've started the
studying process to begin Microsoft Certifications (again) and I've been
getting more and more responsibilities at the Big K. @SavannahJessie found me
and has made me the happiest I've ever been. We bought a townhouse, moved to
the suburbs (we accidentally became 905'ers) and sold the condo. In a nutshell,
there has been a whole lot going on. What a year. I can only imagine what 2015
will hold, but whatever it is, it will have a tough time topping this one.
BWOD
5 Pull-ups (last 5 of 2014 JoJo)
Glute Stretch
Hip Stretches
I hope that everyone has a very Happy New Year!
Please stay safe and have lots of fun. Remember calories don't count tonight
(as long as you WOD today or tomorrow) and the booze should flow freely (if
that's your thing). We will see you when the calendar flips.
Beez