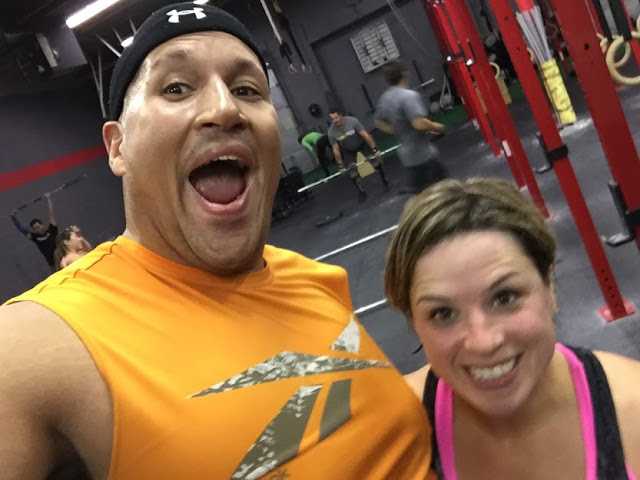 Tuesday (October 27) – REGULAR CLASS! What?
Really? After the solo Saturday and a nice walk around the Hill with
@SavannahJessie, Tuesday was WOD time! I got a chance to pop into the 530pm
class to hit the never-ending chipper that Tavia cooked up for us. I knew that
I wouldn't be able to go RX, especially with the shoulder limitations, but I
would give it my best.
Warm-up
5 Burpees
10 Knee Tucks
15 Squats
5 Gym Laps
5 Burpees
10 Knee Tucks
15 Squats
3 Gym Laps
Deadlifts make the world go around. I say
it every time they show up on the board, but they make everything ok. Off the
blocks which makes the first pull a little bit easier, but still tough work
after a long period of nothing heavy. I finished at 365lbs which is near the
80% of my 1RM. Good times.
10 minutes to find Heavy 2 Rep Deadlift
(From 2" Blocks)
WOD
50 Wallballs (20lbs)
50 Kettlebell Swings (@50lbs)
40 Alternating Pistols
40 Knees to Elbows
30 HSPU (Box)
30 Burpees
20 Ring Dips (Purple)
20 Walking Lunges
10 OHS (@75lbs)
10 Front Squats (@75lbs)
The CAP for this little chipper was 25
minutes, but I only made it to 2 OHS when time expired. Thanks to my classmates
though (JoJo I'm looking at you), I pushed through to get to the end. It took
another 3 minutes, but I got done. A big thank you to my classmates who cheered
me on to help me keep going.
BWOD
5 Deficit Pull-ups
5 Candlesticks
Hip Stretch
Back Stretch
Hip Stretch
This is when teamwork really matters,
because to be honest, I did not want to anything after that one. JoJo helped
ensure we got our Pull-up homework done though. It's always easier (and more
fun) to do these things with someone else. Some quick stretches and then it was
off to the hacienda to prepare for tomorrow's Graded Cardiac Stress Test.
Beez