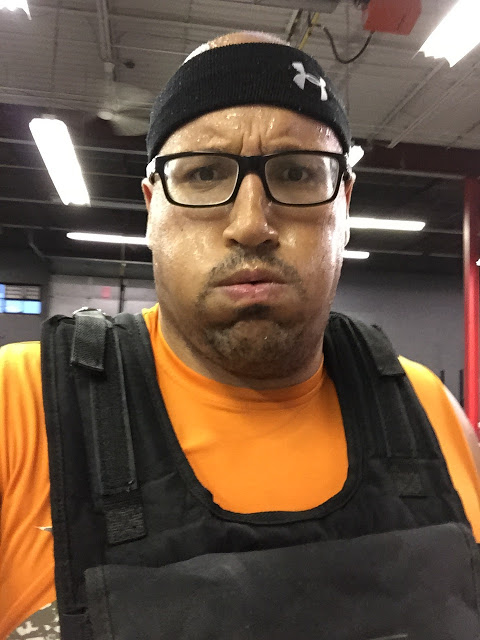 Gently Glistening…
Monday (August 17) – so I was pretty discouraged after the little
bit of a setback I had on Friday night, but the key to success (life, health,
fitness or whatever) is to learn and apply that knowledge. I was exhausted. I
had not been eating properly between WODs, my hydration was off and I had not
been sleeping well. Combine all those factors with insufficient protein intake
and you have a recipe for disaster. Basically you have Friday and a body that
is unwilling and unable to complete the given work. It's amazing what a weekend
of rest (including a full 12 hour sleep), proper food and contemplation of the
issues can do. Monday morning rolled around and even though I was stiff working
with the 6am and 7am classes, I knew my body was ready to get back to work.
Warm-up
Shuttle Run
21 Goblet Squats (@35lbs)
2 Shuttle Runs
15 Goblet Squats
3 Shuttle Runs
9 Goblet Squats
You know you are in for it when Coach Z (@zlreyes) starts smiling
and remarking on how many Shuttle Runs you will be doing tonight. Yikes. I
still felt the stiffness from this morning and some minor to moderate aches,
but nothing that I thought would be a show stopper. I was a bit hesitant to get
into the Front Squats, mostly because it has been (or feels like) forever since
the last time we did them. Luckily I was working with Drew and I had
@lousiloouu and @din0905 cheering me on. I managed to get through them with
good form and no discomfort.
Every 90s for 10 minutes
4 Front Squats (@165)
Snatch Biathlon (15 minute CAP)
400m Run
21 Hang Squat Snatch (@65lbs)
400m Run
15 Hang Squat Snatch
400m Run
9 Hang Squat Snatch
**every time the bar is dropped, 200m Run Penalty
Now @zlreyes had us show him some Hang Squat Snatches before we
started and he had me cut my weight from 75lbs to 65lbs. It was a good decision for me physically
(protecting a very stiff shoulder), but in the end, I was working too light.
How do I know? Well I went unbroken for all the Hang Squat Snatches. I know,
shocking. Still the movement felt pretty good and I got a positive review from
Coach G (@girmantitov) who said he had never seen me looking better doing
Snatches. Thanks to you both! I worked hard and finished in 13m39s.
Cash-out
100 Heavy Russians (@50lbs)
Now there wasn't time or capacity to get a BWOD in
between #530Crew and Canuck Lite, but I did manage to get the Cash-out done and
get a quick pasta dinner in. I also tried to do a little bit of stretching just
to stay loose.
Warm-up
3 Rounds
10 Pull Row
Bear Crawl
5 Jumping Squats
Now the Canuck Lite class was entering Phase 2 (a 3 week
extension) and there were a couple of Regulars (including Drew) joining for the
first time and I had a feeling he would be providing a big push tonight.
WOD
1 minute ON
1 minute Rest
1 minute ON
30 seconds Rest
1 minute ON
of…
Calorie Row
Shuttle Run
Skips
5 minutes Rest
AMRAP 9 (9 minute CAP)
5 Burpees
10 Sit-ups
15 Squats
***Weighted Vest
This one was dirty. Very, very dirty. It was also a totally
amazing, head down, push to get through. I was totally justified in my push on
the Rower tonight, because Drew might be the new powerhouse @CrossFitCanuck. He's
got me in the 2000m time trial by 10 seconds and he came within 4 calories of
getting me on the Row tonight. Awesome work Drew! I finished with 77 calories,
14 Shuttle Runs and 334 Skips. Now because I felt I didn't work enough
during #530Crew, I wore the vest for the second of tonight's
WOD and OMG that was the hardest work I've done in a while. What you don't
see in the photo (above) is that I was literally dripping by the end of it.
Crazy.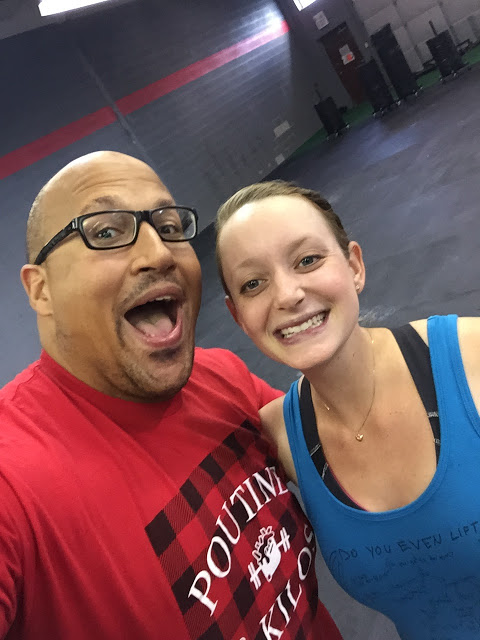 WAKEFIELD!!!
Now before I close for tonight I want to give a shout out to
WAKEFIELD!! She is VERY pregnant and was making a guest appearance for a
Saturday WOD. I wish I had known you
were coming because I would have done the WOD with you. It's
been too long, but it was great to see you!
Beez