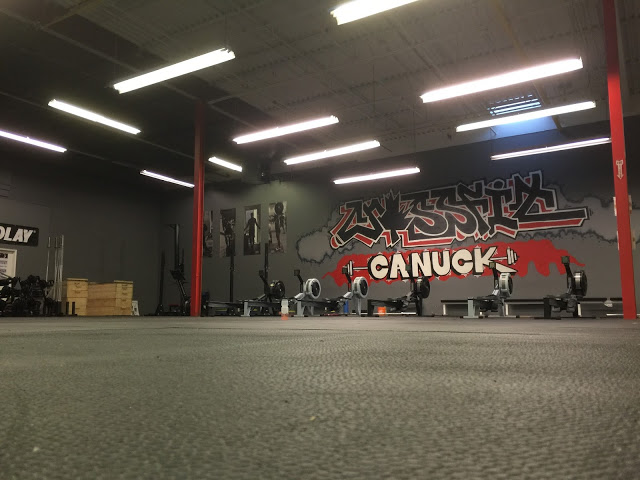 Empty box, some rowers and a water bottle…
Thursday (October 29) – After seeing how my
body performed during yesterday's Exercise Stress Test, I felt a whole lot
better about trying to resume a normal workout schedule. I won't lie, this
whole thing has shaken me up a little bit. I was angry and scared at the
thought that I was having a heart attack. Angry because I have worked so hard
to try and get healthier. Making huge lifestyle changes and sacrifices to try
and extend my life while also improving its quality. Scared? Yes scared for the
obvious reasons, but also for some that might be near the top of the list for
most people. I love my life. I love what I do and who I do it with. A huge part
of that life has been CrossFit. Silly? To some, but my family @CrossFitCanuck
has been one of the biggest gifts I have ever received and the thought that
maybe I wouldn't be able to do it anymore had me freaking out. With the test
behind me I came in to cover for an ill @SarahBassels and afterwards
@girmantitov helped get me moving to complete today's work after teaching
class.
Warm-up
500m Row
The warm-up was abbreviated because I was
already pretty loose from teaching the class.
It's surprising how much you can move in an hour. As a new owner of a
FitBit, I've been averaging about 3,500 steps per class coached. Frivolous
numbers? Maybe, but it does all add up to work in the end.
Shoulder Press every 90s for 3 minutes
4@70%, 2@80% and 1+@110lbs
Front Squat every 90s for 5 minutes
4@70%, 3@77.5%, 2@85% and 1+@215lbs
WOD (15 minute CAP)
Buy-in
50 Pull-ups
Then…
AMRAP
10 Dumbbell Shoulder to Overhead (@35lbs)
20 Calorie Row
The shoulders felt tight once the weight
started getting heavy, but I was really happy with what I managed to get
overhead. When the WOD rolled around I started having second thoughts. 50
Pull-up Buy-in. Do you know how long it takes to do 50 Pull-ups? I do. 7 and a
half minutes. Cripes… It felt like forever. The score today was in the AMRAP
and once I got there, it was GAME ON! The DB S20 were pretty quick and I was
flying on the Row today. I finished with a score of 136 which is 4 Rounds plus
6 calories! I was gassed afterwards though. There just wasn't a lot of time to
breathe.
There wasn't time for a Cash-out or BWOD
because the ol' 9 to 5 was calling my name, but it was a pretty good Thursday.
Beez