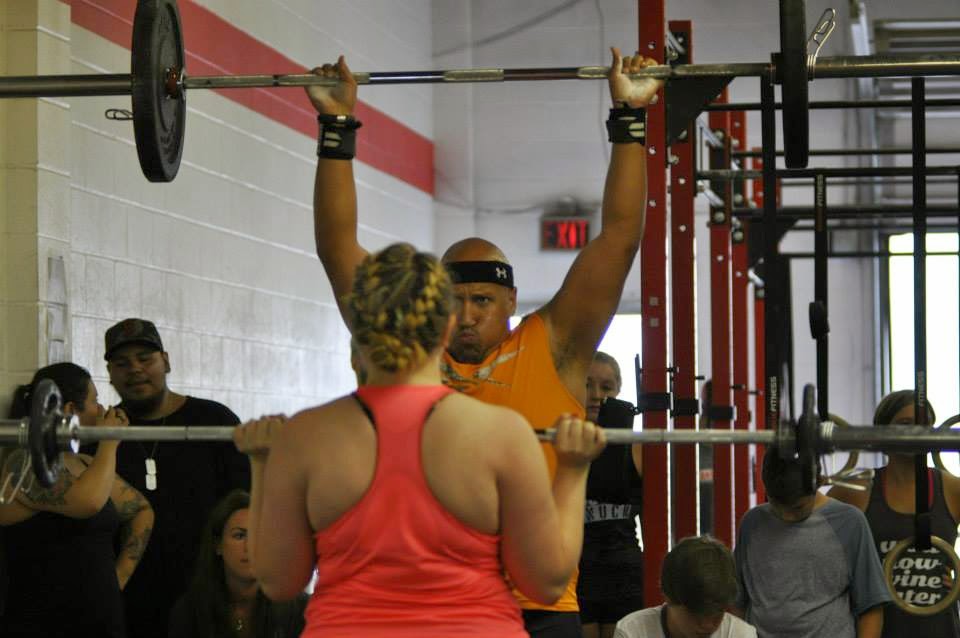 Well it's the Labor Day Weekend, the end of
summer (hold back the gasps and the wroth, it's just how I feel) and time for
what has become a pretty cool tradition at @CrossFitCanuck. It's time Ladies
and Gentlemen, for the 2014 Canuck Games. The event where the Canuck family
gets together for a little family throwdown to say goodbye to the folks going
back to school and have some fun. This was my first 'comp' when I competed last
year and this year (after a format change) it would be @SavannahJessie's. We would
be partnering up to compete in the Scaled Pairs Division.
Warm-up
400m Row
3 Deep Rig Squats
Today's format was a little different than
normal, a series of 4 WODs (for both RX and Scaled Divisions), with the top 5
from each going on to a final WOD. It made for a long day (9am – 3pm), but with
a bunch of vendors (Lululemon, Whisked Gluten-Free and MSK) there to showcase
wares and sample products (that were delish) the day raced by.
WOD 1 (8 minute CAP)
"D's Request"
30 – 20 – 10
Calorie Row
Kettlebell Swings (@35lbs)
Box Jump Overs (24")
Have I mentioned that I love the Rower?
OMG. In conga line style, I started out Row, Kettlebell and Box Jumps with
@SavannahJessie following. 46 seconds for 30 calories. I felt good, but I got
close to the redline. Knowing that the Kettlebell was going to be lighter then
normal I felt like I could push a bit more. We managed to finish 268 of 360
reps before we got CAPPED out.
WOD 2 (4 minute CAP)
Find 1RM Hang Squat Clean
Not sure how I ended up leaving DNA everywhere
(my left thumb was bleeding), but by the end of the 4 minutes, we had both hit
PR's in the Hang Squat Clean. @SavannahJessie hit @75lbs and I managed to get
up and down with @205lbs. Fun times, but not time to celebrate because we were
straight into WOD 3. The modification for the Rope Climb was 3x Modified. We
split the work here, we both did Thrusters, she did the Burpees and I handled
the Modified Rope Climbs. We finished this in 5m58s.
WOD 3 (10 minute CAP)
"OpenStein"
10 Thrusters (@95lbs)
9 Burpees Over Bar
1 Rope Climb
10 Thrusters (@115lbs)
6 Burpees Over Bar
2 Rope Climbs
10 Thrusters (@135lbs)
3 Burpees Over Bar
3 Rope Climbs
We had a bit of a break before we hit WOD 4,
which gave us a chance to get some food and just to watch the action. It was really cool to watch the Canucks
battle through each of these challenges and how the crowd of family and friends
cheered everyone on. It was a noisy place to be yesterday.
WOD 4 (10 minute CAP)
"The Crazy Combine"
Part 1 (For Time)
100m Sled Pull (@135lbs)
Part 2
3 Attempts ME Vertical Jump
Part 3
ME Unbroken Bench Press (@135lbs)
When I saw the Sleds being setup, I have to
say that I was a pretty happy camper. Most of the WODs today seemed to play
into my strengths. Nothing crazy like Chest to Bar or Toes to Bar, but lots of
movements that I could handle. We came in 3rd in the Sled Pull (even
after I almost dumped the Sled on the turn around) and I managed to hit 9'2" on
the Vertical Jump (@SavannahJessie hit 7'2"). The best part of the WOD though
was the Bench. We choice the mid-tier of weights that would give us 3 points
per rep and I hit 26 unbroken @135lbs.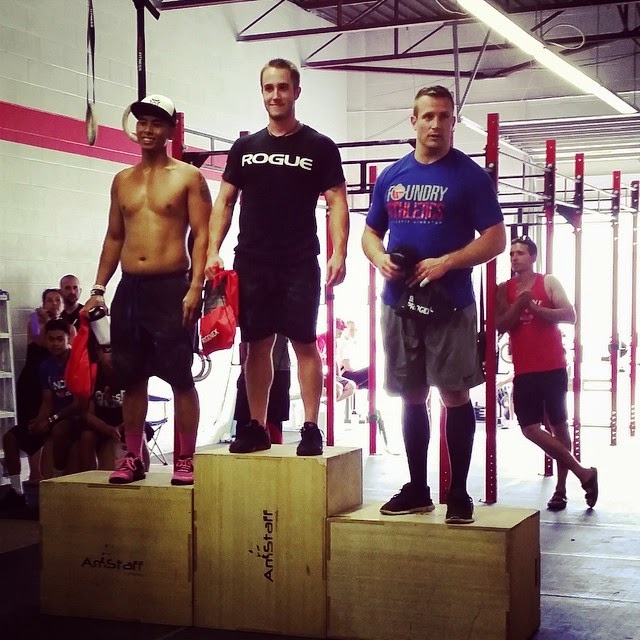 We didn't end up making the Top 5, but I'm
very happy with how we did and proud of @SavannahJessie for how hard she worked
at her first comp. We got to kick back and watch the top 5 teams and
individuals complete the final WOD and it was a doozy. I found a picture of the
RX division winners, but sadly I couldn't find one of the teams. Congratulations
to all!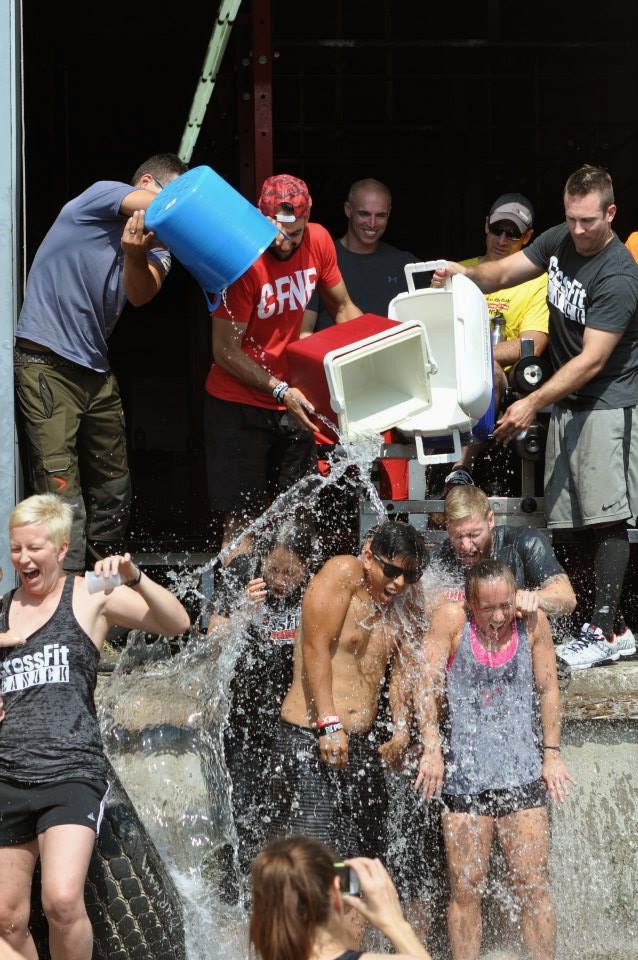 Just before I close this post up, I am
posting the #ALSICEBUCKETCHALLENGE photo of all the Coaches taking the ice
bath. Mostly because the faces are awesome, but also because little JJ did his
part.
Have a great long weekend!
Beez