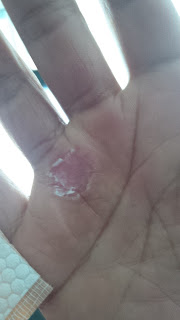 While most people have packed up and headed to various
Canada Day destinations (cottage, camping, visiting), I was staying in town and
I was @CrossFitCanuck for the Saturday WOD. We rolled into the
last day of Smolov Jr Week 2and then a little sit down with Megan. For the
first time this week it wasn't blazing hot and disgustingly humid, but we all
knew we were in for a challenge. I'm also happy to report that thanks to Cocoon
(I think) I've had 2 solid back-to-back nights of sleep and relatively pain
free days. It could be a placebo effect, but I'm going to keep riding this
train.
Warm-up 'A'
800m Run (High-Five to my Running Partner @SarahBassels)
2 Rounds of
10 Tire Jumps
10 Kettlebell Swings (@25lbs)
20 DUs
Warm-up 'B'
See Previous
The focus again for the Back Squats was chest up and good
depth (get to parallel). I loaded up to
285lbs and we started the complex, 3 Squats every 2 minutes for 18 minutes. Let
me tell you, it was some heavy lifting today Ladies and Gents. It felt really
good though and for the first time in a couple weeks my shoulder wasn't
screaming as I loaded and unloaded the weight.
Just a little twinge, but getting better.
Megan (For Time, 15 minute CAP)
21 – 15 – 9 Reps of
Burpee Pull-ups
Kettlebell Swings (@70lbs)
DUs
I hope you paid special attention to the Kettlebell RX weight.
Apparently Jillian is taking us all to the next level of RX, 70lbs for the
Dudes and 50lbs for the Ladies. I was working at RX today and was attempting
Pull-ups without the band (eek!). I got to the 15 minute CAP as I finished the
last Burpee Pull-up and Tavia reset the clock and with the encouragement of the
#1030Crew I finished. Just Finish. 16m56s of all out go-go-go. The new bell was
heavy, but it was moving pretty well. Unfortunately
I managed to take a major chunk of my hand off (well a quarter sized dollop) sometime
in the last round of Burpee Pull-ups or Kettlebell swings. Oh well, gotta be a
first for this sooner or later.
Cash-out
3x 1 minute ME
Tire Flips
Sledgehammers
Battle Rope
The Flips were fine and the Hammers were marginal, but after
1 round of Battle Rope I was finished with it.
I couldn't grip the handles with my right hand so I made an executive
decision. I didn't really feel like doing anything else after all of this, but I
managed to convince @SarahBassels to go for a quick run and then some mobility.
B-WOD
400m Run (Sprint last 50m)
Hip Stretches
Back Rollout
Quad Rollout
Nothing too exciting but nice job @SarahBassels for getting
the run in after a crazy day. The mobility stuff was key and a lot of parts of
me were stiff, but I felt absolutely energized. I hope everyone has a safe and
happy Long Weekend and remember if you drink, don't drive. Common sense, yes,
but Common Sense isn't as common as you think.
Beez