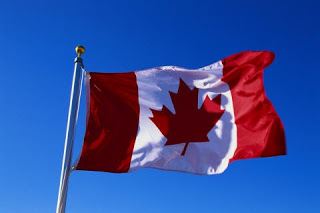 Happy 146th Birthday Canada!
Gotta love the Great White North and in honor of our home,
it was off to @CrossFitCanuck for some holiday/birthday WODDING. Now we can't
forget this is the last week of Smolov Jr so Back Squats were going to be the
order of the day, but what I wasn't expecting was a ton of Pull-ups. The last thing you want to do with a quarter
sized piece of your palm missing is do more Pull-ups. Oh well, that's why we
play. Do it to get stronger and better.
I was also feeling some Running today (say what?) so I'm thinking the B-WOD
will be some pounding of the pavement.
Warm-up 'A'
400m Run
3 Rounds of
5 Pull-ups (ugh!)
10 Push-ups
15 Squats
Warm-up 'B'
See Previous
Back Squats. Lots of Back Squats. I was working with Matt
again today and we were working the 255lbs like it was our job. Every 2 minutes
for 10 minutes we did 6 reps. Yes, I said 6 reps. It was heavy, but I felt
pretty good and I thought I got good depth and had my chest up for my reps. Matt
is a machine and my goal is to get depth like him at the bottom of the Squat,
it is amazing. Somehow next to us we had another one of those "Things Heard at
CrossFit" moments (and Momma Bear Katie was involved again). It worked out
something like "You have to go deeper", pause for dramatic effect, "That's what
she said" (someone piped up)…
The Canadian Crippler (22 minute CAP)
30 Pull-ups (Purple Band)
15 Deadlifts (@225lbs)
400m Run
30 Push-ups
15 Power Cleans (Modified from Push Press @135lbs)
30 Squats
15 Front Squats (@135lbs)
400m Run
15 Deadlifts
30 Pull-ups
With a pad, tape and a glove on I made a go of it and my
hand was screaming (yes, I'm clearly a suck). It was a doozy of a WOD and it
was one that had been done at Sectionals in 2010. I finished the Deadlifts (2nd
set) when I CAPPED out. If the last movement had been something other than
Pull-ups I would have tried to finish, but I licked my wounds and called it a
WOD. You don't realize how difficult everything becomes when you can't fully
grip with your dominant hand.
Cash-out
146 DUs while singing Oh Canada
**50 Burpee Penalty For Not Singing
It took a while and we got Jillian to wave the Burpee
penalty because let's be honest, you can't count, do DUs and sing at the same
time. It was nice to be done and hang out with the #10amCanucks in the back
just listening to tunes and shooting the breeze. There came a point though when
I knew it was B-WOD time.
B-WOD
2.52KM Run
Hip Stretches
Glute Stretches
Ankle Mobility
Back Rollout
Today is Challenge day too! After B-WOD Tavia did the
caliper test on me to get a baseline for my 30-Day Challenge. Good news? Yes
indeed! I weighed in at 285lbs (no movement in June… boo), but I am now at 16%
body fat. That is down 6% since my last test a month ago! I didn't feel great
for the last few weeks (especially since I couldn't gage without the use of the
scale), but I still seemed to be making progress.
STOP THE PRESS, WE ARE DOING ANOTHER WOD!
That's right, going against everything I've learned, Tavia
wanted to do something special to celebrate Canada Day so the Canucks are going
to be doing a Pizza Helen. A pizza what now? A WOD that includes eating as part
of the activity.
Pizza Helen
Eat a Piece of Pizza
400m Run
21 Kettlebell Swings (@50lbs)
12 Pull-ups (Green Band)
Finish time 19m36s and no I didn't throw up. I will say that this was a dirty, dirty WOD
and it is officially going on the shelf right next to Murph (WODs you only do
once a year). Key to this one, was to
take your time with the Pizza and not to drink too much water. I won't lie, I did
feel nasty when we were done.
Happy Canuck Day
Beez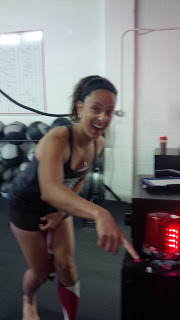 **Also the Canuck Coaches picked up a PR Siren!! So
awesome!!