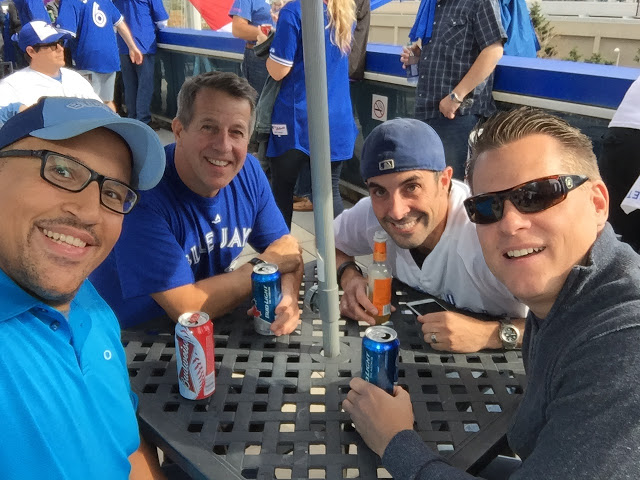 At the game with these goons!
Thursday (October 8) – I CAN'T FEEL MY
ARMS! Ok, don't panic. It's still dark, I didn't take magnesium and oh yeah, we
worked the arms like it was our job yesterday. I wasn't planning getting
anything off the top shelf today, that's for sure. Well, that was the plan
until I got back to @CrossFitCanuck, because Thursday morning we had Pull-ups
and Wall Walks (among other things). Today was a modified version of
@SarahBassels birthday WOD so we are guaranteed some spiciness. It's going to
be a long day today (going to the ALDS Game #1) so it's key to get some work
done before the party starts.
Warm-up
3 Rounds
150m Row
Lunges/Broad Jump/Duck Walk
10 Beat Swings



You always hope that your body will feel
better once you get moving (and it usually does), but there will always be
days. Still, work is work and the key is to be able to do work. While it's said
you don't earn your calories in the gym, I feel that you do earn a little bit
more life. Weird? Maybe, but I believe the work we do to improve (build muscle,
loose weight, increase endurance) will always give us a positive return.
6 minute AMRAP
3 HSPU (Deficit 2x45lb and Box)
6 OHS (95lbs)
Rest 1 minute
6 minute AMRAP
3 Strict Pull-ups
6 Push Jerk (@115lbs)
Rest 1 minute
6 minute AMRAP
3 Wall Walks
6 Squat Snatch (@75lbs)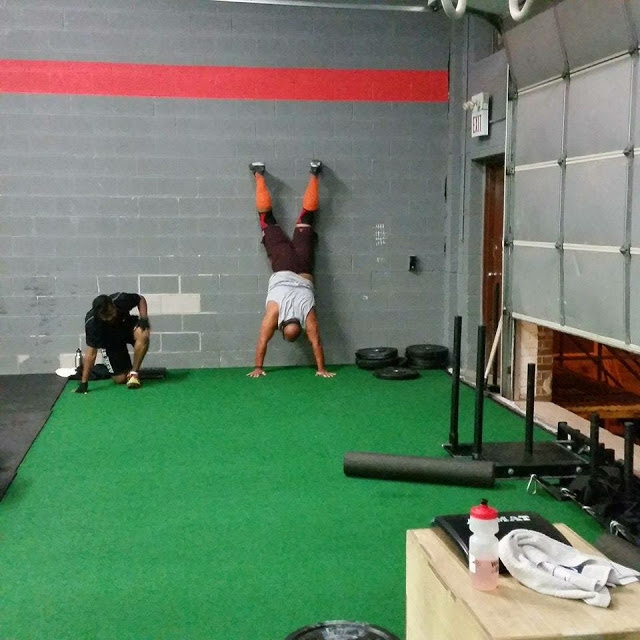 @SavannahJessie proving that I could get up the wall…
Remember those arms that I couldn't feel?
Well I feel them now. ARGHHH!!! They are burning and screaming and crying all
at the same time. It felt like every movement seemed to touch the chest and
arms in some way. In AMRAP #1 I managed 4 rounds plus 2 HSPU and it was a
challenge. AMRAP #2 was 5 rounds plus 1 Pull-up and AMRAP #3 was 1 round plus 3
Wall Walks.
BWOD
Hip Stretches
Back Rollout
Frog Stretch
Ankle Mobility (Box)
Shoulder Mobility (Band)
Lat Stretch (Band)
I followed up today's work with a trip to
the Rogers Centre to watch the Blue Jays play in their first playoff game since
1993. Sadly we all know what the outcome was, but what can you do. To see
50,000 singing O Canada, cheering on their Jays and holding out hope until the last
out that they could come back.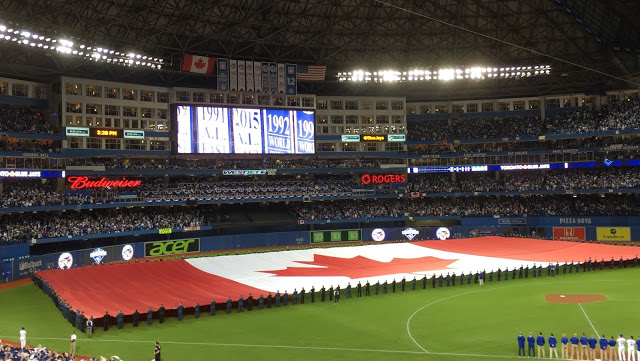 Please note the new banner!
I'm not sure how this weekend's workouts
are going to work (it's Turkey Weekend after all), but I'm planning on hitting
the Monday Special Edition class.
Beez