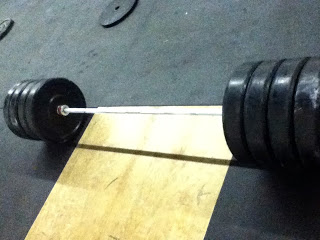 Wednesday (July 22) – I don't understand how I was recovering and feeling fine two weeks ago doing two-a-days and now I'm knocked down. I feel totally out of kilter with this stupid hip. I had @Wardy_ work on it and it is feeling better, but I am a hot mess again. Today is the last day at @CrossFitCanuck before @savannahjessie and I head west for @jen_wis and Ryan's wedding. I really want to make sure that the gains I have made over the last few weeks aren't thrown away in a frenzy of booze, food and lounging, so I need to be able to function. On that note, we're planning on hitting a box in Lloydminster and I'm packing my running gear (gasp, my first runs of the year).
Warm-up
Push-ups
Run
Squats
Ok, so I am a little unclear on the exact warm-up, but what can you do, it's been a while (and a lot has happened). Today was going to be a tough one. DUs and Bench Press. Heavy, heavy Bench Presses. Now I have a heavy 1RM and with my current schedule, shoulder and general conditioning, I know that it would be a challenge to get near that number. Still the programming called for heavy and Coach Kimiko was nice enough to spot me for the first few rounds.
Jump up & Plate Down
Every 2 minutes x 14 minutes
1 minute DUs
30s ME Bench Press (@225lbs to start)
30s Rest
2013 CrossFit Games Masters Event 4
Deadlifts and Box Jumps
21 – 15 – 9
Deadlift (@275lbs)
Box Jumps (24″)
Scoring for the first component worked out to 52 DUs and 64 total Bench Presses. Those skips really took it out of me and I was tired from the Single-Single-Double method that I'm still using. By the time I got to the bar I was sucking wind pretty badly. The Games WOD was supposed to be a 30″ Box, but after a few warmup attempts my hip was having none of it. 24″ it is with Step-ups. The Deads were tough, but I hit most of them in groups of 5. My finish time was 7m56s.
Warm-up
Pizza Box Game
I got sneak attacked by @savannahjessie with less than 30 seconds to play and got stuck doing Burpees. Thanks Baby. It was the only time I lost the abmat for the entire 4 minutes. Now I wasn't really 'feeling' what was coming next, after the Deads, the DUs and a lack of between WOD eats. That my fault, preparation is half the battle and I wasn't prepared.
10 minute EMOM
5 Burpees
5 DB Thrusters (2x@25lbs)
15 minute AMRAP
Ascending Ladder
Pull-ups
Push-ups
Lunge (Left/Right)
5 DUs
Hot mess in progress. Out of kilter led to knee pain on the right leg (which has been fine for the last 3 weeks) during the Thrusters. Tav tried to give me some modifications, but my body did not have it. In the AMRAP, the DUs increased by 5 each round while everything else went up by 1. I finished 5 rounds plus 1 Push-up. It was ugly. Even my mental self took a hit because things around me were seriously getting me upset. Do the work. That's why we are all here. Don't say you did if it wasn't the case. Like I said, I was worn down today and this was just a by product.
BWOD
Back Rollout
Hip Stretches
Glute Smash (Softball)
Hip Smash (Softball)
It's time for a break. I will be gone for a week and a bit, so hopefully everything figures itself out while we are gone. I'm going to miss the box, but it will be fun to check out a new one and to get some work in while we're out west…
Go WEST!
Beez