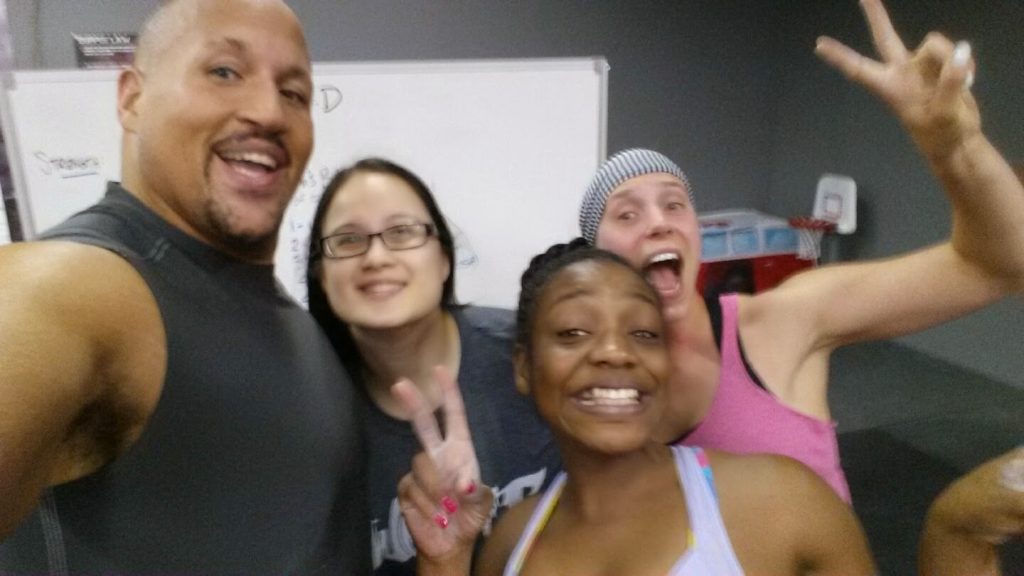 Post 40 minute CAP
Thursday (April 9) – So this has been an unbelievable week
so far and proof again that WODs (or working out in general) make me a much
less cranky person (unless you do something dumb). With coaching classes on
Monday and Wednesday nights' and having gotten a WOD in Monday night, I was
rearing to hit up the 6am class with Coach Baz (@SarahBassels). I'm happier
yes, but the process of getting out of bed at 455am is still an interesting
one. Dropped @Savannahjessie off on the way and still made it with a minute or
two to spare… Only to find out the horror (the WOD wasn't posted yet online),
today would be a birthday WOD.
OH SWEET BABY GEEBUS! Kimiko's birthday WOD, fashioned on
the 12 Days of Christmas. You remember that one, the little present of pain
with a nice little bow on the top, but I digress. Happy Birthday Kim!
Warm-up
5 minute EMOM
10 Wallballs (10lbs)
10 Push-ups
Broad Jumps
Now with the fact there was no strength and conditioning
portion for today's session, Baz lead us through an extra intensive barbell
warm-up and then we got setup. The negative with this style of WOD is the
amount of stuff you need, but it is outweighed by the fact that it is a head
down, go, go go type of thing. Tough but fun.
Kimi's Birthday WOD (40 minute CAP)
1 – Wallwalk (Inchworms after R2)
2 – Chest to Bar
3 – Power Snatch (95lbs)
4 – Hang Power Cleans (155lbs)
5 – Ring Dips (Purple)
6 – Pistols (up to Box)
7 – Burpees
8 – Box Jump Overs (24")
9 – Deficit HSPU (Box)
10 – 21 DUs
This one was a barn burner and it was thanks to Baz that I managed
to get done. 38m45s. That's how long it took to complete this laundry list of
movements. She kept me moving and focused on getting to the next thing. Just
keep moving. Oh, I didn't explain how this worked. Sing the 12 Days of Christmas
substituting the above activities (stopping at number 10) and then do that
movement. The whole 6 am class (did I mention it was Beez and the Ladies
again?) got through this one under the CAP (only because it was our present to
Kim).
No time for a B WOD today, just a quick spiffy up and off to
work.
Beez