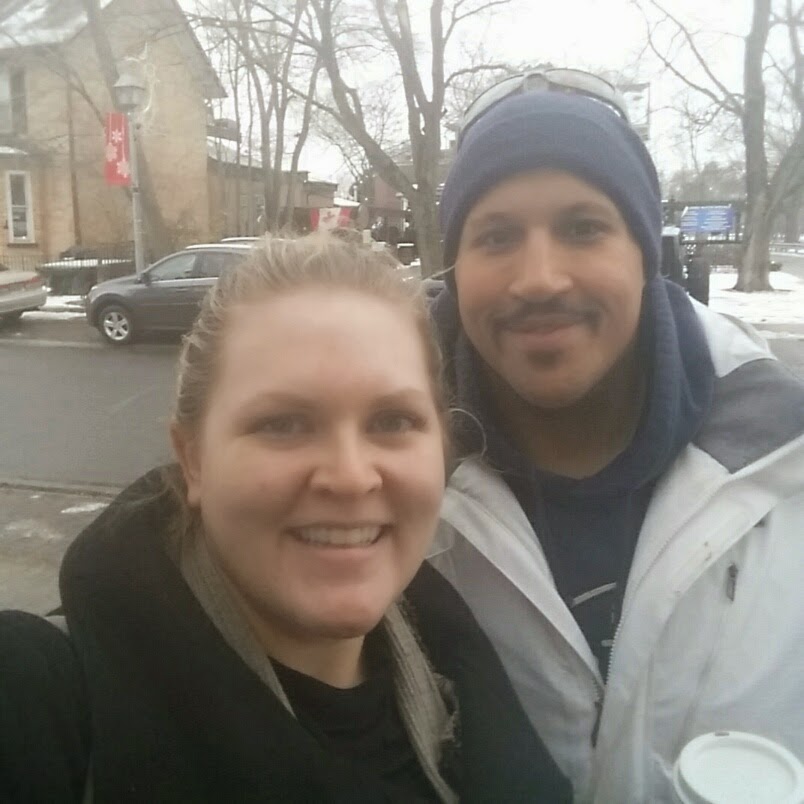 Post WOD in Unionville
Saturday (Nov 22) – What's this? A post on
the day that it actually happened? I know, crazy concept. I'm a creature of
habit. I like having a schedule. You don't have to think, your body just knows
where it has to be and when it has to be there. You go, you work and then you
do whatever else you have time or desire for. With everything that has been
going on (house, condo, studying, work, shadowing, life… Geez, am I missing
anything?) I have been off my schedule. As a result, I am not feeling tip top
and I am starting to go a bit nuts. I need to be better and I need to get back
to work. This week will be key. I'm going to try and get everything in (without
melting down) and hopefully when I get out the other side, I will be feeling
better and ready for WeLift's AMRAP 10 with @matt_5577.
But before that, we have a Saturday
@CrossFitCanuck with @SavannahJessie…
Warm-up (5 minute AMRAP)
5 Squats
5 Burpees
5 Partner 'Low Five' Push-ups
Partner Wheel Barrow Carry
Now I tried to get in for Rowing Training,
but this week just hasn't worked out. I did manage to get Week 5 Day 1 done,
but that was it. The plan then, get Day 2 finished and see about squeezing in
Day 3 ASAP. While the 1030am folks got caught up with the week that was, I got
on the Rower.
BROW
520m Row
10/10/10/10/10
5x100m Sprint (16.2s – 16.6s)
3x250m Row (47.2s, 45.1s, 44.9s)
1x500m Row (1m36.5s)
At this point, I simply ran out of time. No
problem, just do it when you get finished the WOD. Wait WOD? Only the second
one in two weeks. This should be interesting. Today is a Partner Monster
Mash-up and it was going to be spicy. @SavannahJessie was my partner and we
hunkered down and got to it.
Partner Monster Mash-up (20m CAP)
21 – 15 – 9 Reps of
Thrusters (@65lbs)
20 Wallball (@20lbs)
Deadlifts (@65lbs)
200m Row
Snatch (@65lbs)
20 Burpees
Whoa. That little list was a serious little
workout. Notice I said little twice? Well there was nothing little about it. I
struggle a bit on anything deep in a Squat with weight (I think I may have to
break down and get this looked at), but I worked hard and tried to keep up to
@SavannahJessie who was blazing the way.
By the time we hit the CAP, we had completed the round of 15 Deadlifts
and had notched 69m on the Rower. I
wanted to complete the BROW, but I was done by the end of this. Looks like I will
be re-doing Week 5 instead of trying to catch up and overdo it.
BWOD
Glute Stretch
Back Stretch
Hip Stretch
So on the learning to coach front, I've
moved into Phase 2 and I will be leading some warm-ups and skills next week. If
you have some free time, come in Monday and Wednesday. I'm really excited to
have completed Phase 1 and I'm really looking forward to learning more and
getting better as I progress down this path. If you do make it in, please feel
free to let me know what I can do better, because there is no improvement
without feedback.
So as I wrap up today, I want to wish 'Good
Luck' to the 2 Canuck Teams that are competing at 2 Bars 1 Snatch tomorrow. It
also wouldn't be a Saturday if I didn't remind all those folks looking for a
great condo at Yonge and Sheppard about the great space that I have for sale.
Spread the word if you have any friends looking to be on the Yonge Subway Line,
close to the 401 and within walking distance of a bunch of great restaurants.
Thanks and have a great weekend,
Beez