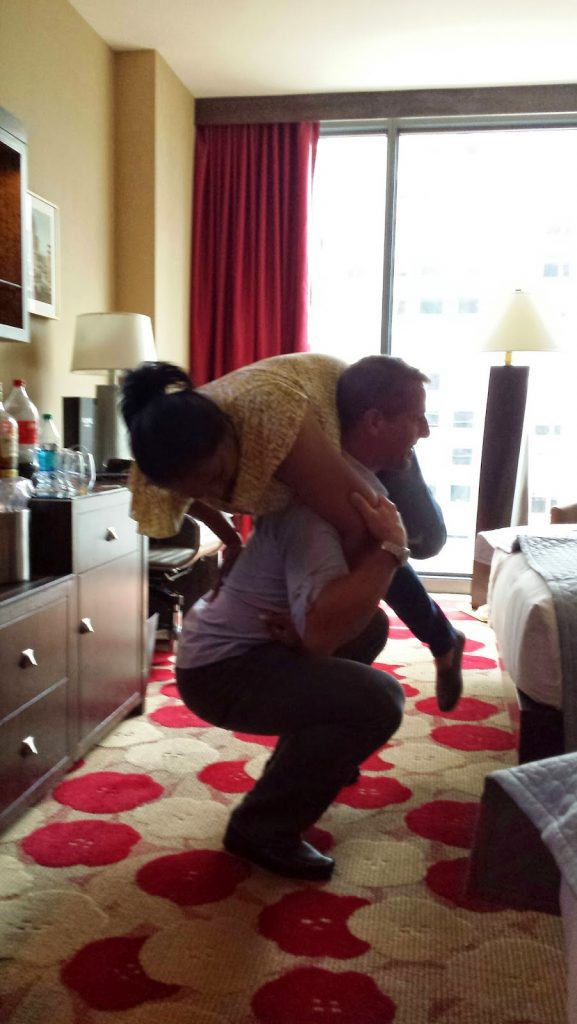 I know I've said it before, but if you miss a week
@CrossFitCanuck, when you come back it's like starting all over again. The
routines don't change (ok, this time they did), but with our programming,
Jillian has us working hard (possibly harder then most). We don't complain, we
don't snake the Cash-outs (for the most part) and when competitions roll around
we are standing on the podium. In fact we are so worried about not being ready,
a Squat session can break out anywhere. A birthday party, Chicago (@Keilshammer
above), just about anywhere. Hmm. It does make you wonder what is in store for
us when the Open rolls around next year. I'm predicting big things (you heard
it here first).
Warm-up
400m Run
2 Rounds of
20 Squats
20 Kettlebell Swings (@35lbs)
20 Pass Throughs (PVC)
I still don't understand why Coach D (@DefconRX) has an
almost empty 530p class, but Drew (thanks for the socks) and I weren't
complaining. It's like having 1-on-1 training every week and it allows him to
make sure we are doing everything properly. The 'Devil is in the details' is
how the saying goes and Coach D saw (and corrected the bottom of my second
movement to make sure I wasn't short changing myself. With a modification for
me (Hang Squat Clean, Squat Clean and 2 Push Jerk complex) I worked up to a
heavy 145lbs. We then dropped to 80% (125lbs) and did the above complex in a 5
minute EMOM. I will say with all the Power Cleans this week (somewhere just
short of a million), these were interesting. I tried to focus on heels during
the Cleans and hips during the Jerk.
WOD
12 minute AMRAP
21 Kettlebell Swings (@50lbs)
15 Box Jumps (24" Box)
9 Ring Dips (Green)
I'm still not ready to attempt the 30" Box and I was too
tired for 70lbs. Sometimes you have to know when to back down. It was spicy
today. Actually it's been spicy all week, but a lot of fun. I managed to
complete 4 Rounds + 5 Box Jumps before I hit the 12 minutes and the hot
schweaty mess streak continues. I still
don't feel 100%, mostly because I haven't been eating well, but I'm trying to
correct it and I hope my body starts cooperating soon.
Cash-out
2x60m Sprints (Back to Back)
2x80m Sprints (Back to Back)
100m Sprint
150m Sprint
200m Sprint
The Sprints were not quick and I'm starting to really freak
out about October. There's lots of time, but there is a mountain of work that
needs to be done. I can get into a 'race' pace, but I just can't seem to
accelerate that for any serious piece of time. Slowly I'm trying to add
activities to get me out and moving (nice early morning walk today), but I can't
wait to get back on the back.
BWOD
5 Pull-ups
Shoulder Mobility
Glute Stretch
Hip Stretches
Back Stretch
Back Rollout
The BWOD wasn't too crazy tonight (after 2, hour long
sessions this week), but I still got some mobilization in. While I try to get to bed early 1 night this
week, I will remind you about the FREESTUFF giveaway that is going on. Leave a
comment on yesterday's blog to enter a chance to win 1 of 6 Muscle Care Roll-ons.
It's the easiest contest you could
possibly enter.
Beez