… Someone else is.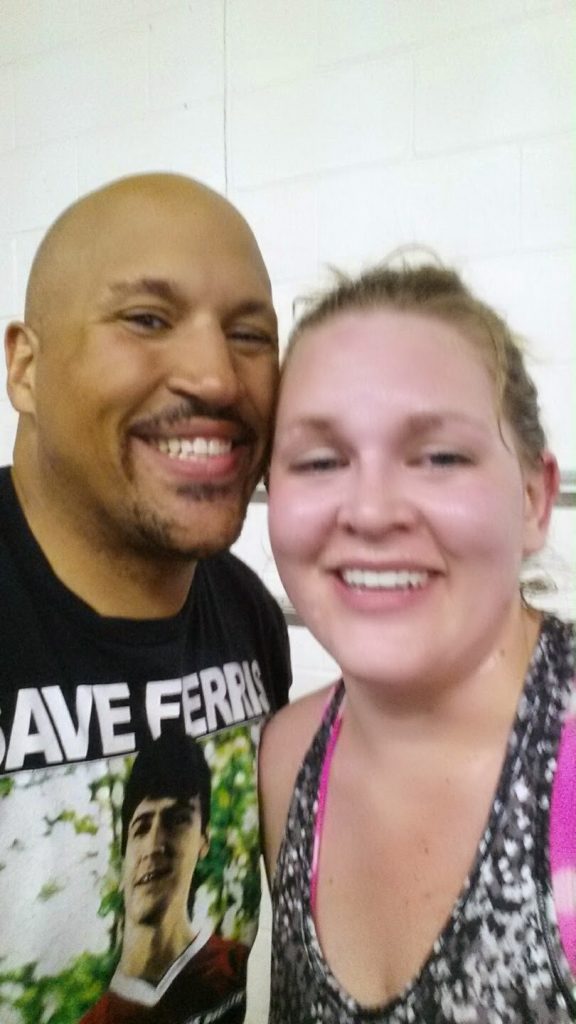 @SavannahJessie after WOD #2
Now I have learned a whole bunch of things since I started
@CrossFitCanuck, but I think the most important one is to always keep going. It
doesn't have to be fast. You don't have to go unbroken. Heck, you don't even
have to be lifting RX. You just have to find a way to keep going. Tonight we
were back for Clean & Jerks (to go with Monday's Power Cleans for days) and
some Front Squat action.
Warm-up
100 Skips
Group Warm-up
I was feeling pretty good considering Monday was my first
WOD all-out in a long time and there may have been a drink or two on Tuesday
evening. We started off with Front
Squats @135lbs, 3 reps, lifting every 90 seconds for 3 minutes. Working with
@SarahBassels, I'm still having issues rolling to my mid-foot when I push up,
but I think we've narrowed it down to my shoes. It seems an unexpected
byproduct of my weight loss was that my feet have shrunk. I think there may be
a new pair of AdiPowers or Romaleos on the Christmas list this year. We also
did some Deadlifts (YAY!), 3 reps every 90 seconds for 3 minutes @287lbs.
WOD (20 minute CAP)
10 – 9 – 8 – 7 – 6 – 5 – 4 – 3 – 2 – 1
Clean & Jerk (@155lbs)
1 – 2 – 3 – 4 – 5 – 6 – 7 – 8 – 9 – 10
HSPU (Box)
My first C&J and boy did I feel Monday. The WOD doesn't
look like too much, but boy, did it seem like it was pressing overhead FOREVER.
I'm still working from the Box, but I hope that with this new cycle, HSPU will
be in my future. My time for today, 19m04s and a giant puddle on the ground. Shweaty.
Cash-out was mobility tonight so instead, I completed a BWOD while
@SavannahJessie worked through class #2.
BWOD
8 Pull-ups
Ankle Mobility (Box and the Stick)
Ankle Mobility (Plate)
1000m Row
5 Rope Hangs
Glute Stretch
Hip Stretches
Lat Smash (Supernova)
Back Smash (Supernova)
Hip Smash (Supernova)
Calf Smash (Supernova)
Back Stretch
Shoulder Mobility (Band)
2 Rounds of
10 Wallball (@14lbs)
5 Push-ups
When I tapped out, I was done. Now for those of you that
follow along here you will remember that I posted about some FREE STUFF a
couple weeks ago. Well, the time has arrived. The good folks at @Muscle_Care
(Dr. Spin) have donated 6 Muscle Care Roll-ons for me to give away to you guys.
Here's what you need to do (it's easy I promise), just leave a comment at the
end of this post. That's it. I will draw 6 lucky winners next Thursday
(deadline for entry is Wednesday July 2 at midnight) and post them.
Good Luck!
Beez