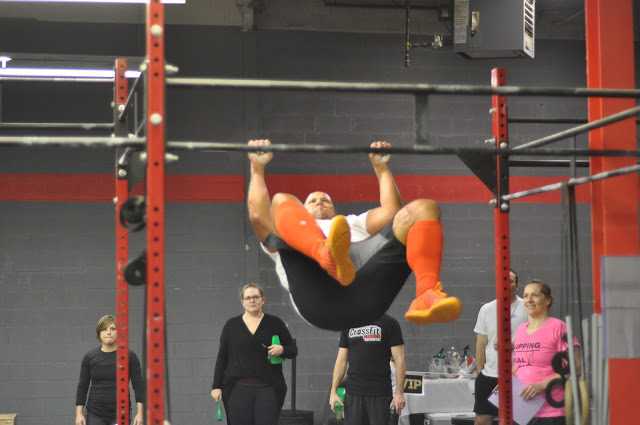 Trying to fly…
March – I spoke about the magic of the Open. The magic and
incredible determination that we get to see, all the stories. It isn't always
incredible though. Don't get me wrong, I love the challenge that CrossFit
brings me every time I step into @CrossFitCanuck, but I have to admit that even
though I've had some success, I've also banged my head against the wall.  Even though my story was only moderately successful
over the last 2 Friday Night Lights, I still got to watch a whole gaggle
(seriously, how often do you get to use the word gaggle in anything) of people
hit their firsts in a lot of things.
Still I have to be a little bit excited. I hit 18 Toes to
Bar in 4 minutes. That's the most I've ever hit at one time ever so that's a
win, but there is always room for improvement. I didn't make it to the DUs
(which would have murdered me anyway) or the barbell to earn more time. Still
the next time that this one rolls around, I will be better. The following week
was less successful. Bar Muscle Ups. I don't have this in my arsenal yet and
after 10 light Snatches I spent 6m20s hurling myself at the rig. The biceps and
shoulder issues have robbed me of any chance of generating power from a Beat
Swing so I was left with trying to brute force my way onto the bar.
What I got was a nice collection of bruises on my arms and
chest, but no Bar Muscle Up…
More work to do…