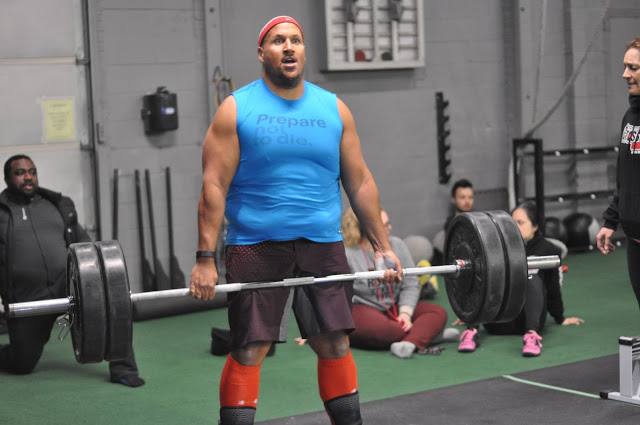 One of many… Complete with Cr@Zy Eyes
March 20 – So as the clock ticks down on my time in my
thirties, I'm reflecting back (not too far) on this latest decade of my journey
on this little blue marble in the universe. A lot has happened since 2006, I've
bought and sold my first home, moved out of Toronto, found the woman of my
dreams and gotten engaged (technically she moved here and found me) and
discovered a whole lot about what the human body is capable of. Not a small
list of things and I've glossed over a bunch (becoming an Uncle twice over was
a pretty big deal), but all things that have helped shape the person I am.
Still, there is one lingering regret. Regret? Yes, I don't have many, but I do
regret not finding CrossFit at the beginning of my thirties (or the beginning
of my 20's for that matter). CrossFit and specifically my community
@CrossFitCanuck have done more to change the person I am then just about
anything else. Sure there are aches and pains, but the weight loss, strength
gains and just overall increase in health will be things that help me every day
and will hopefully make getting older a little bit easier.
Why be careful what you wish for?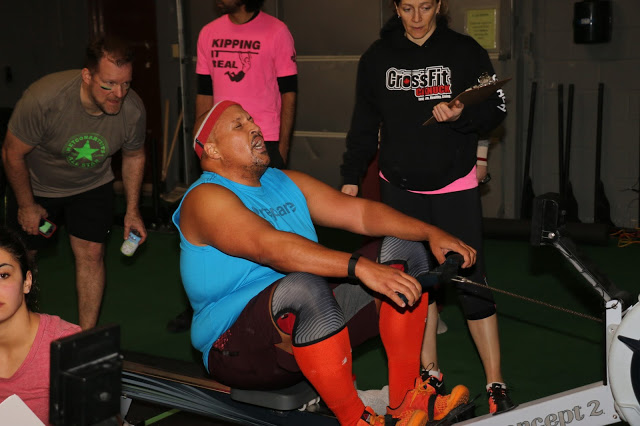 If I keep my eyes closed, it will be easier… Right???
Well the Open is almost over and Dave Castro (head of
CrossFit Games programming) finally released a WOD that was designed for me. 55
Deadlifts @225lbs, 55 Wallballs to a 10ft target (with a 20lb ball), 55 Calorie
Row and 55 HSPU. All that in 13 minutes for as many reps as you could get.
SWEET! Don't get me wrong, 55 Deadlifts was not going to be a joke, but that
and the Row are my events.  Raw power.
The Wallballs would be a challenge with hitting parallel (my knees are finally
starting to feel better), but they would just be the filler between the Deads
and the Row. HSPU? Well I don't have those yet, but I was going to get a chance
to try.
12375

1100
What do those numbers mean? Well when you stick some commas
in there they show you how tough 16.4 actually was. 12,375lbs and 1,100lbs. You
read that right. The Deadlifts worked out to lifting over 12,000lbs from the
ground and pushing 1,100lbs up to the wall with the Wallball. It was grueling.
For me, it was the Wallballs. They killed me. Sapped my energy and slowed me to
a crawl. The Deadlifts were a little over 3 minutes of work and the Row was
3m15s of the toughest pulling in my life, but those 5 minutes of Wallballs were
death.  Still, I got off the Row and had
a little over a minute to attempt the HSPU. I didn't get any, but I had 4
attempts to get upside down. 165 total reps complete.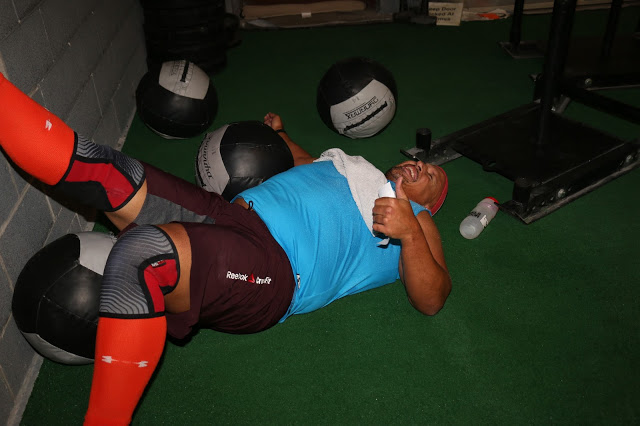 I was stuck there for a while…
As I close up the blog and my thirties, I feel each and
every one of those Deadlifts right now. Still I did the work and I'm proud of
how it worked out. Thanks to all those who have been a part of this ride and to
those who came to help me celebrate my birthday last night (today has been
pretty much a write off). Happy birthday to Poppa Crawford who is celebrating
his birthday today and looking great for a gentleman in his 80's.
See you at 40.
Beez