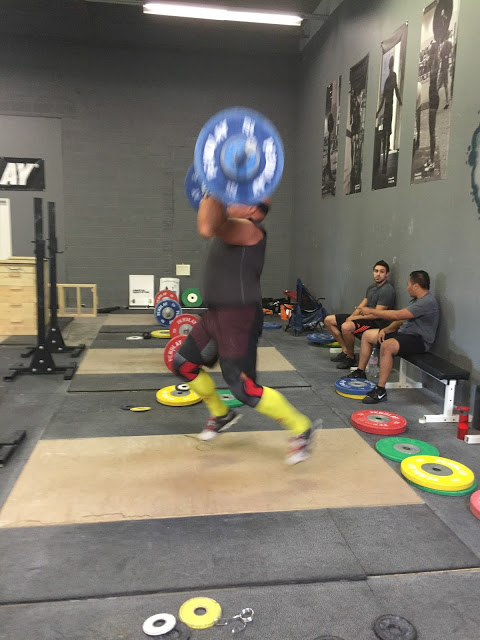 Blazing Fast Feet
Thursday (September 10) – Well so far September has been
filled with new things and Thursday marked another first for me. My first
@CrossFitCanuck Weightlifting Class. From the evolution of Thursdays when it
was just @CadProOO and I being led by @DefconRX in our almost 1-on-1 CrossFit
classes. I watched as lifters came in following the regular class. It evolved
from @PlatformAssassins to a scheduled weightlifting class and finally to
Canuck Barbell. Still, even watching these very gifted lifters slamming bars, I
never experienced these unique classes. That all changed today.
Before – I'm nervous. I don't know what to expect and I really
don't want to suck. Suck might be a bit harsh. Like everyone I have lifts that I
am better at then others and while I'm always working on improving them, it is
never fun to have weaknesses exposed (especially in front of others).
Warm-up
10 Squats
Bear Crawl (Gym Length)
5 Push-ups
Broad Jump
10 Squats
Inch Worm (Gym Length)
5 Push-ups
Broad Jump
10 Squats
Twisting (Gym Length)
5 Push-ups
Broad Jump
Then…
Gym Length
5 Duck Walk (@35lb Bar)
2 Squats
Well that was intense. Coach G (@girmantitov) was leading
today's weightlifting (it was his first too!) and the warm-up had me sweating
buckets. No doubt about it, definitely warm. Similar to a CrossFit class, there
is a list of work and we had an hour to work through it. Thanks to @CadPro00
who is a regular and partnered up with me to get through everything. It was
just like old times!
Not bad, need the elbows up more…
Strict Press
4×4 (@120lbs)
Hang Clean + Jerk
60% 3+1
70% 2+1
80% 1+1
68KG (149.914lbs) 1+1
Good Mornings
4×4 (@125lbs)
What a cool class. The work on the Hang Cleans was pretty
cool and something that I don't normally get to work on. @CadPro00 even showed
me the charts to convert Kilos to Pounds (woohoo, no more Google). He even came
close to hitting a PR on his Clean and Jerk. The whole energy for the class was
amazing and I think that I will definitely have to do these more often.
After – Comfortable. So comfortable and happy with the work
today and the people I got to do it with. Just a warm feeling (and not just
from my screaming hamstrings).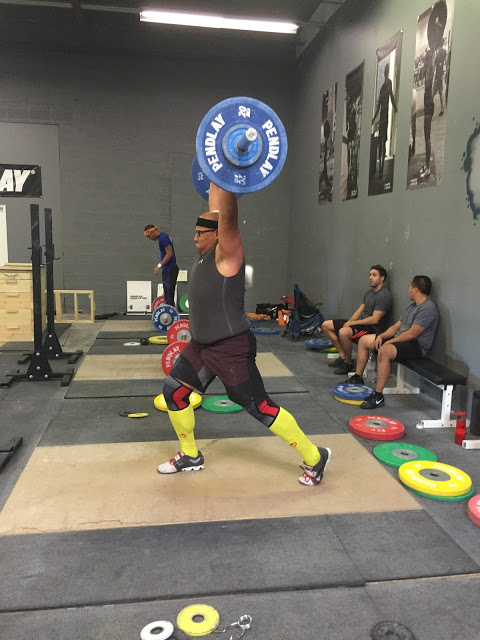 Boom
Friday will be a play it by ear kind of day. There is a lot
scheduled for work and depending on how it goes will determine the workout plan
for the day. Eating this week has been really good and I hope that I can keep
it up. On a housekeeping note, I want to congratulate @savannahjessie for
winning last months' running challenge. I had trouble logging the kilometers
and she got out and did the work. Congrats!
Beez