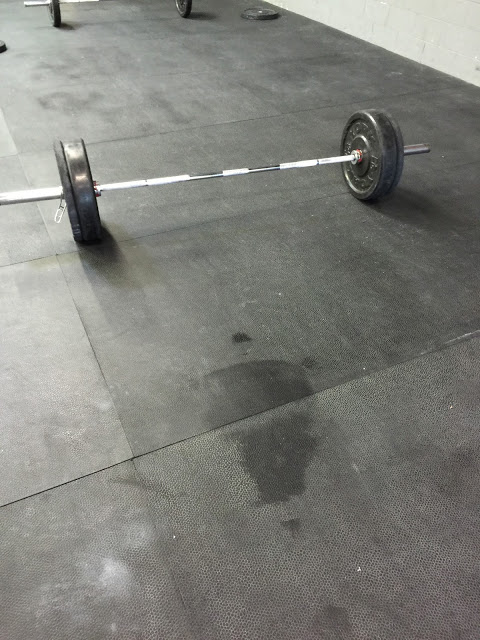 Work Done.
Saturday (September 12) – Routine. It sounds boring, but I love
routine. Routine removes thought from the equation and makes things habit. If
you don't have to think, you just can focus on the doing. I've said it a lot,
but I don't think I can emphasize it enough. Especially in this day and age
when everything is hectic and the time to squeeze things in becomes shorter and
shorter. Saturday's. Oh how I have missed you. Working them back into routine
has been hard, especially with the summer, but slowly, I am starting to get it
together.
Warm-up
500m Row
Last Saturday, @SarahBassels picked the doozy and this week I
got the honor. We've had a WOD in our back pocket for the last few weeks and I decided
that today was going to be the day. It was hot, it was fast and boy, oh boy it
was dirty. I had a flashback to the old box. Baz and I incorrectly did a WOD
with Good Mornings (like twice the amount of work) and our hamstrings were
screaming. Today, their screams were quieter, but as soon as we started the Deadlifts,
it got LOUD!
WOD
30 – 20 – 10
Deadlifts (@155lbs)
Box Jumps (24")
Hand Release Push-ups
You get through the Deadlifts with no issues. They were a
piece of cake. Then, you take the first Box Jump. Legs Scream. Ok, well this
WOD isn't going to get done without a bit of hustle. The bonus is that once you
make it through the first round, it's all downhill from there. By the time
Push-up #10 was done, 11m39s had ticked by.
BWOD
Glute Stretch
Hip Stretches
Back Rollout
Shoulder Mobility
Lat Stretch
I tried to do some work on HSPU, but there was no progress
today. It sucks, but I'm still carrying too much booty (which I'm working on)
and my mobility is still an issue. OK, honestly, there's probably a fear of
coming crashing down on my melon too, but that's natural. Right? There is still
time left in the year, so I'm not too worried yet.
I will be back to you on Monday (once I have hunkered down
for a weekend of NFL Football),
Beez