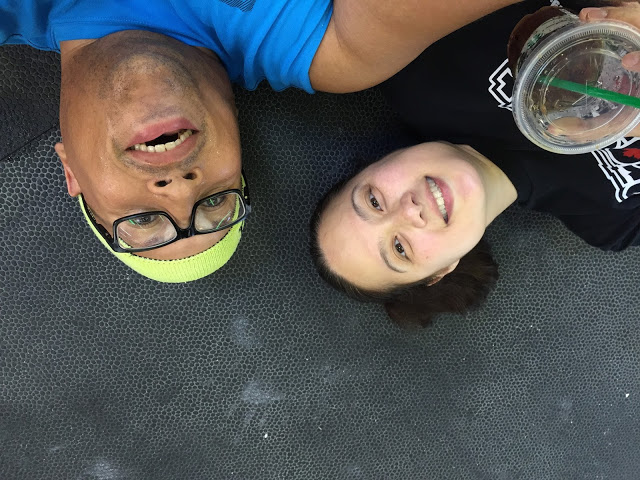 @SarahBassels and I post Sandwich
Saturday (August 22) – I needed a night
off. Bigtime. Oh, I forgot to mention that we are currently undergoing major
renovations at work and as a result, the IT Boys (@phillyk007 and I) have been
doing our best impression of '2 Guys and a Truck' moving company. It has been
less than pleasant. Oh, you thought that IT was a glamorous gig? All air-conditioned
server rooms, lattes and mouse clicks. That's a good one. Nothing like pulling
old sticky cables covered in who knows what through 20-year-old desking.
Packing and unpacking phones, monitors, computers, printers and the like and
then relocating, unpacking and trying to find room to store unneeded items. I'm
sore, tired and in need of some rest.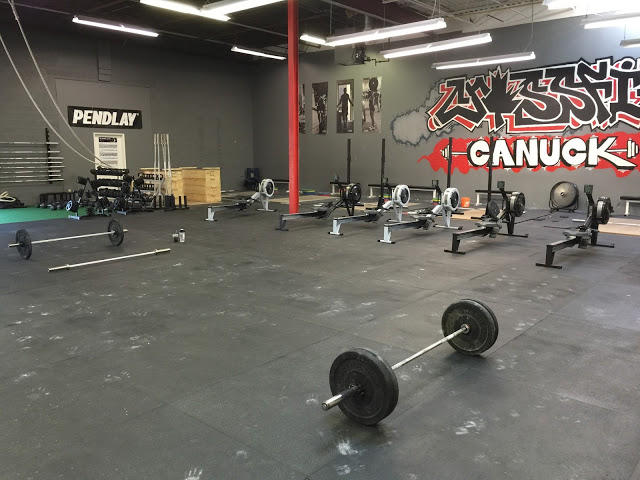 This is where it's going down…
Luckily, @SarahBassels and I had a Saturday
morning meeting to take a bite out of the breakfast 'Sandwich'. What is the
'Sandwich'? Well it is a workout from the 2015 CrossFit Games Teens/Masters
Competition. It looked like fun on TV, Deadlifts and Calorie Row sandwiching
Shoulder to Overhead.
Sandwich
80 Calorie Row
40 Shoulder to Overhead (@125lbs)
80 Deadlifts (@125lbs)
Well I learned some very important things
today. The folks that make it to Carson for the CrossFit Games are unbelievable
athlete (well duh) and that as it stands today, I am not cut out for it. Depressing?
Maybe a little bit. The Teens were completing this @115lbs and the Masters
between @115lbs and @155lbs. Now when I got to the @CrossFitCanuck I was brim
full of confidence and 100% sure that I would mow this down in 10 minutes
@155lbs.
NOT…
The Row was fantastic! I made it through
the 80 calories (which turned out to be 1,000m for me) in 3m27s. Yeah, this WOD
will be easy. Hop off the Rower, rest for a few seconds, grab the bar and get
to it. Whoa. This isn't right. This bar weighs a million pounds. 10 reps, rest,
10 reps, rest, 7, 7, 6. I'm in trouble. How did they make it look so freaking
easy? @SarahBassels has caught me as I moved to the Deadlifts. OK, touch and
go, get them in groups of 20. Um, nope. Now I love Deadlifts. I've said it
1,000 times in the course of this blog, but today, every single one of them
hurt.
13m50s.
I wouldn't have cracked the top 20 Masters
and each of them is older than I am by at least a year. If that doesn't open
your eyes to what the body is capable of with hard work I don't know what
is. The solace I can take from this is
that in November of 2012, I would not have finished. No chance. It could have been a bare barbell
and an unlimited CAP and it wouldn't have mattered a lick. Where I am compared
to where I started, light years. Where I want to be, I still have a ways to go.
Tomorrow I will be throwing a curveball to
the training program by trying to get a brick done tomorrow morning. What's a
brick? A scheduled 20KM+ bike ride followed by a 5KM Run. Eek. I have still had
trouble getting out to Run in the mornings, mostly because I'm trying to
recover from the workouts the day before. New day, new challenges…
Beez