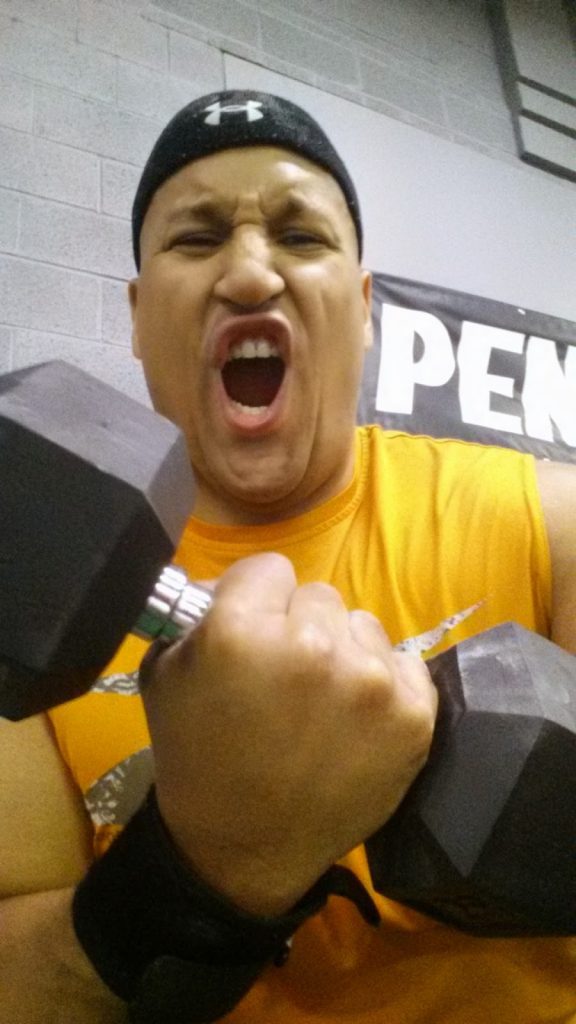 Crushing The Curls
Monday (April 27) – Gawd it's dark at 4:50am. After a
weekend filled with lots of activities and even after what felt like a lot of
sleep, the desire to leave my nice warm bed does not exist. It's been
interesting to say the least, after reading the article on The After Myth
(talked about in the April 25th post) I sit here and wonder where
this will end up. I find it strange that now that I think about the, what, the
process or the act of losing weight/getting healthy I am struggling more. When
it was just a matter of go and do it, the discomfort really didn't seem to
matter. I was still sore, I still had injuries, but I just kept plugging away
without having to think about it. Just do. Why the change? Is there perspective
interfering? I'm not sure what the answer is…
Warm-up
150m Row Before and 5 Beat Swings After Each Movement
Lunge Twists
Inch Worms
Bear Crawls
Has anyone else had issues with their hands? I don't know if
it's my baby soft skin, but frick, this rig-work is taking it's toll. My hands
always feel like they are on fire. It makes it tough to even grab the bar after
just 1 round. OK, enough complaining. We
are certainly covering the gamut of movements…
30s Work, 30s Rest for 6 Rounds
ME Knees to Elbows
Then…
Every 90s for 8min
Clean & Jerk
3@50%
3@60%
3@70%
3@75%
2×3@150lbs
41 Knees to Elbow really focusing on trying to get an
effective Beat Swing going on, but my shoulders are tired. I might need to
change my recovery strategy. We'll see if this improves at all with a better
diet and the supplements.
WOD (15min CAP)
3 Rounds
30 Calorie Row
20 Thrusters (@75lbs)
10 OHS (@75lbs)
5 Ring Dips (Purple)
It helps a lot when you get 1 movement that you really
enjoy. It can change your mindset and at least get you moving in a nice
positive way. I managed to get all 3 Rows in and all were below 1m20s. I
believe I could have gone a bit faster, but with Thrusters and OHS, I wanted to
make sure I didn't have a blowout and be unable to move. 2 Rounds + 2 Thrusters
before time ran out. Not bad considering.
I even hit up the Cash-out which involved BICEP CURLS! I haven't done Curls or Triceps Extensions since my days at GoodLife. There was even partner weighted Abmat Sit-ups with JoJo and @CadPro00 after the #530Crew was done. How much fun? Just look at the picture…
So I know the last few posts have been a little bit of a
different format, but I would really like to hear comments (positive or
negative) to help me improve. There are
some 'BIG' changes coming this week that will hopefully rock your socks off and
allow me to (hopefully) provide you with even more. The challenge will be to
keep it close with regards to getting posts up. I don't know how some people
handle getting everything done in a day, I work hard at it, but there just isn't
time.
Beez