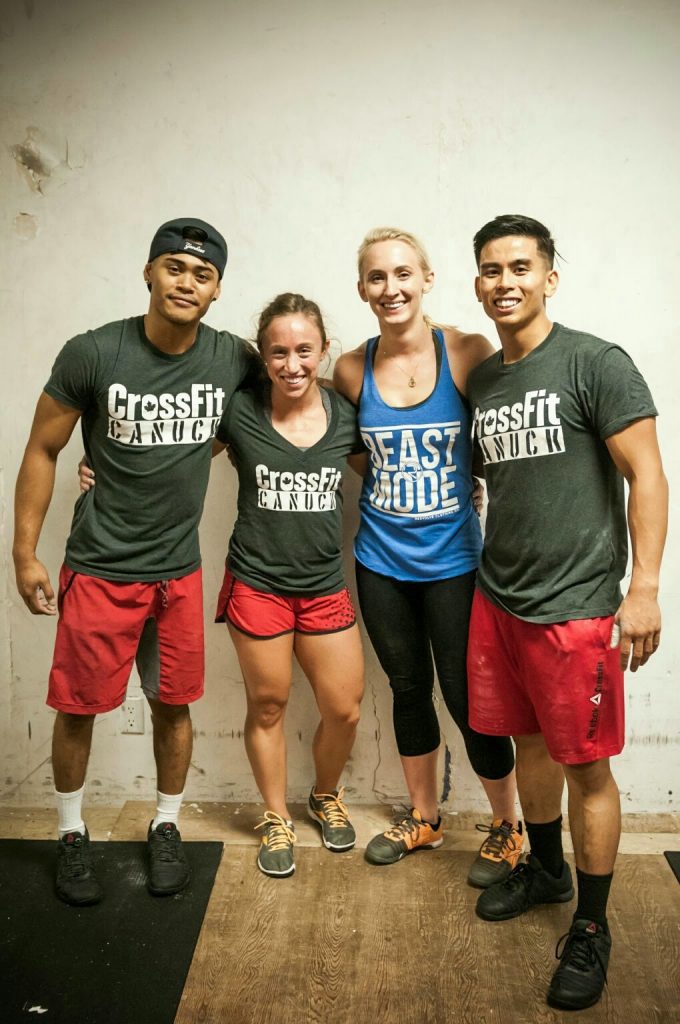 Team Canuck
Thursday (Oct 30) – Ugh, the lack of sleep
continues. So the DJ (not really) next door had me up late between Wednesday
and Thursday and I was the worse off for it. I was foggy to say the least and
nowhere near firing on all cylinders. The attempt was made to Run again, but
sadly it was not successful. Sadly, not everyday can be a win in that regard. I
knew that there was another Row on deck (as I was gently reminded by Jillian)
and I knew that Coach D had lots of 1RMs ready for us @CrossFitCanuck. Today
was going to be a big day.
Warm-up
40 Jumping Jacks
Leg Stretches (Front/Side)
Bar Work
Tonight we were working on finding new 1RMs
for the Snatch (full Squat Snatch) and for the Clean & Jerk. Now if you've
been following along for a while, you know that my overhead technique is weak
and that I have been working hard on it. We had 12 minutes and I planned to use
every last second to see if I could improve on my 105lb Snatch (my Power Snatch
is 40lbs more). Remembering this whole are that Explorers discovered below 90
degrees, I managed to hit 125lbs without riding the bar down (too much). Thanks
to Coach D for the tips about pulling the bar back into my body. I had one lift
that went up so fast that it almost scared me. I wasn't so successful in my
Clean & Jerk though. I did manage to work my way up to a Squat Clean PR
@206lbs, but sadly my hips decided that they didn't want to play anymore and I
didn't get fully under the Jerk. Well, one and a half PRs, I will take it.
WOD (12 minute AMRAP)
3 – 6 – 9 – 12 …
Shoulder to Overhead (@135lbs)
Burpee Over Bar
Knees to Elbow
***150m Sprint Row Each Round
Sign me up for this one because it looks
like a BLAST! Predictably, I started on the Row and I made sure to get it in
for each of the 4 Rounds that I worked in. A lot of work got completed in a
very short amount of time and when the buzzer went off, I had completed 8/12
Burpees and the 4 Rows. The S2O were a little bit taxing once you got later
into the AMRAP, but it was a good push. I even felt really good on my K2E and
(I think) had good body position at both ends of the swing. It's time to start
fighting to get those toes up there.
BROW
500m Row
10/10/10/10
5x100m Row
10x250m Row (90s Rest in between)
I'm not sure I adequately understood what I
was getting myself into with this one. 250m doesn't sound like a lot, but it is
when you get 4+ intervals into it. I was steady though with times all between
46.8 and 48.1. Consistency, Consistency and more consistency. I was gassed by
the end of it, but it was a good session to buckle in and go to it.
Now while all this was going on, some of
the Canuck Family were throwing down at CrossFit Leviathan for a head to
showdown. @missade3, @everyhundredfeet, @zlreyes and @jeffortiz (all seen above
thanks to @asherlyfoto) did us proud taking both WODs. Congrats Guys!
Beez
ps. A shout out to the German Cat tonight as he recovers from having bionics added to his cycling legs. Get well Bro!