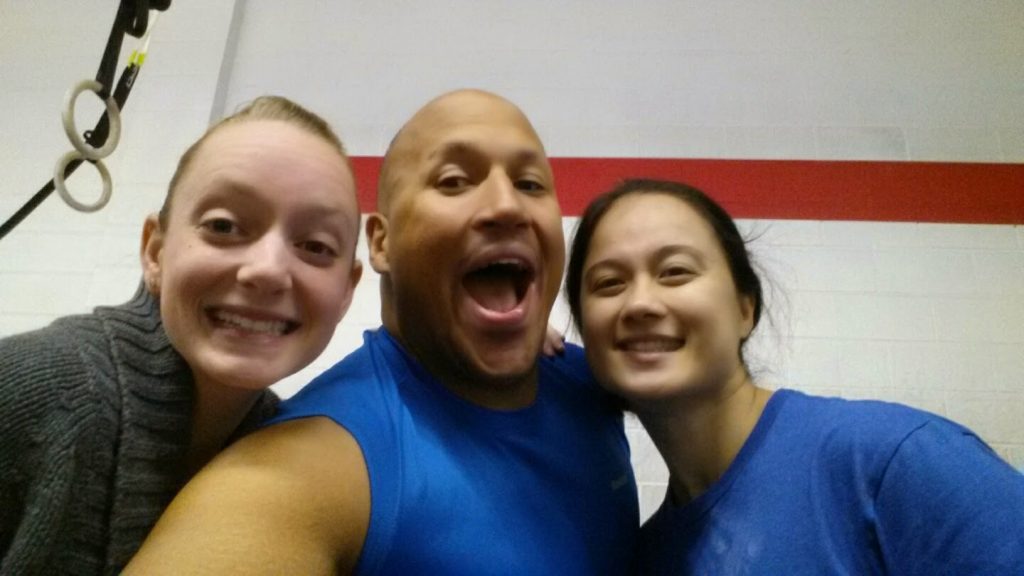 First let's take a #selfie
First, I have some good news! I've been selected as Fitfluential Ambassador! Fitfluential is a global network of fitness enthusiasts that help promote healthy living through social media. Stay tuned to the Weight Loss Adventure for cool new things in the coming months.
There is lots to do this Saturday and the
schedule is super toight (yes, I know how it's spelled, but think Austin Powers
Goldmember). @SavannahJessie and I were hitting @CrossFitCanuck for the early
WODs (Me with @missade3 and @SarahBassels and Her with the 930a Class). We had
to find a new hair dryer and straightener (clearly, not for me) and then we
were off to the nuptials of Mr. and Mrs. Costa (followed by dinner and
reception). You could say there was a whole lot to get done.
Warm-up
500m Row
5x100m Sprint
Since it was early and it was make up day,
we had the choice of any of the strength work from the previous week. I started
to get ready for the Clean & Jerk complex from Wednesday, but I was still
really feeling Dork and I had a long Run scheduled with Mr. Bruce on Sunday. I
got 5 C & J in @95lbs before I shut it down and got ready for Angie. Today's
plan was to work at RX and when asked what the CAP was going to be @CanuckCoach
(aka Tav) stated, "it's my box, there is no CAP, you have to finish". Well that
solves that dilemma.
Angie
100 Pull-ups
100 Push-ups
100 Sit-ups
100 Squats
Going in, I knew that the Pull-ups were
going to be the toughest part of this one and it was going to be the make or
break movement. While I was working at Angie, @missade3 and @SarahBassels were
hitting Dork. It took 17 minutes to get through the 100 Pull-ups and they
sucked. Lots. When I moved to the Push-ups though I got an unexpected boost as
@missade3, @SarahBassels and @CanuckCoach joined me for the remaining 300 reps
of my WOD. Ladies, I don't think I would have finished it without you and I have
no idea how you managed to do Dork and then all that extra stuff. Thanks! Total
time for Angie, 33m43s which is a definite PR!
BWOD
Glute Stretch
Back Stretch
Hip Stretch
Neck Smash (Supernova)
Shoulder Smash (Supernova)
Hip Smash (Supernova)
Glute Smash (Supernova)
Calf Smash (Supernova)
IT Band Smash (Supernova)
I was hurting and tired when I got
finished. In fact after the first Squat I thought my legs were going to
explode, stretching was going to be on the menu. That's when the surprise visit
of Ms. Wakefield happened. Trap-a-saurous was visiting for the first time in
FOREVER and while I felt bad that I couldn't WOD with her, I was very happy to
see her. Hopefully she visits again soon (hint, hint Wakefield).
As I wrap up I want to thank Amanda and
Tony for allowing us to be a part of their special day. Congratulations you
two, may you have a lifetime filled with happiness and love.
Beez
Side Note: Garter Reception for the
Touchdown!