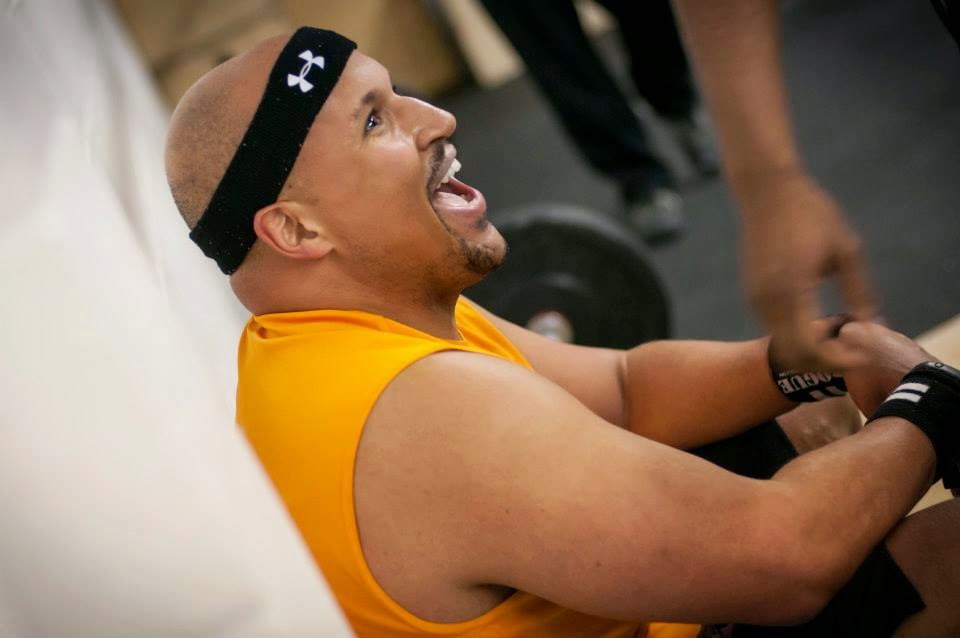 I know I said on Saturday I said that Deadlifts were good
for what ails you, but I had no idea how good they could be. Everyone runs in
to down periods in their lives and for the last few days I've been
struggling. I can't get moving in the
morning, I go to bed early and I still wake up mentally and physically
exhausted. Sometimes the only thing that keeps me moving is being on a schedule.
Monday, Wednesday and Thursday I need to be at @CrossFitCanuck, no thinking,
just do it. I have to keep going no matter what because I'm afraid I will get
complacent and end up back over 300. This morning I was ready to cancel and
just come back tomorrow. Then came the Deadlifts.
Warm-up
400m Run
20 Squats
10 Split Jumps
20 Jumping Jacks
10 Squat Jumps
20 Mountain Climbers
Everything was stiff, but the exciting part of the warm-up
was I was finally able to do a Mountain Climber without discomfort. Yay! I was
working with @SarahBassels again tonight and we were working the Front Squat. I
was working below my numbers, but I was trying to get focused on keeping my
core engaged and pushing from my heels. We lifted every 90 seconds, 5 reps
@115lbs, 4 reps @125lbs, 3 reps @135lbs, 2 reps @145lbs and 6 reps (ME)
@155lbs. I felt a 'twinge' in my right hip on the last rep so I stopped here.
This is where things get interesting…
We had a 10 minute Deadlift component lifting off of a 2"
riser. We were working up to a heavy 3 touch and go. I figured I would work up
to 275lbs (mainly because I had doubts that I could get anywhere near my 1RM of
405lbs). With Tav ready to stop us if
our form slipped, I started moving. It felt AMAZING! I kept going and before I
knew it, I was switching with @Keilshammer to work with Kris. We hit the heavy
3 @365lbs with no problem and Kris hit 405lbs. I locked in and hit 1 rep at
405lbs, but I knew I wouldn't be able to hit 3 with good form. Thing was, it
felt easy. So in a display of vanity (yeah, it happens), I put on some fractional
plates on and attempted 407lbs. BOOM! New PR and it felt easy. I'm pretty sure
if we had more time I could have hit 425lbs, but that's next time.
WOD (15 minute CAP)
3 Rounds of
200m Sprint
10 Front Squats (@135lbs)
2 Rounds of
10 Burpees
10 Snatch Pulls (@135lbs)
1 Round of
20 Box Jumps (24")
10 Clean & Jerk (@135lbs)
Still coming off a PR high, it was time for a burner. Yes,
it burned. I felt really strong on the 3 Runs and a little less so on the Front
Squats. Burpees are Burpees and the Snatch Pull was a good mod to keep me from
working overhead. I would like to say that the Box Jumps were all jumps, but
there were some step ups in there just so I could keep moving. All told, I was
done in 14m28s and it was a hot mess. The whole #530Crew (as always) rocked it!
BWOD
800m Run
7 Chest to Bar
10 Pull-ups
Shoulder Mobility (Rings)
Shoulder Mobility (Band)
Glute Stretch
Hip Stretches
Quadriceps Stretch
Back Rollout
I was feeling so amazing by the time I was done, that when I
got the news @matt_5577 didn't have anything torn in his elbow, it was a giant
cherry on the night. I'm still buzzing. There is a lot coming up in the next 30
days (France, SportingLife 10K and the Ride for Heart) and a night like tonight
has me feeling way better about it.
See you tomorrow,
Beez