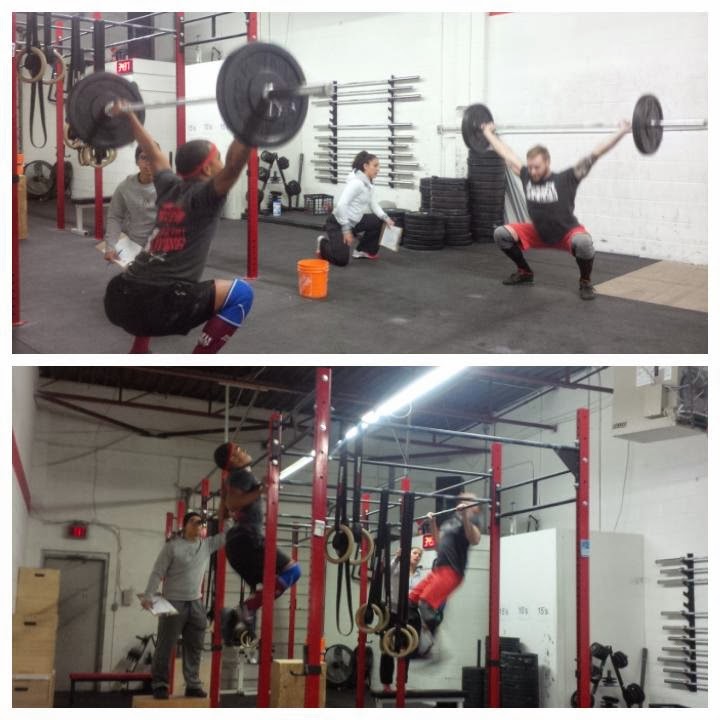 Tonight was Open announcement number 2. Tonight was another
one of those good and bad moments that seem to be what Open season is all
about. Workout 14.2 is a 3 minute ascending ladder of 2 Rounds of 10 Overhead
Squats (@95lbs) and 10 Chest 2 Bar Pull-ups. If you complete the 2 Rounds in
the 3 minutes, the reps go up by 2 and you have another 3 minutes. This keeps
going until you can't complete the 2 Rounds in the 3 minutes. Now the guy who
programs the Open is a gent by the name of Dave Castro and what I don't
understand is this year's end game. The whole point of the Open is that
everyone can compete, but by throwing in C2B this early you eliminate a bunch
of people. I will work hard Saturday, but it looks like 3 minutes of work for
me.
Warm-up
500m Row
5 Pull-ups
10 Push-ups
15 Squats
The plan was still to work relatively light to make sure to
be ready for anything on Saturday, but today was Bench Press. The Bench Press
is like a Unicorn. Often heard about but rarely seen (at least by me as my rest
days always fall on BP days). I still have a goal with Carm of getting to a
bodyweight Bench Press. Today was a
grouping of 4 minute EMOMs involving Plank and Bench Press. Even minutes
(0,2,4) we did a 45 second Plank and odd minutes 5 reps on the bench. Round 1
was a weighted Front Plank @25lbs and a 125lb BP. Round 2 was a Left Side Plank
and 155lb BP and we closed with a Right Side Plank and 175lb BP. Fun, Fun, Fun!
Tabata Something Else
8 Rounds of ME per movement. 20 seconds on, 10 seconds rest.
Pull-up
Push-up
Sit-up
Squat
Now that was a burner. We were counting reps and the
Pull-ups were super draining for me. I've been working on the dead hang and
it's been tough for me to get everything moving the way it's supposed too.
However, there may have been a bit of a breakthrough today (we'll see if it
translates into my first Chest to Bar Pull-up on Saturday). You can do anything
for 20 seconds right? Well, give it a shot… Then do it over and over again. I
hit 8 Pull-ups, 55 Push-ups, 71 Sit-ups and 88 Squats for a total score of 222.
Considering I didn't think I would break 100, BIG THUMBS UP.
Cash-out
50 GHD Sit-ups
50 GHD Back Extensions
50 Heavy Russians (@50lbs)
@CADPRO00 you better be hitting your homework next Monday,
because I think there may be another wager in your future. There is method
behind what may appear as madness. Tavia has us working above Castro's idea of
RX so that when we do get there, it will be easy. I was trying to go light on
the Russians and grabbed what I thought was a 35lb Kettlebell. It was only
after I flew through the 50 that I realized I was using a 50lb one. Do the work
guys, it pays off. Lecture, Over.
Programming Genius…
BWOD
5 Ring Pull-ups
5 Pull-ups
3 Sumo Squat Stretch
Glute Stretch
Hip Stretch
A BIG HIGH '5' to @girmantitov and @akaribatman for throwing
down on 14.2 right after the announcement. G, the switch grip you used for the
Pull-up might be my only hope, thanks for the demonstration. Rest up everyone,
because Saturday is Open Day!!
Beez