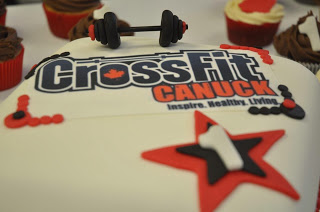 HAPPY BIRTHDAY CROSSFIT CANUCK!!
Yes, I know I'm yelling, but I'm excited. I hope you have
some time today, because it is going to be a bit of a lengthy post and is going
to cover a WIDE variety of topics including the Canuck Birthday Throwdown
(brought to you by Platform Assassins), Community, Weight Loss and a Food Truck
Review. Canuck is a year old and I'm moving towards my first year as a
CrossFitter so instead of waiting (I do not have patience), I'm going to give
you a recap and a then and now look at your blog host. I hope you're ready for
this… 3, 2,1… GO!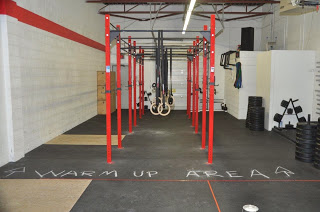 This week we celebrated the birthday of @CrossFitCanuck with
a daylong competition of weightlifting and WOD'ing. Now I wasn't sure what to
expect today, as Platform Assassins was bringing us today's activities and I have
definite weaknesses in my Olympic Lifting. I'm not sure why I'm not a fan (not
scared, but there is something mental), but when weight goes overhead, my body
starts fighting back. Now I competed in my first ever comp at the end of summer
and it was great, so with faith in Coach D (@defconRX) I signed up. I am so
glad that I did, because it was an unbelievable day filled with hard work, good
people and awesome times.
Events (After the Weigh In)
Event 1: 3 Attempts for 1RM Snatch
Event 2: 3 Attempts for 1RM Clean & Jerk
Optional Event: Bar Exam
Event 3: 5 minutes to Find Heaviest D Complex (Deadlift,
Hang Power Clean, 2 Front Squat & 1 Jerk)
Event 4: 5 minute AMRAP of 5 Box Jumps (with 50lb
Kettlebell) and 10 Kettlebell Swings
Now the weigh in was to find components for a calculation so
that everyone was competing on an even field. Event 1 was my least favorite,
only because I dislike the Snatch. It's nothing personal, but a combination of
the arm position, the torque on my shoulder and the normal issue of it being a
Squat. Now in the scaled division we could Power Snatch, but I know where my
limit is (145lbs). Until I learn to get into the hole, I won't be able to get
big weights overhead. Add to that a complete friggin meltdown in my mathematic ability
for my last lift and you have a Beez with a final Snatch number of 135lbs.
Math? Yeah, I was feeling good and tried to load 150lbs, but totally goofed and
ended up with 155lbs (165lbs, but I dropped the easy 10lbs). Fail.
Event 2, let's get heavy. I went into the Clean & Jerk
with a 1RM of 185lbs and I had attempted 205lbs, but was unable to Split Jerk
it. The atmosphere in the box, the competitors and teammates cheering each
other on was electric. I got to my last lift and decided to attempt 200lbs. I
knew I could Power Clean it. With the cheering ringing in my ears I went for a
Push Jerk and HIT IT! New PR! A 15lb improvement by not trying to Split Jerk
it. Now there is an asterisk to this. I talked with Tavia and if I can get low
and Split, she feels I can get over 225lbs over my head. Lots of work, but I like
a challenge.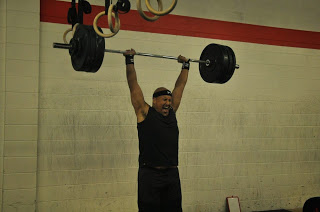 Now the Bar Exam was CRAZY! Hats off to the folks who did
it. A Pull-up, Chest to Bar, Knees to Elbows, Toes to Bar and a Clapping
Pull-up. Oh did I mention that when you drop off the bar, you are done. You
have to do this all in 1 go. Clapping Pull-up? Thanks, but this kid is out.
Here's where it started to get FUN (please note the
Tav-esque spelling). The complex was TOUGH, but for me the limiting factor was
the Front Squat. Can I get to parallel with the weight? I want full reps,
nothing half assed. Thanks to @Keilshammer for making sure I got full depth. It
was a rush. I felt good and got to 195lbs and lost the Jerk. Got wobbly and had
to drop the bar. I was pissed. I wanted to hit 200lbs, but I had doubt. We
could go again if the bar lifted off the floor before 0:00 so before that magic
number I went for 195lbs again. I got through the Front Squats and adjusted the
bar to get ready for the Jerk, take your time, core tight and get the lift
right. With the crowd cheering I got it overhead, and maybe with a little press
I got locked out and hit it!
Last event of the day was the most grueling one of the day. 5
Step-ups on a 24" box and 10 Kettlebell Swings. A 5 minute AMRAP where scoring
is how many complete rounds you get done. Oh, did I mention that you
will be racking a 50lb Kettlebell during the entire thing. If you drop the bell
during the Step-ups or the Swings the whole round is a no rep. This is where
friendly rivalry makes you better. I was working face to face with @Keilshammer
and there was no way he was going to beat me. UNBROKEN. That's right, 5 minutes
with the bell and no stopping. 6 full rounds done and when I realized I couldn't
fit another one in I did the Step-ups anyway. Canucks don't go out looking at
the bar, or the bell.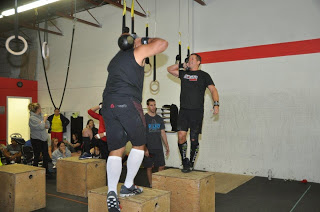 Still with me?
The whole day was a great experience and I think speaks
volumes about the family that Tavia and Sue Ann have built with
@CrossFitCanuck. People of all ages, from all over, sweating, lifting, throwing
bars and pushing each other every day to get better. A year ago I would never
have dreamed I would be sitting here describing the giant laundry list of hard
work I had completed in a single day. I think I would have laughed in your face
if you told me I would be capable of doing some of these crazy WODs. The
encouragement and push you get every night drives you to finish and to cheer
your family on.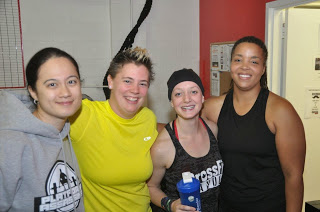 Congratulations to all of the winners yesterday and to all
of the competitors and spectators that came to watch. It was a really solid day and I hope everyone
had as much fun as I did.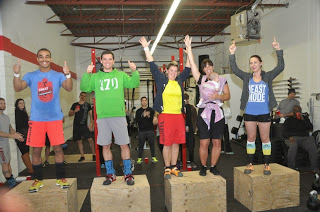 Beez
Bonus – Food Review.
We had Hogtownsmoke stop by yesterday to provide lunch for
us. I will give you my personal review
and you can take it however you want. The food was decent, but overpriced for
what it was. The Brisket was tasty but
could have been spiced up in a number of ways to make it outstanding. The
Servers/Cooks seemed pleasant enough, but overall the experience SUCKED. There
are few things I hate more than being late. If you say you are going to be
somewhere at 1230p, then by whatever means necessary, be there at 1215p. If you
say you will be ready to serve food at 100p, be ready. If someone asks when you
will be serving and you say 15 minutes (@ 120p), don't open at 155p. And by all things holy, don't show
up to a CrossFit box and run out of Brisket. You could have a nice restaurant,
but I will never eat there simply because I don't have 5 hours to spend getting a meal.
Your BigBrnz rating is 1 out of 5 Po'Boy Sandwiches.
Hogtownsmoke, Do Better.