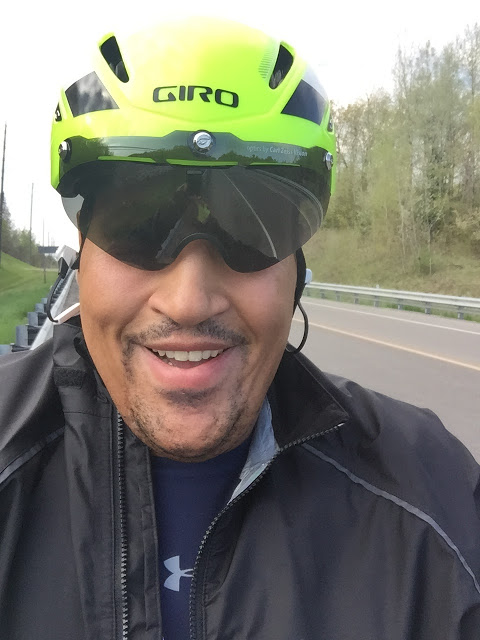 First ride of the year and this helmet is still badass.
Well I hope that everyone had a great weekend!!
I don't know about you, but it was jammed packed (go figure)
and that was without even leaving the city.
I don't know if it's an old age thing, but I had a really relaxed
weekend and I am directly relating that to not spending 4 hours on the
400-series of highways dealing with the meatheads on the road (and I'm not
calling you a meathead, it's the idiots who have no business operating a motor
vehicle). Jam packed and relaxing seem like to conflicting ideals (I know), but
I can explain. At no point was there any dealing with masses of humanity, but
there was still a lot of physical activity where I could detach and just be
zen.
Almost like new thanks to @evolutioncycles
First off I want to say a big 'Thank You' to
@evolutioncycles of Richmond Hill who did a masterful job rebuilding the Red
Rocket. It's been about 5 years since she had been in the shop for a tune-up
and it was time to get everything done. Well, this was my first ride since
getting her back and she was like a new bike! I couldn't believe the difference.
Smooth shifts, new breaks and rubber and an unbelievable first time out.  With the Ride for Heart 2016 two weeks away, I
needed to get some K's in. Little did I know that I would be riding uphill for
most of this ride. Guess what, when you can't squat because of knee issues,
they also reduce your power output on the bike. Looks like I might not break
2h30m for the 75km this year, but I will get it done. 22.9km in 1h03m with an
average speed of 21.7kph. My heart rate numbers were higher than normal, but I think
that's because I've been struggling in the cardio department the last little
while (142BPM avg, 173BPM max).
My quads were definitely feeling the sled pushes from
Saturday…

First batch of folks taking on Murph.
Waking up Monday I was tired. Which begs the question "what
was I thinking", heading into @CrossFitCanuck for an early session. I knew what
was coming. I had every reason to bail (except that @sarahbassels was buying me
coffee… Thanks Baz). Still I went. I went to face Murph. Now I haven't done
Murph in a couple of years and the last time I did it I used a green band for
my Pull-ups and finished in 63mins. Well this time around I would be doing
Seated Murph. No Squats, so 300 Sit-ups instead.  For those not familiar, this is Murph:
1 mile Run
100 Pull-ups
200 Push-ups
300 Sit-ups (regularly Air Squats)
1 mile Run
RX for this one also means you wear a 20lb weight vest. I
was not going RX. I really wish I could have done it the regular way. I feel
like I could have improved my time doing RX Pull-ups. The Sit-ups really slowed
me down and by the time I finished the second mile the clock read 72m03s.
Still, I'm pretty proud of what I did. No band and no stopping.  Just chipping away at it.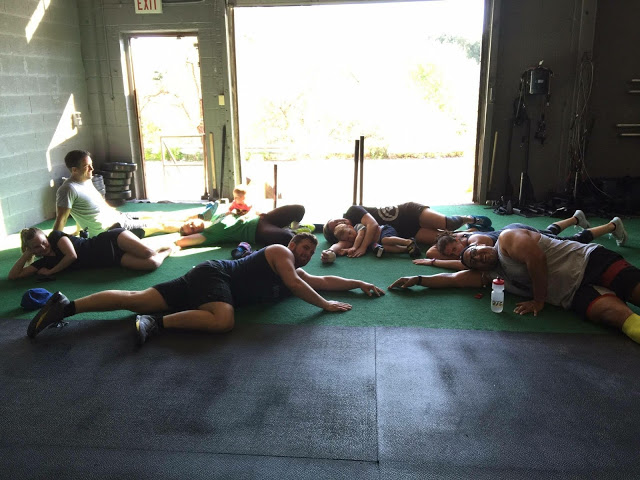 The Carnage
Needless to say that was the end of physical activity for
the day. I was cooked. I did the workout fasted (didn't eat before), but I missed
the critical step of carb loading the night before. My body was literally
running on fumes. Oh well, lesson learned.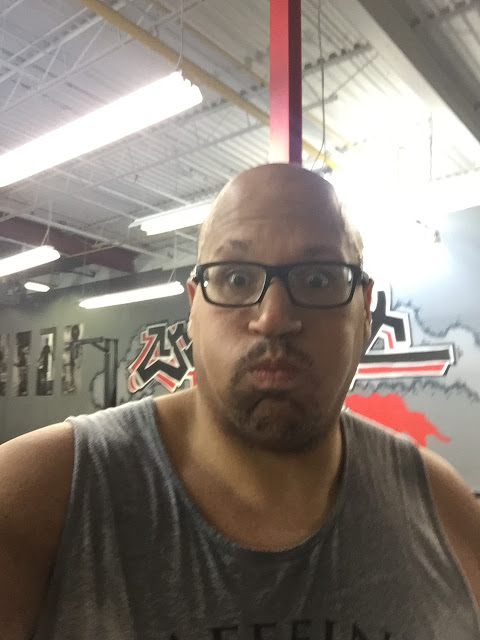 Post Murph
There had been thoughts of a Run this morning, but with the
way my body feels and 4 days in a row, today is a rest day…
Beez