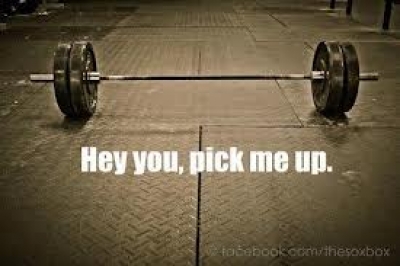 Today I couldn't, tomorrow I will try again…
Friday (December 11) – Holy a lot has been going on. How's
everyone doing?  Bet you almost forgot
about me… almost. Well as 2015 wraps itself with a bow, it's time to start
thinking about goals and evaluating how we did. There's also the whole thing
about closing out the year (just like my accountant friends will be doing), so
prepare yourself for a barrage of shorties to get caught up.
Here. We. Go.
Warm-up
2 Rounds
Samson Lunges
Sprints
Inch Worm Walks
10 Wallball (@14lbs)
Getting out of bed was a struggle and as a result it was a
#530Crew session tonight. Ugh.  Wait,
that's not an ugh for the #530Crew, but an ugh for the fact that dragging my
ass (yes, today there will be some language) has been a genuine fight. There
was a time that 2 feet on the floor before the crack of early was an easy
thing. Now, my body actively fights back. I'm getting to bed at a very
respectable (and probably laughable) time, but no matter what, I don't feel
rested and certainly not recovered. Still, @savannahjessie got me here and I set
to work.
20 minute to find
1RM Back Squat
WOD
10 minute EMOM
2 Shoulder to Overhead (@125lbs)
10 Wallball (@14lbs)
I was all excited for the Back Squats. Well I was for about
10 minutes and then I realized that I was going to be run over by my bar. I had
nothing in my legs and almost zero power when trying to grip my bar behind the
neck. The lack of mobility due to injury has been my #1 beef in this last part
of 2015. One of my goals was for a body weight Bench Press (as part of a pact
with Carmen Poole), but with an increasing BW and a sore wing, this one is
pushed out again… Still, I did hit 315lbs, but it was ugly and I pulled the
chute before I got hurt. Same with the EMOM, I started with the RX weight of
155lbs, but no power and scaling were the end result.
BWOD
Glute Stretch
Hip Stretches
Shoulder Mobility
Mobilize, mobilize, mobilize. After banging my head on the
Iron Ceiling (basically a BigBrnz term for being unable to lift a weight in the
Squat or overhead) I really need to et everything working again because the
OPEN is coming…
Quickly.
Beez