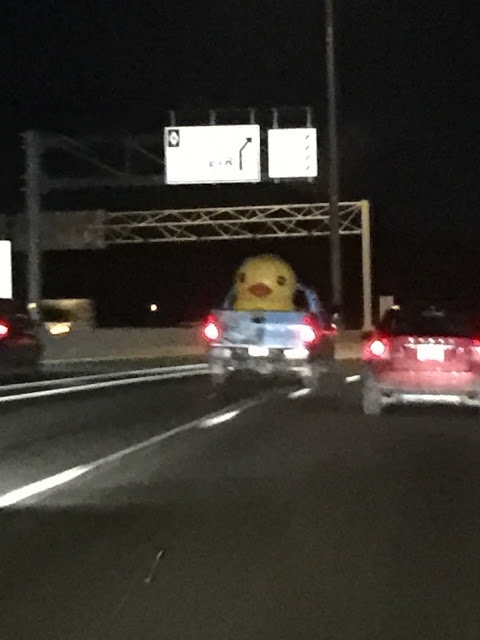 Things you see on the 401…
Monday (November 23) – Working out is
always more fun with friends and doubly fun when there is a little built in
rivalry (friendly of course). @Keilshammer has made it back to @CrossFitCanuck
after some time off and bodily repairs so what better way to celebrate then to
race. Still there are some asterisks, that's the * for those new to the
internet. I'm still not quite right, this bicep/shoulder thing isn't getting
better so I have an appointment with the Wizard (Ian at CoreStrength) on
Wednesday. @Keilshammer is still working back into form so we worth both
working at a reduced capacity.
Warm-up
2 Rounds
5 Burpee Squats
Walking Lunges
7 Push-ups
First things first though, Texas is first.
I'm still not up to full speed so my weights were not at the required
percentages, but work is still work. @keilshammer and I partnered up and went
to town.
Every 90s for 6 minutes
Back Squats 3@245lbs
WOD
5 Rounds
100 Skips
5 Clean and Jerk (@135lbs)
ARRRRGGGHHH! It is very frustrating to not
be able to do something that you know you are capable of. In fact, it down
right SUCKS. Still, it felt good to try and rip into a WOD and not have to
think about anything. I figured out a nice little rhythm with the skips and
then used the C&J to rest. Nothing was touch and go (small growl), but
pretty quick cycle times. I managed to get through everything in 9m24s, just
slightly edging out el' Hammerino.
Cash-out
25 Hollow Rocks
25 Atomic Sit-ups
25 Heavy Russians (@35lbs)
After this little craziness, it was nice to
have a little #530Crew Cash-out. Thanks
to JoJo and Mel for working through the core session with me.
BWOD
Hip Stretches
Child Pose Lat Stretch
Hopefully the next time we chat I will have
a diagnoses of my arm issues, a treatment plan and probably a good story or two.
Beez