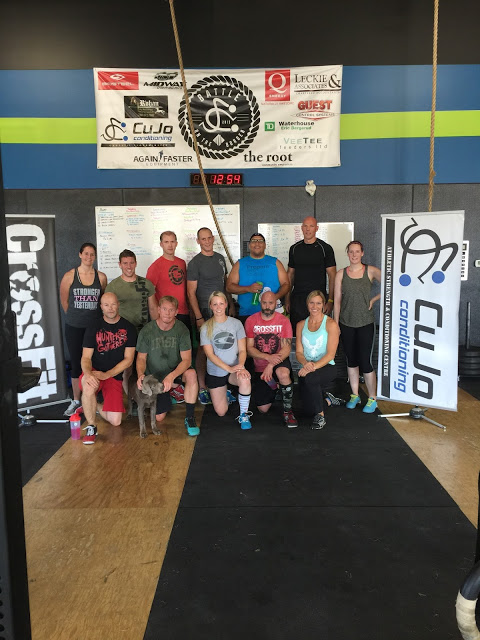 Lunchtime Crew at @TeamCujo (and Moi)
Friday (July 31) – I love CrossFit. You
hear that a lot from me, maybe not in as many words (and mostly ones that
include @CrossFitCanuck), but it is true. I also really like to travel. You get
to pull your face out of the work computer and check out the scenery out the
window. Now those opportunities haven't been very frequent, but we do get out
there. Now when you combine the two, it means you can get out and WOD just
about wherever you go. You can walk into any box anywhere and no matter what, a
kettlebell is a kettlebell and a barbell is a barbell.
The nearest box to Saint Walburg was Cujo
Conditioning (CrossFit Lloydminster) about an hour away. @savannahJessie, @dadairhall
and I packed up and got on the road. @dadairhall was watching her first class to
try and get a feel for whether or not she wants to try a class at some point.
We rolled in and the box was really nice. It was just a bit smaller than
@CrossFitCanuck, but it was very open with lots of windows and a giant turf!
Warm-up
500m Row
Shoulder Mobility (Band)
Lat Stretch (Band)
425m Row
As the noon class rolled in, they were all
very open and friendly. They made it a point to come and introduce themselves
to me and it was my pleasure to meet you all! @TeamCuJo also have a box PUPPY!
Warm-up #2 (25m Turf Distance)
High Knees x2
Butt Kicks x2
Samson Lunges
Butt Kicks/Toe Touch
Tin Man
Quad Stretch
Today's programming was for a MetCon Day
(Metabolic Conditioning, i.e. Super Cardio) since @TeamCujo had already had a
big leg week. It was a partner WOD with a Row and a Wallball Run. Um, did you
say Row? Did you know that I was coming and you programmed that just for me or
was it just a lucky happenstance?
WOD
3,000m Row (Alternating every 500m)
1,600m Run (20lb Wallball, alternating
every 400m)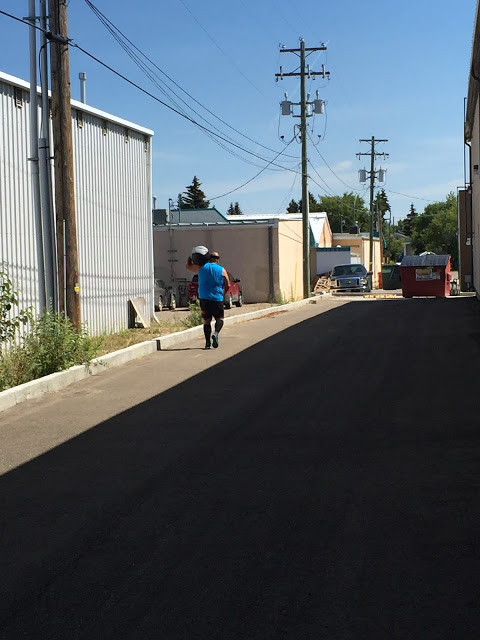 Keeps Going…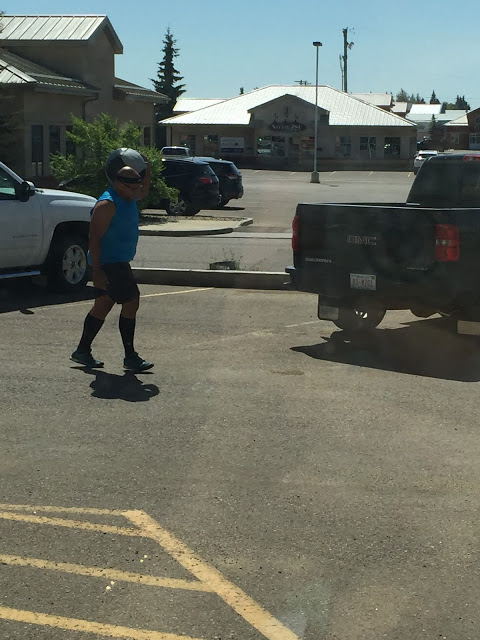 and going…
I got partnered with a gentleman named Ted
and we set to work. I got to Row first and had a pretty solid pace (although I
could have gone a bit faster, but after a week of drinking I didn't want to die
on the Run). For the first time in forever I wasn't the first one off the
Rower, but during the next two rounds I managed to pick up the pace. It was at
this point Ted said he wished I would take my time so he could get some rest
(little did he know he would be carrying us on the Run). Twice around the building
(at a brutally slow pace) and I handed off the Wallball fully expecting to be
done. Naw. One more round of two laps after Ted's run. Crap. Somehow with booze
pouring out of my pores and without stopping I handed the ball off and waited
for my partner. We finished in a time of 21m07s. Thanks Ted, it was a pleasure!
BWOD
25 GHD Sit-ups
25 GHD Back Extensions
G – H – D!!!
It's too bad you couldn't see my look of
pure joy seeing these two Rogue beauties. We've been without our GHD for a
while the new ones are being assembled from Phoenix tail feathers and Unicorn
horn. I AM OUT OF SHAPE/PRACTICE. There was a time when 50 and 50 were no
problem once a week. I struggled to get to 25 (plus we had to jet).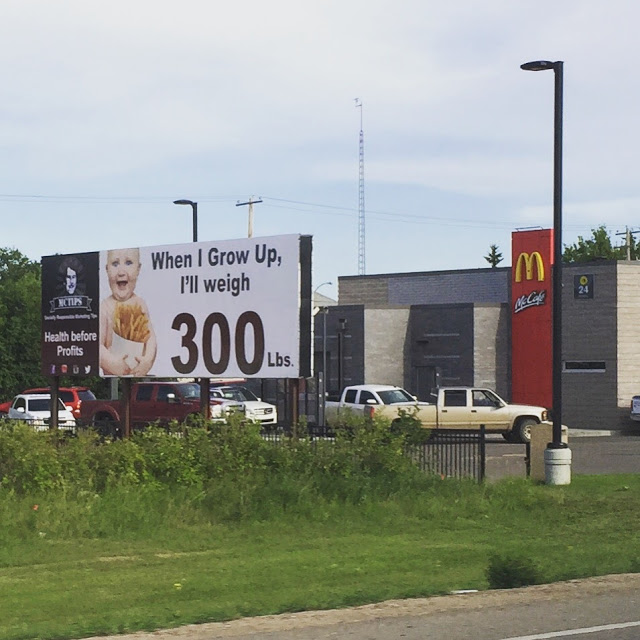 Wow…
After some sushi lunch and a quick visit
with Jen (who had moved to Lloydmister), it was time for a quick tour, some
Donair and the return trip to Walburg (as I was corrected by the @TeamCuJo
guys). Oh, and maybe the best billboard ever (McDonald's and their neighbour had a little spat and the neighbour puts up a new billboard every couple months)!
Beez