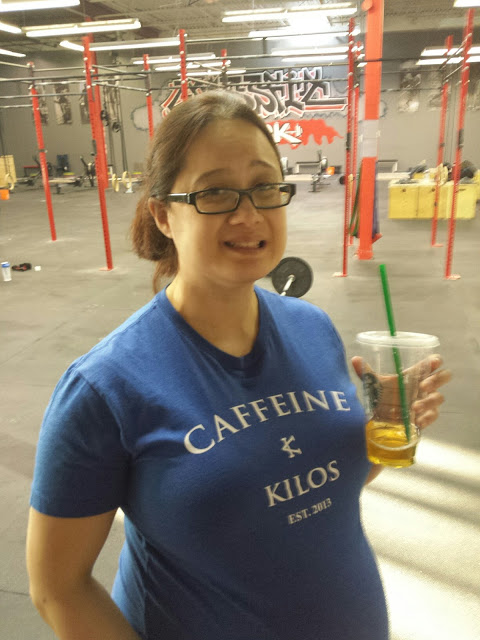 Thursday (June 4) – I feel good. Oddly, my feet and toes are
tender, but for the first time in a while, my body feels (not 100%), decent. As
@Savannahjessie and I make a solid push to turn our health around, we got on
the road for the early sessions @CrossFitCanuck and @LAFitness respectively. Besides,
with all the times I've had to bail on the #6amClass, it felt nice to be able
to keep a promise to Baz (see, I told you that I would be there). Don't get me
wrong though, I was tired. Very tired. It was a very fragmented sleep last
night and I'm not sure if it was the supplements, the adjustment or a
combination of the two.
Warm-up
Team of 3
200m Row
10 Squats
10 Mountain Climbers
It's a Deadlift day and that means it's going to be a great
day. Well, for me it means it's going to be a great day, I like lifting heavy
stuff. Combine that with a Regionals/Hero WOD and today is shaping up to be
pretty good. Wait, 1 mile Run? Any other day I would be up for that 100%, but
after the adjustments, sorry. I'm going to take it very easy when it comes to impact
activities.
Deadlift 8 minute EMOM
2@50%
2@60%
2@70%
2@80%
3×2@325lbs
Then…
Bent Over Row 5 minute EMOM
3@125lbs
POSTERIOR CHAIN… That's what is on fire right now. The Deads
got heavy in a hurry and I was getting gassed pretty quickly. Baz had to
correct me because I was getting sloppy too. Ugh. That's embarrassing. Wait,
not embarrassing, but a reminder that you have to stay focused whenever you are
moving anything on a barbell. Lesson learned. So you've heard me mention that
the coolest part of the CrossFit Games is that anyone has a chance to get
there. Now granted, you aren't going to
walk in off the street and be able to get there, but with hard work, anything
is possible. Today we got a taste of one of the Regional workouts. After having
watched it on TV (ok, streamed it on Youtube), we got to throw down.
Randy (6 minute CAP)
75 Snatches (75lbs)
Simple right? No, friggin stupidly brutal. First, the Snatch
is not necessarily my favorite lift. Mobility issues lead to compensation which
lead to a general 'blah' feeling whenever I am doing them. Second, with the
adjustments (yes, @keilshammer, you are tired of hearing me say it) my left lat
was feeling tight and third, 75 is A LOT. We aren't at the Games so crappy form
was not tolerated, but I did do 1 Split Snatch, just to say I did (and because
Baz said we could). That's an awkward movement, no doubt about it.
Cash-out
3 Rounds
12 Bicep Curls
8 Triceps Extensions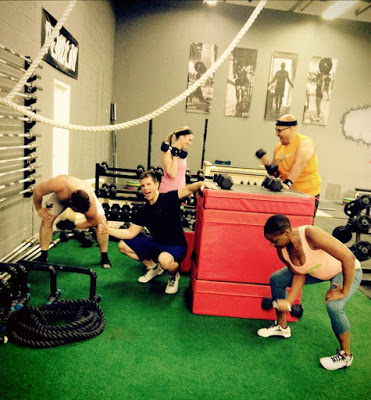 Sun's out, guns out…
No BWOD today, but it was fun to have a full class Cash-out.
Now granted we were on the turf (which is a no no), but we were all very aware
of Mama Baz watching over us (and prepared to issue the 100 Burpee penalty if
any of us were foolish enough to drop a DB on the carpet). Fun times had by all
and a nice lead into a weekend away.
I'm scheduled for another class tomorrow with
@Savannahjessie at Orange Theory, but we'll have to see if I survive this 3 in
a row plan.
Beez