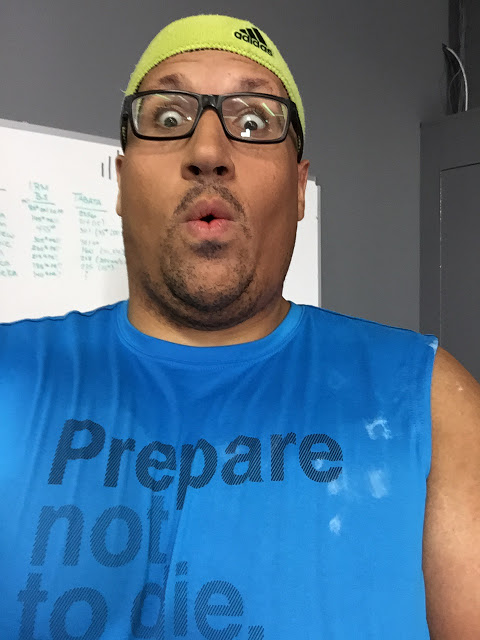 Check out my new shirt from @savannahjessie!
Wednesday (June 17) – Sometimes you learn a
lot before the sun rises. Interesting concept? It is, especially when your eyes
are barely open. The first thing I learned was that sometimes the fight isn't
against a barbell or the clock at @CrossFitCanuck, but getting out of bed and
to the box. Some days are tougher then others and this morning was no piece of
cake by any means. If you want to go forward though, you have to do the things
that hurt. Now after reading the last post, some of you may have thought I was
getting ready to be reckless. No, that isn't the case. I need to work, but I
don't want to spend the next 6 months recovering from an injury. With that in
mind, my plan was to NOT do the 1RM Back Squat.
And that's where I learned what the body
can do…
Warm-up
2 minutes of DUs
Then…
3 minute AMRAP
Hurdles
10 Mountain Climbers
5 Push-ups
5 Beat Swings
5 Shuttle Runs
There was no messing around today, finish
the warm-up, do some Squat Therapy and then get into the 20 min 1RM period.
Now, before I discovered the Deep Thoughts below 90 degrees, I had a Back Squat
number of 340lbs. That was with mediocre form and not quite getting to
parallel. With that in mind, I decided to wipe that number from the board. It
wasn't legitimate. Since then, my Back Squat number has been stuck at 225lbs. I had no plan to change that today with all
the issues I had been having. As I started working on form and depth, I blinked
and I was at 245lbs… Oops… YAY! I managed to hit 260lbs and decided that would
be a good place to call it a day. My body could have kept going, but any
further reps would have been ugly. It was interesting and once again proven
that the body is capable of amazing things as long as the mind isn't clouding
the issue with doubt.
Tomato, Tamata, Tabata
8 Rounds per Movement (20s work, 10s rest)
Knees to Elbows
Box Jumps (24")
DUs
Kettlebell Snatch (@35lbs)
You can do anything for 20 seconds right? Well
I thought so, but when you got 6 rounds in, it gets tough. For some reason I had
a lot of issues with the Knees to Elbows. The Beat Swing had a crazy and
uncomfortable pull on the left shoulder and it really slowed me down. I didn't
stop, but I was slow. Box jumps were much better and I tried to make up for the
reps I lost. DUs? Let's move on to the KB Snatch. These were decent, but I stepped
the weight down to focus on speed and form. Overall I finished 160 reps and I was
pretty happy about it.
BWOD
Glute Stretch
Hip Stretches
Back Stretch
Samson Stretch
The BWOD was a short one because I was
exhausted and wired at the same time. Today was my first time taking C4 and it
might have been the only reason I was able to keep going. Now before you freak
out, I took only half a scoop and when I go back to it, I will use less than
that. @akaribatman how you took that stuff with Red Bull boggles the mind. Tomorrow
should be interesting to say the least and hopefully my body doesn't hate me
when I wake up.
Beez