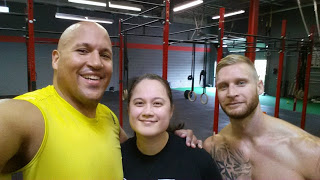 Birthday Throwdown Crew
Saturday (May 16) – So you are probably wondering,
"Yo, B, where you been bro?" It has been a super crappy week all around and I had
to bail on both my morning sessions (because I just hadn't recovered) and I hurt.
Brutal all around on my part. I haven't
been completely idle (IT Problems, running miles of cables in the rafters), but
I haven't been able to throw down. My diet (shockingly), has been really good
so at least there is a little positive going into the May Long Weekend…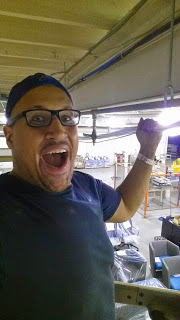 Flying in the Rafters
HAPPY BIRTHDAY BAZ!!
Our soon to be Mom, Coach Baz
(@SarahBassels) was celebrating her birthday so Coach G (@girmantitov) and I made
it in early to help her ring in her birthday WOD. For the first time in a week,
I finally feel well enough to go to it. YAY!
Warm-up
500m Row
PVC Dislocates
Squats
Baz choose McPhee (which has a 30 minute
CAP), but the 3 of us as a group decided that we weren't up for that. We loved
the movements, just not the time. In the end we decided 5×3 minutes of work
with 1 minute of rest…
McPhee
5 Deadlifts (@165lbs)
13 Push-ups
9 Box Jumps (24")
By cutting down the time and adding the
minute of rest, it allowed us to go all out for short time instead of having to
pace for 30 minutes. I managed to complete 10 full rounds plus 10 Push-ups and
when time expired I couldn't even peel myself off the mat. Those Push-ups were
killer. It was fun to get to throw down and to help Baz celebrate.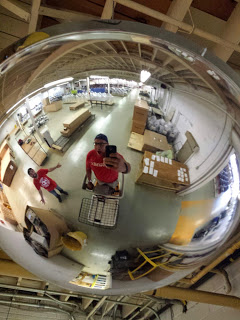 with @phillyk007
There is so much going on today that I couldn't
stay to mobilize. Thanks to Mr. Archer for helping me install crown molding and
to JS for the covert lighting purchase. @SavannahJessie was very surprised and
really likes it. Based on all the things I'm learning with home ownership, I will
be opening my own contracting business soon (kidding).
Beez