Sunday (May 17) – Lots got done today.
Holy. After a madcap day of construction, wiring, painting, nailing, caulking
and wodding, I was utterly spent. There is no rest for the wicked though, wait,
I'm wicked? Oh, right. Figure of speech. Today's schedule included going to see
Coach Ade (@missade3) compete at the Canadian Weightlifting Championships and a
planned ride. The only problem, in order to get everything done, I had to get
up EARLY. The Sunday of a long weekend I was up and rolling at 615am (yuck).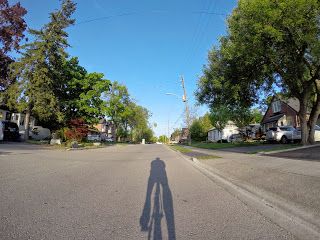 Glorious Morning Out
After my first trip riding in the North, I
was pretty excited to go farther and explore. In my entire time in Toronto
(over 20 years), I have now matched the number of road rides (for fun, not
commute) I made over that entire time. Crazy eh? The risk of being pancaked by
a clueless driver while still possible, has to be 300% less. I will say that I
must have been really peppy on the last ride, because I don't remember all of
these hills. It was insane, but my ride up to the Bloomington Rd did allow me
to discover a very cool little lake and picnic area. There was also a decent
where the whole city opened up in front of me. Beautiful.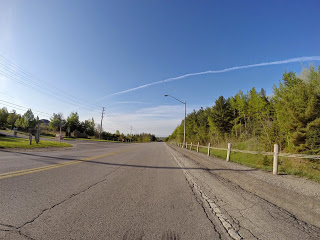 I had all my kit laid out last night to
make the morning easier and as a result all the sensors were broadcasting. The
total ride was 27.57KM and the Garmin says that I burned 1,000 calories (that's
a good start for the day). My heartrate averaged 150BPM and I maxed out at
168BPM during the 1h08m30s ride. The telling stat though is that I climbed
1489m of elevation. That's equivalent to a 45 story building (ballpark). I will
close out the geek portion with an average cadence of 83RPM with a max of
120RPM. Not quite the 90RPM I shoot for, but it has been steadily improving.
Home. Change. Out the door to the
Weightlifting Championships. In her 1st year @missade3 has been
outstanding, capturing the Ontario Bronze Medal before competing here. Sadly I
wasn't able to stay for the whole event, but I was able to catch her Snatch
attempts where she went 1 for 3 (hitting 65Kg). She went on to capture the National Bronze Medal! @missade and @jeffortiz have
both made @CrossFitCanuck proud with their hard work and progress. Congratulations
to you both and to all the Lifters who were slamming bars this season!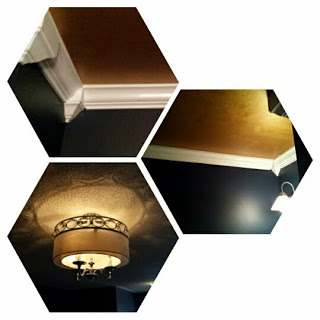 Sampling of renos I mentioned yesterday…
Now that the weekend is winding down, I'm
hoping to get everything back in order. There may even be a chance to pick up a
spare WOD on Tuesday to make up for missing @missade3 first WOD in forever (she
has been focused on lifting). Hope everyone stayed safe and got a little bit of
relaxation…
Beez
…Go see Mad Max: Fury Road…