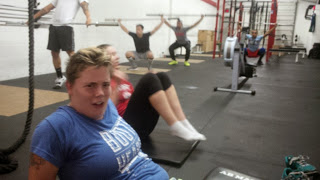 Today was designed for me. Coming off the very unpleasant (I
felt) performance, I woke up this morning and really wanted to do well. I'm
coming into a weird scheduling stretch where I might have to do some 6 am
classes because of a busy social calendar (hey Coach @SarahBassels, think there
is room for 1 more in your class?). In there is also a trip to Iowa and a visit
to the peeps in Brantford. So today as the alarm started screaming I logged on
and hopped for something special. Queue Tavia's programming and Power Cleans!!!
WOOHOO! I just had to survive a crazy strength portion to get to them.
Warm-up
500m Row
2 Rounds of
5 Pull-ups
10 Push-ups
5 Pull-ups
So after linking 3 Pull-ups with no band, I've made it my
goal to work on them without modifying. My shoulder isn't 100%, but under
strict orders from Jillian, all the work I'm doing on the bar is strict
Pull-ups. My Warm-up today was all strict. There was only a few linked, mostly
because I got tired, but I did them all unassisted (insert golf clap). Once we finished getting warm, we moved on to
the doozy. Every 90 seconds for 12 minutes we would be moving between 5 Tempo
Bench Press (@135lbs 3 seconds down, 3 seconds hold, push up), 5 Strict
Pull-ups and 1 Rope Climb. Everything went well, but I got stuck on the Climbs.
I made it over halfway up each time (and I even figured out my feet), but my
hands were beat up. I did an extra ground to standing just to make sure I was
doing enough work.
Elizabeth
21 – 15 – 9 Reps of
Power Cleans (@135lbs)
Ring Dips (2 Red Bands)
Just to draw your attention to my band selection, Red Bands…
I friggin love Power Cleans! I finished
this lovely lady in 6m29s. I felt really strong and the Power Cleans were, dare
I say it, easy and FUN (please note the spelling). The whole #530Crew rocked it
tonight and threw those weights around like they were nothing. I was pretty
gassed when we were finished, but we had Cash-out hell to finish.
Cash-out
100 Hollow Rocks
100 Abmat Sit-ups
There was some controversy in how to count a Hollow Rock rep
and as a result the whole thing took forever. Big ups to Robin for finishing
(even though she didn't want to). I had to modify the original Atomic Sit-ups to
Abmat Sit-ups because my back was still a bit squishy. I couldn't fit a full
BWOD in tonight (I was starving), but I did manage to get some work done.
BWOD
25 Calorie Row
Knee to Wall
Calf Stretches (Plate)
Hip Stretches
Shoulder Stretches
There was talk while we were doing the Cash-out about
@matt_5577 and his 58 second 25 Calorie Row from the WOD on Tuesday. Well I like
rowing. @matt_6677 was the only one to hit the 25 calories. I took up the
challenge and had some fun with @zlreyes holding down the Rower. 38 seconds. No
big deal. @matt_5577 we'll have to have
a throw down soon, just for fun.
Hopefully there will be a post tomorrow, but if not, good
luck to the Canucks competing at 2 Bars 1 Snatch!
Beez