I know I've been gone for a while, but I haven't been idle
(completely). There hasn't been a whole lot of time to blog, but I promise I will
never be gone this long again. Now this is a post for the 16th of
November.
What did I do? Well let me tell you a story.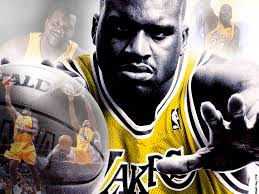 This is Shaquille O'Neal. At one time the only difference
between his 7'2" 350lb frame and my 6'2" 350lb frame was the height… And the
giant multi-million dollar contract. While visiting Lisa and Denis in the bustling
burg of Brantford, the big Divit and I decided it would be a great day to play
some basketball. Now there was a time (many, many years ago) when I was a pretty
decent player. Clearly with my loss in weight, all my basketball skills went
with it.
For a little over 2 hours the only sound heard in the park
(besides the roaring wind) was the sound of me ringing it off the rim. I was
terrible. No, terrible might be too kind. I downright stunk. The only positive
was the time running and jumping and generally being an uncoordinated manic. A
big thanks to Denis for putting up with the terrible offensive performance and
severe lack of a challenge.
Next Stop. Crazy Week and Iowa.
Beez