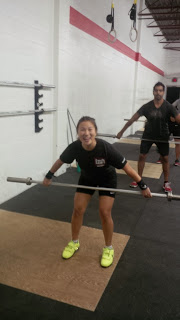 Well, a day late comes the second half of the Surprises
post. We had a special guest return to @CrossFitCanuck on Wednesday night, I looked
up and Ms. Kelcie was in visiting from Boston. As always it was great to see
her and she was smiling as Coach Z walked her through Warm-up 'A'. Now we were
pretty crispy so we didn't get much time to chat, but she told us a bit about
the new box that she found as she's back at school. Now I know that I (we
actually) seriously lucked out finding the Canuck Family, but it just goes to
show what can happen when the right people find themselves on the same point on
the map, doing something they are passionate about. Now that's not a knock on
the Boston box, it's just different from all the Crazy Canucks that train and
sweat together. Thanks you again Tavia and Sue!
Warm-up 'A'
400m Run
2 Rounds of
10 Push-ups
10 Good Mornings
10 Squats
Now @SarahBassels found a little video online with a crazy
little WOD that became tonight's conditioning. Before we get to that though,
Jillian was doing the WOD with us tonight (YEAH!), it's been forever. We
started off with a 7 minute EMOM of Heavy Snatch Balance. I worked at 85lbs and
the plates. It was tough, but I finally felt like I was getting the right form
by the last few rounds. As we loaded up for the next portion of work the
Programming Director pipes up and says "this is going to be tough" (or
something along those lines). At this point, I started to get worried. It
sucked!
WOD
5 rounds of
ME HSPUs
7 Seated Shoulder Press (@65lbs)
7 Weighted Good Mornings (@65lbs)
I started off with
90lbs for the Shoulder Press, but my shoulder couldn't handle it after the
heavy work yesterday. I did manage to finish the WOD with about 3 minutes to
spare, but any thought I had of moving to the wall was put on hold. I actually
ended up kissing the floor with my face in rounds 3 and 4. It was ugly (the
shoulder fail, not my face). We weren't finished yet, the Silly Sally video provided
or 'close' of tonight's acyivity.
Silly Sally (Flower by Moby)
(Back Squat @95lbs with the Plates)
Thanks Robin!
So we worked it out and it's 30 Squats in less than 2m30s
and if you dropped the bar, it was Bar Over Burpees for the remainder of the
song for you. Now we scored on how many Squats you missed (7 for me). It was
crazy hard (and now that I look back on it, kinda fun), but I really found a
grove after the first few. I seemed to drop all the way into the hole and it
felt really cool.
B-WOD
400m Run
Hip Stretches
Forearm Stretches
Now there wasn't much of a B-WOD because there was a night
out planned with some people from work. I don't know how it happened, because I
said I wouldn't play on a school night anymore, but it was a lot of fun. We hit
up Everleigh on King St and it had a really cool atmosphere (although the DJ
was not awesome). Apparently I am learning as I make this trip through life,
because I managed not to break myself (or drink like I still weighed 330lbs). Today
was a long day, but it was a good time.
Have a good weekend,
Beez
Word of the Day: Exhausted