First off the big news of the day, the first of the Baby
Canucks has arrived!! Congratulations to Sue Ann Van Damme and Tavia 'Jillian'
Ferreira on the arrival of baby Jordan. Sue Ann has set a high bar and Momma
Bear, Iron Anne and @girmantitov's wife Jenn are on deck for Baby WODs. Can't
wait to meet JVD!
There was also a big thanks (again) to my Virtual Training
Partner Jess and her advice about just getting the runs done. I woke up this
morning and while it would have been easy to roll over, hit snooze and call it
a morning, I dragged myself out of bed and headed down to the condo gym. Hal
Highdon Week 3 concluded with a 4 mile run and since I was late already, I knew
that I HAD to get this in. I didn't run the fastest pace possible, but after a
5 minute warm-up I pushed the speed up and started running. I ran. 38 minutes
plus straight (my longest ever consecutive stretch). My hips were complaining,
but I was focused on getting it done. 45m15s with warm-up and cool-down with an
average pace of 6m45s per KM. My average heart rate was 143 BPM and I maxed out
at 162 BPM. I learned something important today about indoor running (I had
already figured it out @CrossFitCanuck), for me, it's SLEEVELESS all day long.
Not because of the gun show, but because of the sheer quantity of perspiration.
If you look at the rail of the treadmill, it looks like it was raining indoors.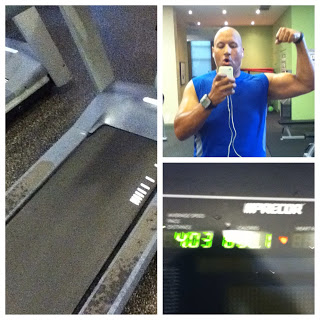 Warm-up 'A'
400m Run
10 Inch Worms
20 Jumping Jacks
Now after a day of sitting (and trying to do my homework
from Jillian) my hips wanted no part of any more running, but that's exactly
what was on the schedule. After we did some new strength work. Today it's the 'Shankle
Complex' for the first time. 3 Jump Shrugs, 1 Hang Squat Clean and then 2 Split
Jerks. We found a 1 RM and then moved to 90% of that for a 3 minute EMOM of the
Shankle. Once that was done it was a 2 minute AMRAP of Hang Squat Clean and
Jerk. I completed the complex at 110lbs
and got 7 reps in the AMRAP. It was hard to link them together and I was pretty
happy with the result. It's only been a couple of days of lifting overhead, so
slowly the numbers will climb.
WOD (For Time, 20 minute CAP)
600m Run
30 – 20 – 10 Reps of
Wallball (@20lbs)
Kettlebell Snatch (@35lbs)
Box Jumps (16" Box)
Then…
600m Run
In the words of Sara W, "That was a TWENTY!" on the pain
scale. I agree it was certainly a spicy one. With the overhead work already in
the book, I attempted the RX (50lb), but it was too much for the left shoulder
and I wanted to keep the work even. I came skidding in after the last run in
17m50s, sprinting the last 50m. I was gassed. I literally flopped down in front
of one of the fans and didn't move. The
whole #530Crew put on a gutsy performance and everyone made it out onto the run
before the CAP.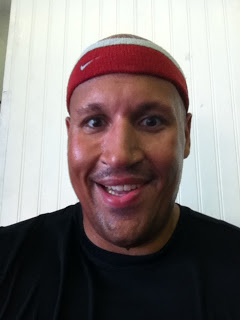 Doing my best LeBron James impression
Cash-out
TABATA DU's
I managed to finish the Cash-out with 42 reps. I had a
couple of sets that I was able to string together, but my body was exhausted
and I was clumsy. I did my best though and I'm happy with the result. The goal
tomorrow will be another run, but it will be Touch-and-Go.
Beez