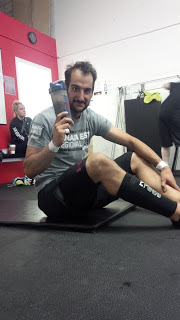 Ok, the
Smolov
guy is a jerk. As I said it's a 13-week cycle
designed to increase your strength in the Front and Back Squat. Well as I tried
to get out of bed this morning, I 100% felt last night's work. WOW. There were some tight Hams, Glutes, oh
heck let's just call it my whole lower body and that's after 1 night. I feel for the crew who were on day 3. I
shook off the stiffness and got moving because I was excited about my first
Saturday back at the box in forever.
Warm-up 'A'
400m Run
10 Tire Jumps
15 Kettlebell Swings (@25lbs)
20 Good Mornings
Warm-up 'B'
See Previous Postings
As @SarahBassels and I warmed up we compared notes on the
aches that Smolov was leaving behind, but we agreed that all this lifting was
going to mean awesome numbers. That being said, today's hero was Matt. We were
partnered up for 3 Back Squats every 2 minutes for 18 minutes. I would have
wimped out on weight, but Matt gave me the drive to complete the strength
portion at 280lbs. It was heavy and there were a couple of sets where I could
feel my body position sliding around (chest dropping and right heel??), but I think
I corrected pretty well and we hammered through.
Tillman
(7 Rounds for Time, 15 minute CAP)
7 Deadlifts (@275lbs)
1 Gasser (4x 50m Sprints)
15 Pull-ups (Blue Band)
Said I wouldn't be going back up in bands for the Pull-ups,
but I really wanted to protect the shoulder so I get a waiver on this one. RX
was 315lbs, but after 1 attempt, I knew that wasn't going to happen today. We
got into the first Gasser and there was some serious lightning and thunder
about halfway through. I rowed on the
next round and ran on the last one (after the giant rainstorm passed). In total
I finished 3 rounds plus 7 Deadlifts.
Cash-out
3x ME Rope Climbs (Didn't do)
100 Atomic Sit-ups
I skipped the Rope Climbs (but don't worry Rope, once I get
healthy you and I are going back to everyday practice), but the Atomic Sit-ups
were something. Wow, I am seriously uncoordinated. That shouldn't be much of a surprise
to those of you that know me, but I was hoping that as I lost mass I would turn
into a Chocolate Ninja.
Beez
**Matt may have found the new CrossFit Drink. Starbucks Iced Coffee (black) and ProG Recovery Chocolate. I'm not going to lie, I'm trying this tomorrow morning.