I REALLY wanted to give you an away edition of the blog, but
I was totally wiped out from shopping. Now I have stated before
that shopping isn't my favorite thing in the world, but with all the weight I've
lost, 80% of my wardrobe has been retired for donation. I travelled to Grove
City PA and went buck wild at the Premium Outlets (thanks to the no sales tax
and sales out the ying yang). I will be the best dressed shrinking CrossFitter
this summer, but hopefully I won't have to go back for a while (see below).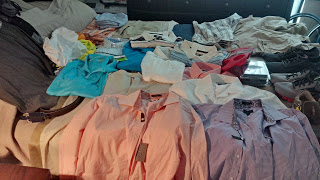 Once I made it back I joined some of the @CrossFitCanuck
Family at the CrossFit Games Canada East Regionals in Mississauga. These are the top 48 men and woman (and 30
teams) that completed the Open in Eastern Canada. If you want to be inspired, get to the
International Centre because even though you may know the movements, to see
them completed in these events is unbelievable. And even at this level,
competitors still cheer each other on to finish (if you look in the crowd you
will see a blue sweatshirt wearing bald Beez).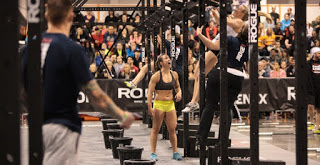 So based on the fact that I didn't eat really well while I was
gone AND I didn't get a workout in, this morning I got up extra early. I
finished a 4.1KM run in 28m49s along Sheppard (to Bayview) and averaged a 7m01s
per KM pace. I sprinted the last 50m in a sub 3m00s per KM pace. I will need to stretch out these sprints to
help build me endurance. My heart rate average was 161 BPM and the Garmin says
my max way 227 BPM, but I have to believe that there may be an error there.
I got back to the condo and completed:
30 Kettlebell Swings (@25lbs)
30 Sit-ups
30 Squats
Did some stretching once I was done to try and loosen up and
then got ready for another full day at regionals. I'm pretty excited to see
what's in store for today.
Beez