(Feb 21, 8:10am): So as I sit here on the eve of the Open announcement, I will be honest. I am not sure I have made the right decision. After discussions with @savannahjessie and after having been sidelined by injuries the last few years, the Open has pulled at me. Missing being a part of the experience with our community has pulled at me. Not doing the Open has bothered me. As soon as I signed up, doubt started to creep in and my body started to breakdown. My shoulder has started aching. I've been struggling with Eat to Perform numbers and my nutrition. Worried about the format as CrossFit undergoes a transformation. I've been worried about how I will do (not compared to anyone other then my previous goes). Basically, I've been a normal person staring into an unknown or unknowable situation. I plan to show you how I deal with it.
The Announcement
(Feb 22, 8:39am): Well it's official. The Open has started and 19.1 has been announced, without Dave Castro. While that's not a huge loss, the announcement was missing some panache. CrossFit seems to have gone back to it's roots with this one. A 15-minute AMRAP of 19 Wallballs (20lbs) and 19 Calories on the Rower. Everyone gets to play! No stupid HSPU or Muscle-Ups to discourage the community right out of the gate. Still, that is going to be a lot of knee bends. While the Row should be fine, the Wallballs are going to take FOR-wait for it-EVER. Knee sleeves and lifters to try and make it more comfortable. 24 hours till we do this…
The Coaches Throwdown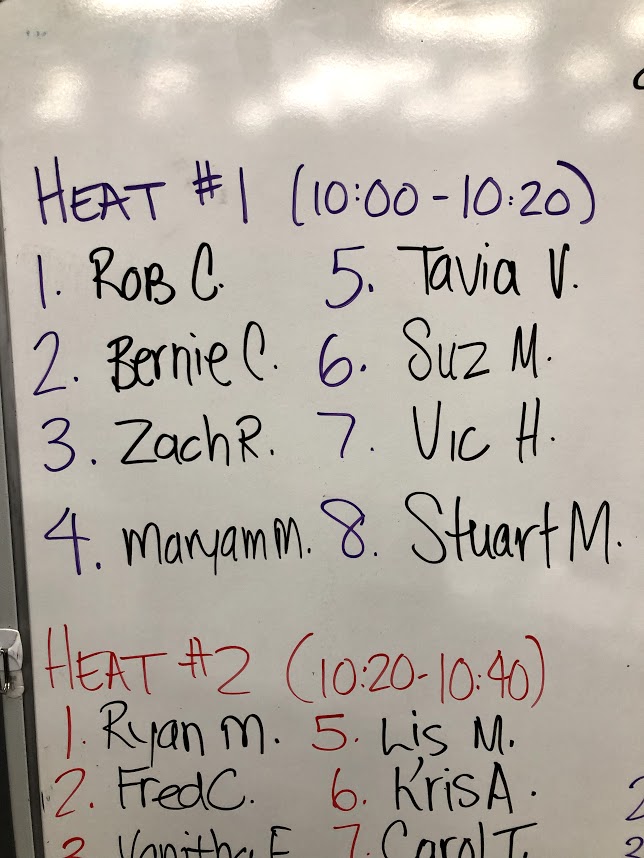 (Feb 23, 10:00am): The @CrossFitCanuck Coaches all in a heat. Me head-to-head with @EastboundPowerlifting (just in friendly competition). No pressure. All these finally tuned athletes and me (with my banged up knees). As I progressed through an extended warm-up to get ready for this I was worried about working outside my limits. I would have to work hard to push, but not so far as to damage anything. It's a fine line that many people fight daily and not just in the gym but enough with the backstory, 3, 2, 1, GO! First Open WOD in two years! Now I didn't really have a strategy for this one other than to break up the Wallballs (A LOT) and to go all-out on the first round of the Row. I had been pulling nearly 3,000 calories/hr in warm-up and while that's by no means a pace I could maintain, hey, I'm not going to the Games. Surprisingly the Wallballs were not bad (sorry about the look you got on that No Rep Fred) and I had a good 19 calories. Then it was back to the wall and the pain. For the next 12 minutes @EastboundPowerlifting and I were neck and neck. It was a close race. The Wallballs sucked and the little groups I was getting (3's and 4's) were not holding up to the big groups everyone else was getting. Still I was making up time on the Row and I had a narrow lead in the last minute. It all came down to the Wallballs, a last push and some hard pulling on the Row. See the video for the drama!
The Aftermath
(Feb 23, 10:17am to Present): Well that was spicy. Also it was very inspiring to see how the Open affects the @CrossFitCanuck Community. The screaming, cheering and encouragement that everyone was sending out into the world was inspiring. It helped a lot, because that WOD was terrible (well for me at least). As time expired, I was spent. I haven't completed a full Wallball in more then 18-months and my aerobic capacity hasn't got work like that in a while. It took a little while (as the video shows) to even get to a point where I could walk away. The rest of the day felt good. I knew I had been in a workout, but I wasn't crippled… Until 10:30pm. I was visiting a birthday party when suddenly my legs, quads, glutes and hamstrings started to seize up (and that's after an Epsom Salts bath). By this morning everything is a challenge. Everything is stiff and sore and it's awesome! Over the next few days it will be a matter of stretching and mobility to get this body ready for next week.
Until next Saturday…
Beez