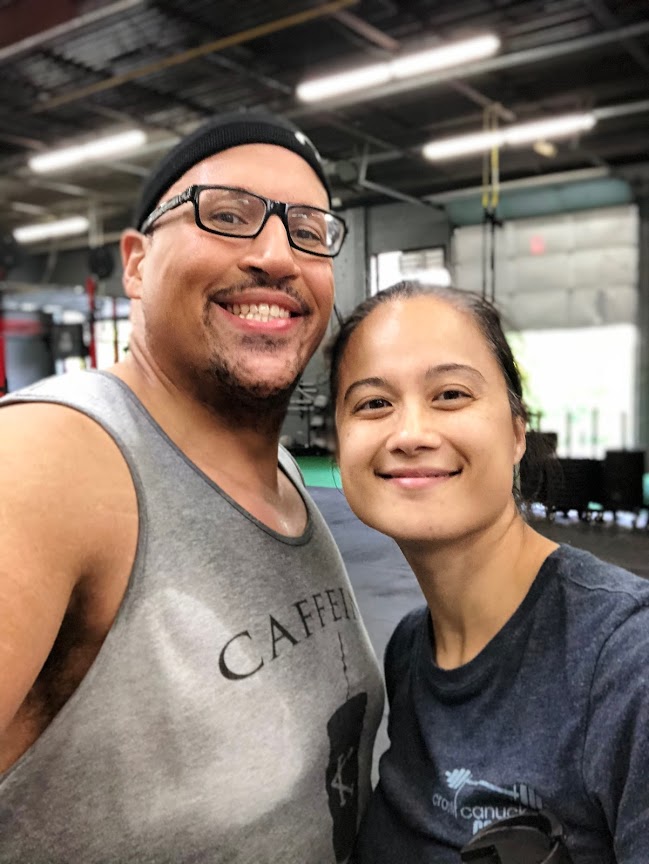 Mother Nature sure is putting the screws to us with these temperatures and the humidity. I mean seriously. Hot is fine, but when you have the crushing heavy air it just kills you.  I know the body is trying to keep cool with all the sweat, but c'mon. I'm soaked. The towel is soaked. The newly found headband (see photo) is soaked. There's just no winning.
Thrusters and Cals
In the midst of this crazy heat I've been starting to get a little more regular at @CrossFitCanuck.  It's been interesting because I'm still modifying like crazy. The knee just doesn't want to bend. Still the beauty of CrossFit is there are a million different ways to get the same result. Removing the Squats and increasing the weight or decreasing the weight to complete the full ROM (Range of Motion) are just a few. 800m Run, followed by 21-15-9 of DB Push Press (@50lbs) and Cals on the AirDyne and then finishing with 1000m Row. See, so much fun to be had in the summer. Finished in 16m30s. Thankfully the big fans were there, I was a mess.
Max Distance and Max Calorie
@CanuckCoach pulled this one straight out of high school PE. It was a glorious day and we had 12 minutes to find how many laps (400m) we could complete and then 12 minutes to find our max calories on the Row with no rest. WOW! I coached in the morning and saw some pretty impressive performances (@activdrew who hit 7 laps and 211 calories). When I got to the box at #530Crew time, I was confident that I had a shot at the calories but knew I was dusted on the Run. I was happy with my performance circling the box, coming in with 1600m (1 mile). That is right on pace with how far I should be able to get in that time. The Row was tough. As I watch some folks Row the long distances they come out too hard or have a damper set way too high/low. It's about balance for what you are looking to achieve (distance vs. calories). Still for me, I like to stay away from the extreme settings (9 or 10) and pull at a pace I can sustain. I finished up with 220 calories in the end and I was spent.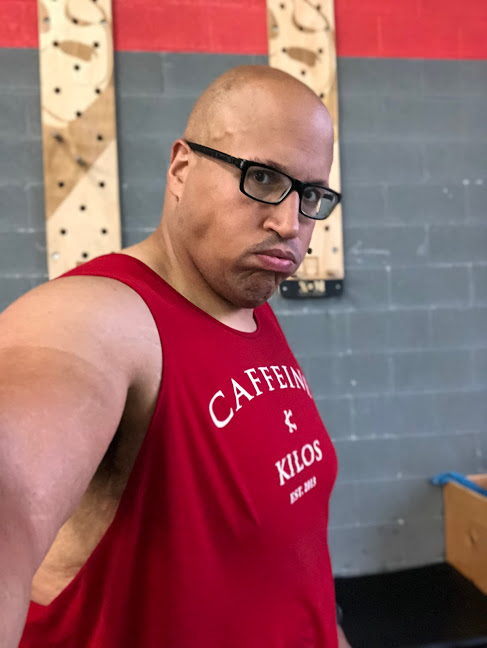 Sweat 60
I've also been trying to be a regular at #Sweat60. @ZReyes has been putting together some awesome programming and if you haven't tried it yet, you are missing out. Over the last few weeks I try to hit the #530Crew CrossFit class and then drag myself over to #Sweat60 (trying to recover while Z gives the announcements). Max calories on the bike, planks and midline work and tire flips have all been part of the workouts. In fact, we had one where we flipped a tire around the building. If you have some time, grab a partner and give that a try. Caution, your forearms may not speak to you again afterwards.
It's been good to get back into the sweat of things, and these just represent a few of the workouts I've been logging. What has your summer looked like? I know that it is tougher to get to the gym, but there are lots of things you can do. The start of the season was heavy on the bike and it looks like the end will focus more on running. This will hopefully get me ready for the Lean + Clean Challenge. 60 days of going full bore!
Happy Perspiration!
Beez