So much for writing more often…
I do not understand where the time is
going? Have they decreased the number of hours in the day and nobody told me?
There has been soooo much going on, it took a trip to Saskatchewan  for me to be able to catch you up. Are you
ready?
I've been training at @CrossFitCanuck on a
really regular schedule (or as regular as it's been in the last little while)
and even though there has been a boatload of modifications, the work is getting
done. There has been lots of accessory work too, which is a throwback to the
good ol' BWOD days. The focus has been on getting the knee stronger and getting
back to full workouts at RX. There have been a lot of Power movements due to
some limitations (which I will talk about below) and I've even rediscovered my
love of the Rower (with the addition of an iPhone app to track a whole bunch of
metrics).
A big thanks to JoJo and @keilshammer for
partnering up with me for the 4th Canuck Games. Technically JoJo and
I were partners and we tagged @keilshammer in for a WOD that included
Thrusters. Aside of one wrong turn and the accompanying time we lost, JoJo and
I had a pretty solid day. We even managed to complete the 5th WOD
which had a heavy Rowing component (and me screaming encouragement to JoJo who
was hating every minute of it). I even managed to pull 3000 calories per hour
for my entire 20 cal Row.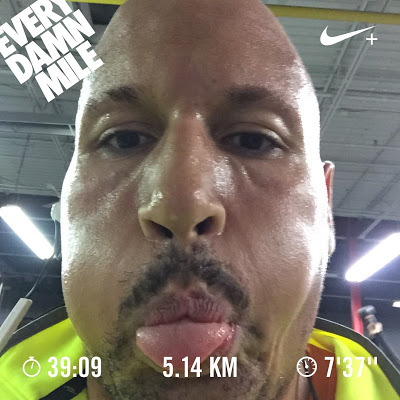 Post Run
On the health side, it has been fine. Well
fine while still being a little bit discouraging. My knee is still not where I
need it to be. It doesn't fail anymore like it did during the Open last year,
but I still can't Squat (which is garbage).  I really need to up my focus on nutrition and
strength of the knee itself. It's going to complain, but when doesn't it.
Surprisingly, it did hold up very well on a test 5km run that I did instead of
a CrossFit WOD one evening.
And that leads me to BIG NEWS!!!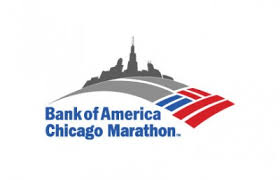 October 8, 2017 (which will be my first
anniversary), I will be running the CHICAGO MARATHON! That's right. I said I would
never run a marathon and somehow, accidentally on purpose I won an application
to do it. Just like an ancient Greek runner, yours truly will be pounding the
pavement for between 5 and 6 hours. The bonus is that my regular Scotiabank Half
Marathon partner @JessyR1978 got in too! I'm going to be leveraging every
resource I have to make sure I can get this done. The Eat to Perform coaching
of @CanuckCoach and the CrossFit Endurance coaching of @ajhughes77. I will need
all the help I can.
Beez